Mixed Bill: Schubert / Sad Case / Some Other Time / mutual comfort / Solo / Cacti
Choreography Paul Lightfoot, Sol León, Edward Clug, Hans van Manen, Alexander Ekman
Nederlands Dans Theater 2
Sadler's Wells
–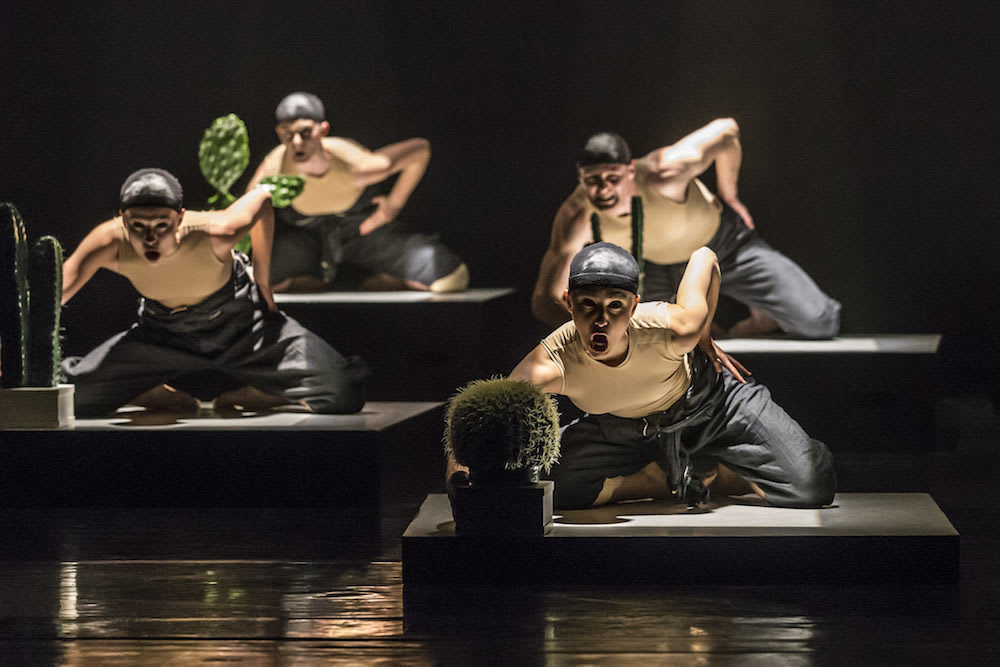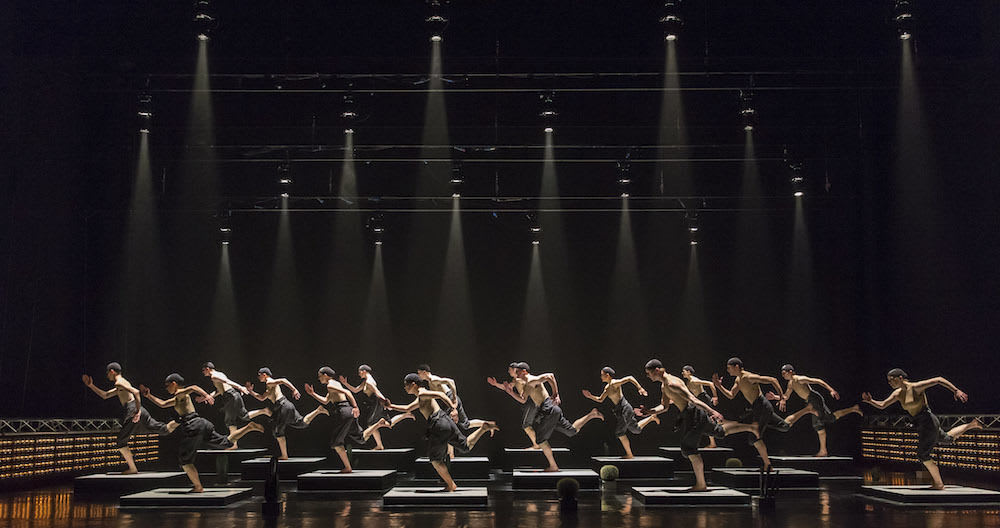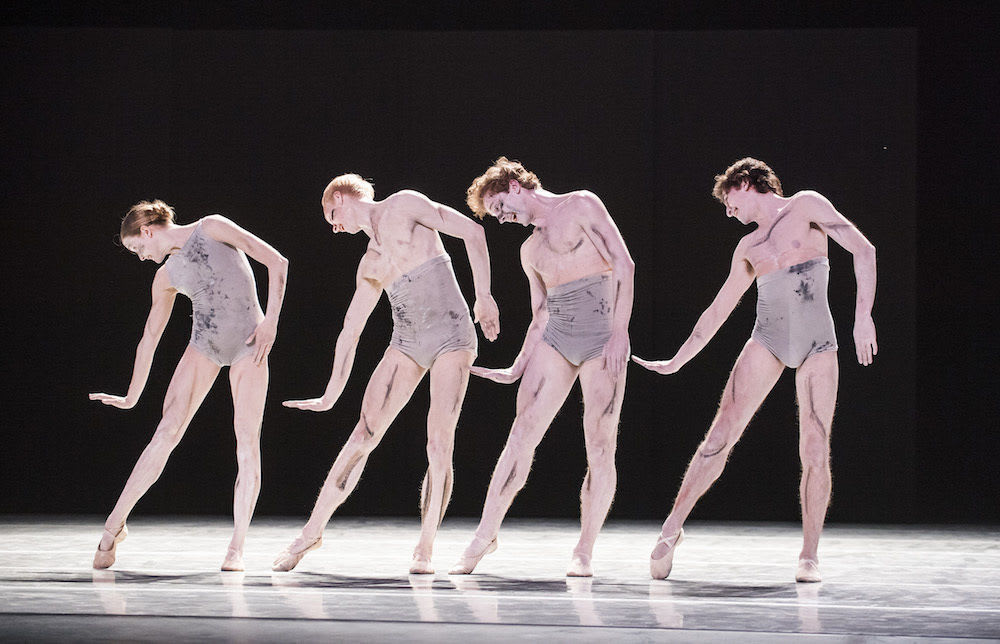 Youngest nineteen, oldest twenty-four, the international young branch of Nederlands Dans Theater, NDT2 has boundless stamina, endless energy, obliging bodies: they need all that for the feast of demanding works they serve up tonight.
Touring the UK since early April, Sadler's Wells is their last stop and the run is sold out. Nederlands Dans Theater's reputation (it was founded in 1959) always pulls in the dance crowd.
Last here in 2012, when they also brought Alexander Ekman's Cacti, one to end any evening on a high. Looking at my then review, there is little I can add, but to say it is a hectic, witty pre-empting undermining of critical analysis, and a visual display of music by sixteen dancers in Samurai warrior / Shaolin monk and popping organ stops disguise.
A kinetic art installation with a fusion of styles, this "collaboration" between dancers and creatives, Tom Visser's lighting and Spenser Theberge's text, is twenty-seven minutes of tongue-in-cheek dance theatre, including a charming duet in which the dancers' inner thoughts are broadcast.
Deconstruction and a running, posing "dance orchestra"—each member on their own little square plinth—contributing syncopated percussive beats to Schubert, Haydn and Beethoven. Make of the cacti and the dead cat thrown into the arena what you will. A journey "from life to death"—arbitrary signifiers and signified… Who cares what it means. It is very welcome after the abstract rigour of the preceding pieces—I'm working backwards.
Hans van Manen's frenetic Solo to Bach's "Partita in D minor" for solo violin requires three dancers—in black tops and white tights (music personified)—on a loop, chasing each other on and off the stage, paraphrasing its fast tempo for seven intense minutes. Breathtakingly brilliant. The choreographic imprints of not only eminence grise van Manen but also Jiří Kylián and the late Glen Tetley run through the programme like a stick of rock.
Edward Klug's eleven-minute mutual comfort to Miko Lazar's jazzy "PErpeTuumOVIA" is a sophisticated piece of metronomic timing. Mutually supportive, legs and hips acting as levers triggering the other's actions, two men and two women are interactive cogs and gears in delicate Swiss precision clockwork, activating an intricate mathematical blueprint, that ticks away nicely in perpetuum mobile even as the curtain comes down.
The opening triple bill from artistic director Paul Lightfoot and partner Sol León has no curtain to separate each one—they are rather like chapters in an ongoing story (two made in 2014, middle one in 1998)—only ever-shifting black panels, sculpting the space, redesigning its architectural contours.
These panels must be a signature of sorts, or a recurring theme, for they also appeared in their 2009 Passe-Partouts, and elicit in me the same thoughts, same references… Corridors for eavesdropping and concealment - Hamlet; empty rooms—Hammershøi; relationship intrigues—Ibsen…
The six-minute Schubert, a prologue perhaps—to Schubert's adagio string quintet in C—reveals a couple in conflict and loving resolution. The dancing is superb, all twisting torsions, symmetry and asymmetry, intimate and expansive, until four men in red-lined black suits step from behind the panels, wrong-footing me—this is Some Other Time, yes—but no, the music is not Max Richter's. It's Mambo time…
The suits vanish and in their place comes a girl in dirt-smeared flesh-coloured leotard, soon to be joined by four more similar creatures of different shapes and sizes: it's the twenty-two-minute Sad Case. The music is retro-nostalgic, the beat infectious, and the dance flows in faux freeform improvisation. Rubber band bodies, esoteric hip flicks, chick waddles, duck walks and episodic dance dialogue: they are dancing the texts of the songs, but this is no Havana or Acapulco.
Who or what are these smudged sad cases? The last one ends on his back like Gregor Samsa—a beetle, a Chagas kissing bug? But they sure have fun while it lasts. Till the sweepers come to clear the floor for Some Other Time, twenty-four minutes of it. Back come the waltzing black screens and the black suits.
Shadows, corners, hidden passages, rooms and hallways; duets, trios, and solos spin and contort in corkscrew tension; a mystery unfolds as Max Richter's "broken symmetries" lead the way. A black carpet is rolled out. Is this an elegy, or turmoil and trouble within imprisoning walls? Is it all in the mind?
An epic journey from this to Cacti, a delicious arc held together by youthful exuberance and unflagging commitment, the programme is a great showcase for eighteen promising dancers, NDT1 beckoning for some, though I'd have loved to have seen Johan Inger's Van Morrison-inspired I New Then, which I don't know and to which some of our provincial theatres were treated. Next time…
Reviewer: Vera Liber