Money the Game Show
Clare Duffy
Bush and Unlimited
Bush Theatre
–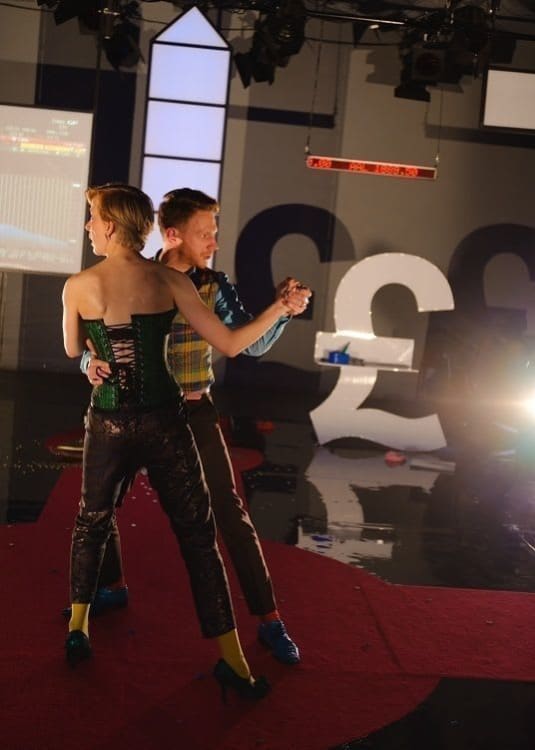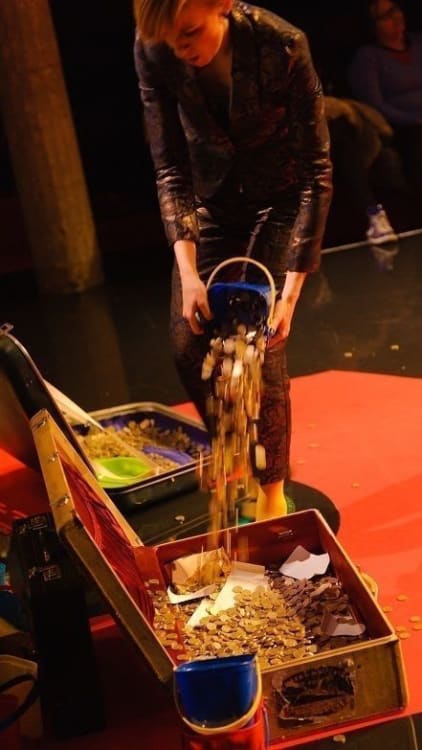 Money the Game Show comprises three very distinct elements that do not fully blend together and even these are spread unevenly across its two halves.
For close to an hour, the presiding mood is one of glitzy Saturday night TV, with competitors from a divided audience fighting over a pot of 10,000 £1 coins that are guarded by an unsmiling heavy.
This section at least allowed audience members to enjoy the versatility of one of their number, Cristina who could both stand on her head and sweetly sing a medley of nine songs in different languages (though not at the same time).
Along the way, our cheery co-hosts Queenie and Casino begin to tell the stories of their lives as hedge fund traders in the heady days before the crash of 2008. There is also a little economic history thrown in for luck.
As the 100 minutes develop, it becomes apparent that Clare Duffy has injected elements of symbolism into her games and gradually the financial crash data becomes more significant, in league with the story of the pair of traders dealing long and short as the world's finances went to pot.
Under the direction of the writer, Brian Ferguson and Lucy Ellinson offer great energy and enthusiasm to a show that tries to do too much.
For devotees, it certainly offers game show addicts a live experience of what they love to watch on TV 24/7, which might be a big draw.
It cannot however compete with plays such as Lucy Prebble's Enron or David Greig's pre-crash historical drama from 1999 The Speculator when it comes to showing either the human cost or global impact of financial gambling on the largest of scales.
Even so, this co-production between the Bush and Unlimited does disseminate quite a lot of helpful information in intelligible fashion and gets the audience fairly worked up about their prospects of being on a winning team at the end of the evening.
Reviewer: Philip Fisher