Mother Adam
Charles Dyer
Jermyn Street Theatre
–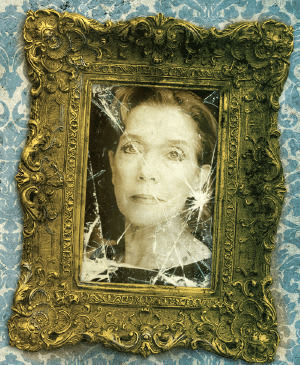 There is something of a crusade underway for the resurrection of Charles Dyer, a highly popular playwright from the 1960s who has fallen off the theatrical playlist.
Last year, Oberon Books published a new edition of his Lonely Trilogy and now Gene David Kirk has directed a revival of the middle play, Mother Adam.
The time could be right, as volunteering carers are rarely out of the news for long at the moment. The relationship between an ageing parent and their none-too-willing grown-up child has long been the stuff of art.
The two closest parallels to the claustrophobic interdependency of Mammles and Adam might be viewed in The Beauty Queen of Leenane or Steptoe and Son. The difference here is that they pairing are not of the same gender.
Living in a cramped, Cherry Truluck-designed flat that looks like a junk shop, Linda Marlowe's Mammles hails from a long line of missionaries but is now crippled by arthritis, which keeps the old lady chained to her bed.
Her only fully working part is a tongue that can be sweet or vicious by turns. This makes life difficult for Jasper Britton's middle-aged Adam, an unmarried museum curator struggling through a recession.
Mammles lives her life vicariously, nourished by Adam's tales of the museum and his putative courtship of unexciting Bettye, who will only marry him after the fulfilment of an uncomfortable condition. Tales of the outside world are supplemented by Mammles's second-hand voyeurism of the local cathedral and its visitors, courtesy of a cleverly angled mirror above her bed.
The pair are entertained by oft-rehearsed fantasies that re-invent the history of the Tanner family whose heroism and martyrdoms are almost all inventively embroidered in order to cover up minor scandals.
The one that defines the play is the name of illegitimate Adam's unknown father, a mystery that has endured for decades and might be revealed if ever he could get a look inside his mother's ancient trunk.
Mother Adam is constantly poetic, in part using invented language to show the duo's strange intimacy, and can be deeply moving as one observes Adam's sacrifice and the constant pain of his mother.
The love and frustrations that are inevitable consequences of old age are beautifully depicted during a couple of hours when hope somehow triumphs despite the kind of provocations that can lead to breakdowns and in turn the derelictions of care homes or in more extreme cases pace Martin McDonagh, even more drastic actions.
Charles Dyer will not be everybody's cup of tea but Mother Adam is a thoughtful, moving play, featuring a couple of well-matched actors in an atmospheric production that clearly means a great deal to all involved. As such, it would be well worth a visit.
Reviewer: Philip Fisher