Motown The Musical
Berry Gordy
Kevin McCollum, Doug Morris, Adam Spiegel, Berry Gordy
Wales Millennium Centre
–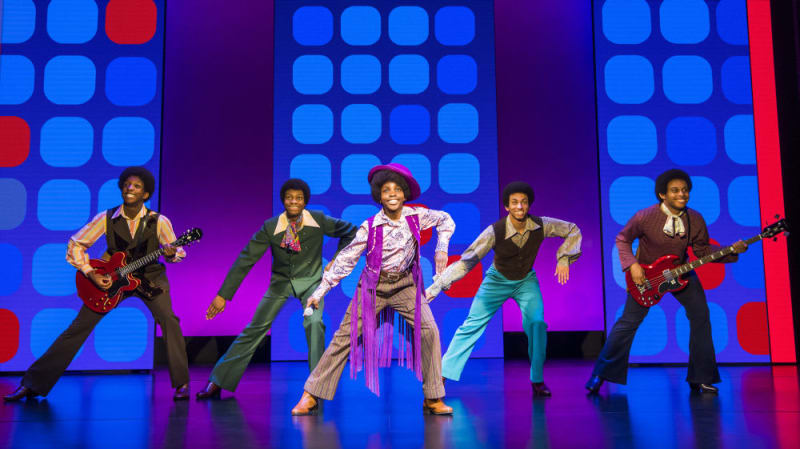 The vast influence of Berry Gordy Jr on popular culture is unarguable.
For most of the 1960s and much of the 1970s, his record company, Tamla Motown, and its subsidiaries released some of the finest and most influential music ever produced (lest we forget, The Beatles included three of their songs on their second album). The fact that Motown was an African-American-owned enterprise which foregrounded African-American talent without ripping them off (well, at least not as badly as other companies) was also highly significant in an era in which most black Americans were still struggling for their basic human rights to be recognised.
Gordy is credited as the author of Motown The Musical, which was successful on its initial Broadway run in 2013 and is currently still playing in the West End alongside this touring version. It is based on his autobiography entitled To Be Loved; thus there are no claims of journalistic objectivity—although there is an element of self-criticism.
The show begins in the early 1980s as a televised spectacular is being rehearsed, celebrating the 25th anniversary of Motown Records. We start as we mean to go on with a medley comprising a playful song-and dance duel between The Four Tops and The Temptations. Diana Ross, Marvin Gaye, The Jackson 5 and Stevie Wonder are also in evidence.
Notable by his absence, though, is Gordy himself. He is sulking in his mansion, stung by a number of treacherous legal disputes with former employees and feeling under-appreciated, despite the assurances of his long-time advisors.
He reflects on the pivotal moments which sparked his entrepreneuriaism: Joe Louis's 1938 World Championship Boxing victory over Germany's Max Schmelling which united Americans of all races in jubilation; later attempts at songwriting which culminated in his managing to sell "Reet Petite" to Jackie Wilson; borrowing $800 from the family grocery business to start a record label; meeting up with loyal lieutenant Smokey Robinson.
Under the fast-moving direction of Charles Randolph-Wright, the many filmic scene transitions are extremely slick (scenic design is by David Korins, with video projections by Daniel Brodie). The script is less so, being somewhat heavy on exposition, to the extent that the cast even occasionally include the audience as they make a joke of the dialogue, such as when they come up with a name for the Detroit-based company ("Motor City Town Records?").
The dominant character is, of course, Edward Baruwa's Gordy who comes across as both hard-headed and soft-centred, but less tough that the real man would have had to be in order to build such a successful business in such hostile circumstances.
Diana Ross is slightly less sympathetic, openly pursuing a romance with Gordy in the early days and walking away once she has achieved success away from her Supremes colleagues. Karis Robinson's magnetism is unquestionable, however, as she smoothly carries off Diana's transition from facetious schoolgirl to Las Vegas-conquering siren.
Shak Gabbidon-Williams also impresses as the increasingly politically conscious (and stoned) Marvin Gaye; and Nathan Lewis's Smokey gets one of the most perversely comic set-pieces, during a scene in which his Miracles are touring in Alabama, with white policemen ensuring that the audience stays segregated.
The main draw for audiences will be, of course, the music, which is impeccably performed by the large, talented cast and the excellent live band led by Griff Johnson. Despite Warren Adams's brilliant choreography, however, the most powerful moments come when individual songs are given the time and space to breathe and carry emotional weight, such as Diana and Berry's duet on "You're All I Need To Get By"; the Black Power movement reflected using "War" and "What's Going On"; or Gordy's emotional rendition of one of the show's handful of new songs, "Can I Close The Door".
Motown's history is so rich that inevitably some stories go untold—Stevie Wonder's most important work is ignored, the tragic decline of Supreme Florence Ballard is only hinted at (Dream Girls got there first, of course) and the Jackson 5 are presented as an unproblematic ray of sunshine (the role of MIchael being shared, across performances, between Keiran Edwards, Yami Mirazi, Mickell Stewart-Grimes and Joshua Vaughan).
Some difficult issues are dealt with, however (although I'm not sure we needed to know about Gordy's erectile dysfunction), amidst all the crowd-pleasing song and dance numbers. Audiences will leave Motown The Musical humming the brilliant tunes, but well aware that Gordy's relatively brief period of world domination wasn't arrived at without pain.
Reviewer: Othniel Smith