Mouthpiece
Kieran Hurley
Traverse/High Tide
Traverse Theatre, Edinburgh
–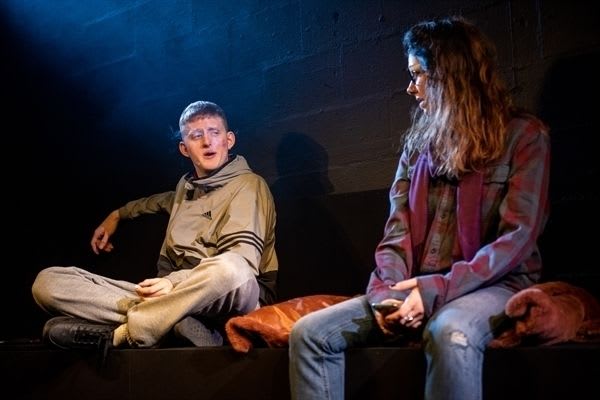 This is a very tight two-hander delivered by two equally powerful actors about the relationship between a middle-class playwright and her much younger working-class inspiration.
It is set very firmly in contemporary Edinburgh, with the audience very much enjoying the specific references. To begin with, that is, as the play also exposes some uncomfortable truths about this city.
Libby (Neve McIntosh) a writer, is going through a dark patch, when she is literally saved by a chance meeting with Declan (Lorn Macdonald). The two begin an unlikely friendship, so far so cliché.
Kieran Hurley though uses his play to explore the way in which writers use their subject matter and in particular the added problems of portraying less fortunate people. It is also a way of highlighting the growing inequality throughout our society but especially stark in Scotland's capital.
McIntosh and Macdonald both give great performances, clearly showing their characters' very different walks of life, yet also without leaning towards parody.
The production goes for a blank canvas kind of set with big blocks that form Salisbury Crags and various other Edinburgh settings and allowing text to be projected onto them, perhaps slightly overplaying the theme of writing.
The blank canvas though really makes us focus on these two very vivid performances: the struggling writer who suddenly sees a glimmer of success and someone just struggling who needs some escape from an increasingly bleak world.
The simplicity works well with the characters really baring their souls to the audience. It is tough to watch as the relationship grows close and then tragically falls apart.
Hurley's Fringe hit Square Go (Philip Fisher's review differs from my view) was co-authored with Gary McNair whose McGonagall's Chronicles is also on at the Traverse this December. Both examine the difficulties of putting working class voices on stage without being patronising.
The Traverse December programme also includes The Gospel According to Jesus, Queen of Heaven; these might seem interesting choices for panto season. Christmas time though isn't a time of celebration for everyone and can be a particularly difficult time of year for many people.
The problems that Mouthpiece raises are so pertinent and the acting is so gripping that it is difficult not to be totally drawn in, even if the ending is a little drawn-out and knowingly self-referential.
Reviewer: Seth Ewin