Mr Foote's Other Leg
Ian Kelly
Hampstead Theatre
–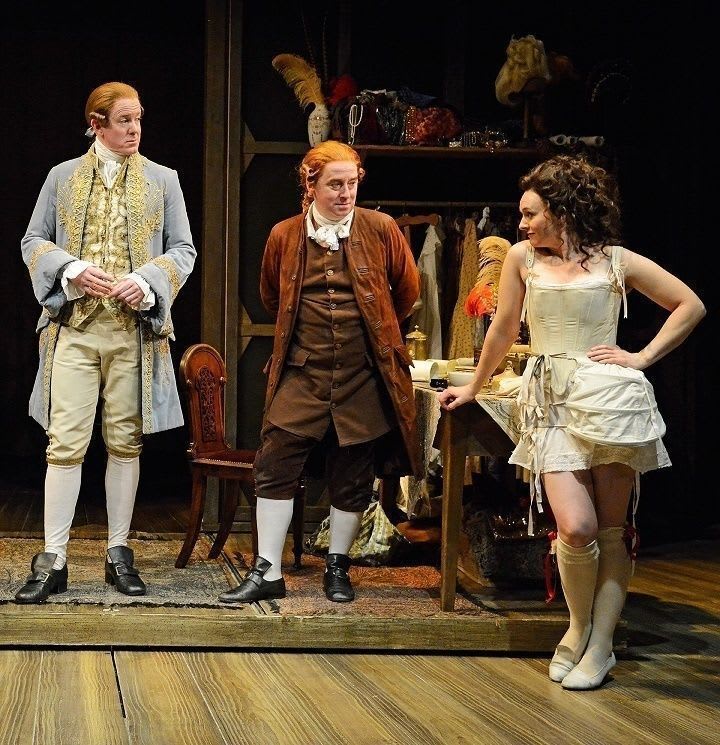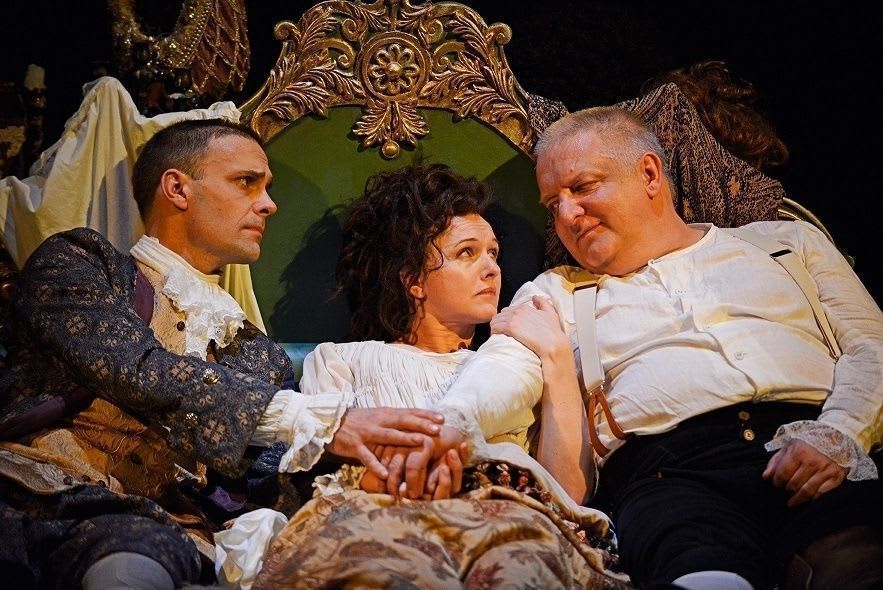 Edward Hall is to be congratulated on his coup in staging what is almost certainly the highest profile production of his Hampstead career.
The combination of Sir Richard Eyre directing, Simon Russell Beale starring as Samuel Foote and a play based on what was undoubtedly the best theatre book of 2012 always seemed unbeatable. Indeed, there was talk in the theatre community of a West End transfer long before opening night.
Pleasingly, the cast also includes Ian Kelly, the author of the magisterial biography and also the play, portraying Prince George no less. It should be emphasised that this is not today's two-year-old but his Georgian predecessor, later George III of madness fame.
Unexpectedly, where the biography was a serious and meticulously researched work, the stage play sharing its title is a dramatised comedy that borrows much of Samuel Foote's history but subverts it into what feels more like a restoration comedy.
It is certainly peopled by famous, larger-than-life characters since, in addition to the King and the actor, the main players include David Garrick, Peg Woffington and Benjamin Franklin. To be fair, rather more than bit parts also go to those working loyally behind-the-scenes to keep the show on the road both literally and metaphorically.
Foote is one of those larger-than-life eccentrics who would today be feted as drama or drag queens. In the 18th century, the none-too-polite term was a Molly. This gives Simon Russell Beale licence to camp it up, sometimes hilariously bringing back to mind his performance in Privates on Parade.
Following the sad demise of Charles Macklin, the greatest actor and manager of his day until he fatally killed a fellow performer on stage, his mantle was taken on by Foote.
Already, the West-Countryman had formed alliances with both Joseph Millson's Garrick and Mrs Woffington, Dervla Kirwan giving excellent value both as a comedienne and tragedienne.
This grouping was strong enough to launch not one theatre company but two, Garrick going on to more serious things under Royal licence while the other pair kept comedy alive at the Little Theatre on Haymarket.
Their rivalry came to a head when the upstarts attempted to put on a comic Othello to debunk and demean the more distinguished version just up the road.
Bizarrely, the battle came to fisticuffs and, thanks to the timely intercession of the future King, a horserace that brought down the interval curtain following a bloodcurdling scene in which Mr Foote's foot was literally amputated on stage in front of a live audience.
Up to this point, Mr Foote's Other Leg had been a delightful comedy and homage to the joys of theatrical life featuring mildly caricatured figures.
After the interval, while there is still a great deal of humour, especially some cracking leg jokes, the 2¾-hour evening begins to take a darker turn.
In the days before the practice of medicine reached its current sophisticated heights, when barbers were as likely to perform operations as surgeons, death was never far away.
In this case, first the sexually promiscuous Peg Woffington tragically succumbed to a tumour. Then, Foote himself began to suffer symptoms that mimicked wilder eccentricities than those that he would habitually display.
Apparently, according to Dr John Hunter played by Forbes Masson, following amputations blood clots can affect various parts of the body including the brain.
Foote's recklessness began to prefigure that of Oscar Wilde and eventually he went so far beyond societal norms that the only possibilities were abject apology or flight.
Before then, he had been impeccably looked after by the odd pairing of Jenny Galloway as Mrs Garner, a theatrical supernumerary with a wicked tongue but a heart of gold, and Frank Barber, well-known to readers of Samuel Boswell's Life of Johnson, a black servant who was devoted to the man who gave him freedom and, almost as significantly, pride.
Mr Foote's Other Leg is a great showcase for a team of fine actors, impeccably led by the irrepressible Simon Russell Beale, presenting a light comedy about love of the theatre, which only in its later stages shows the underlying tears of the clowns who perform.
Reviewer: Philip Fisher