Much Ado about Nothing
William Shakespeare
Old Vic Theatre, London
–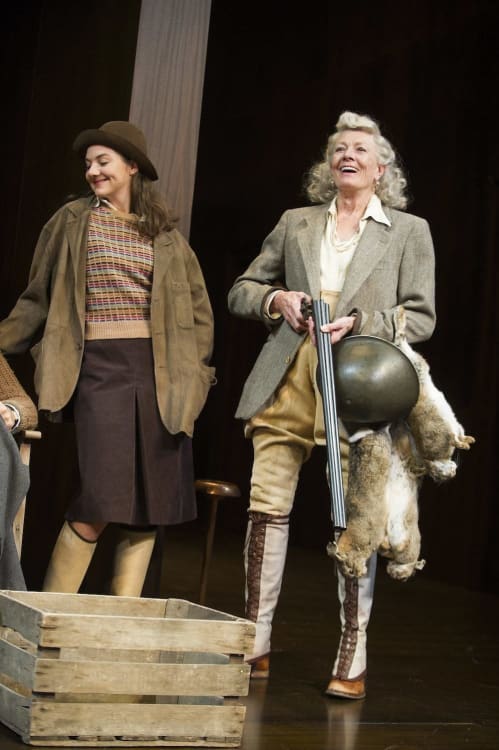 When invited to reinvigorate Much Ado about Nothing, directors like Mark Rylance would normally be expeced to cast pairings such as the best in recent times, Simon Russell Beale and Zoe Wanamaker or the most hyped, David Tennant and Catherine Tate.
On this occasion, the inaugural Artistic Director of the Globe has been given the unlikely mission of directing this divine comedy utilising two legendary stars with a combined age of almost 160, when the writer would probably have had in mind a couple in their late 20s.
This inevitably creates a series of obstacles that were never going to be easily overcome and turns the evening into two separate events.
First, there is the opportunity to witness Vanessa Redgrave and James Earl Jones, so good together on both sides of the Atlantic in Driving Miss Daisy, attempting to shed the years and transform themselves into Beatrice and Benedick.
It is sad to report that even such an august duo signally fails to achieve the impossible. Mr Earl Jones initially struggles with his pacing and rhythm, words sometimes hard to come by, before relaxing into the role. Even then, this unlikely octogenarian US airman struggles to be heard and understood, even by those sitting in the centre of the stalls.
Miss Redgrave fares rather better but, despite flashes of inspiration, is still miscast in a role that she would have graced a generation ago.
The pair lack the necessary energy and aggression, not to mention the sexual electricity and quick-fire repartee that these roles demand, leaving a gaping hole in the centre of the production.
Around them, Rylance has constructed a conceit that sees the familiar events played out in wartime England circa 1944 with American airmen invading the aristocratic home of genteel Leonato, a fusty, frustrated Michael Elwyn.
Swiftly, Lloyd Everitt's passionate Claudio falls for the self-effacing Hero, Beth Cooke, while the more senior couple strike very small sparks off each other fending off a love of their own.
The chance of true love running smooth is derailed by the efforts of Danny Lee Wynter playing evil, disfigured Don John, surely modelled on The Godfather, complete with Marlon Brando's strangulated vowels.
Oddly, it is youth that saves the day on Ultz's bland, panelled set featuring little but an oversized wooden arch.
Peter Wight is a comically memorable Dogberry, whose watch consists of a Verges who is around the same age as the leads and a trio of young scouts fully 65 years the latter's junior but already wiser than their chief. These youngsters run rings around not only their fellows must also the mischief-making Americans.
In doing so, they bring the story back on track, unmasking the baddie and taking the 2¾-hour-long evening to a happy ending that is a requirement of any Shakespearean comedy.
Reviewer: Philip Fisher