Much Ado About Nothing
William Shakespeare
Royal Shakespeare Company and Chichester Festival Theatre
Theatre Royal Haymarket
–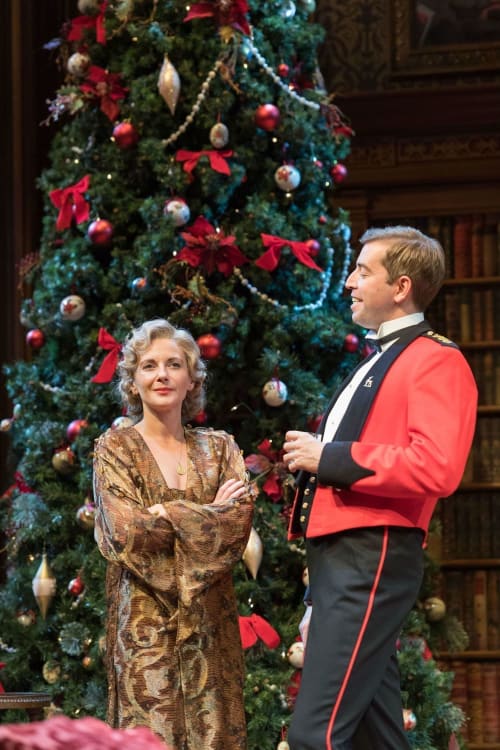 Christopher Luscombe has worked hard to make his 2½-hour-long version of Love's Labours Won or Much Ado About Nothing of a piece with its companion, Love's Labours Lost.
The setting, once again impeccably designed by Simon Higlett, is intrinsically the same, translating the drama into the lives of the landed gentry and lower classes of Olde England, though moved on a decade or so into the 1920s.
The opening sees Lisa Dillon's Beatrice as a trim, highly efficient nurse welcoming the troops led by John Hodgkinson's Prince Don Pedro back from the War to the stately home of her uncle Leonato, portrayed by Steven Pacey.
The returning troops contain a rum assortment. Quickest to catch the eye is Edward Bennett taking the role of wise-cracking Benedick and immediately clashing verbal swords with Beatrice to great comic effect.
However, the pair do not reach their comic peak until the twinned arras scenes, the first of which hilariously takes place in the living room with an oversized Christmas tree playing a big role, the second in the environs of the house where a convenient window adds to the humour.
Complementing the central pairing comes a younger couple. Claudio, played by Tunji Kasim, is far less vibrant but equally determined. He has only one goal, obtaining the hand in marriage of Leonato's sweet daughter Hero who, in the person of Rebecca Collingwood, is equally smitten.
True love rarely runs to order in Shakespearean comedies and the catalyst for entry into the play's darker underbelly is Sam Alexander oozing evil in the role of crippled Don John, whose mind seems as sick as his body.
As a result of his efforts, the evening builds to the dramatically fatal wedding scene and its tearful aftermath, prior to the kind of ending that is inevitable in this genre.
Light relief is provided by the serving classes. Indeed, much to the delight of the audience, Nick Haverson at one point completely takes over the stage with his slapstick clowning in the role of irredeemably dim Police Constable Dogberry, for whom his native language is a bigger barrier even then than the dastardly criminals of the parish.
Ultimately, almost any production of this work is likely to be judged on the performances of those playing the central characters. Edward Bennett is particularly good both where comic timing is required as well as wounded dignity. Opposite him, Lisa Dillon is more than a match, also spot on Jake is concerned and adding convincing anger to the combined armoury.
Once again, composer Nigel Hess offers not only background music but also songs that evoke the jazz age and the influence of Noël Coward.
Much Ado About Nothing is rarely less than enjoyable but as part of this cleverly conceived double bill, it benefits from the period and setting, allowing viewers to reconsider the play from a new perspective and, frankly, have a good time.
Reviewer: Philip Fisher