Mustard
Eva O'Connor
Fishamble: The New Play Company, in association with Sunday's Child Theatre
Traverse 3
–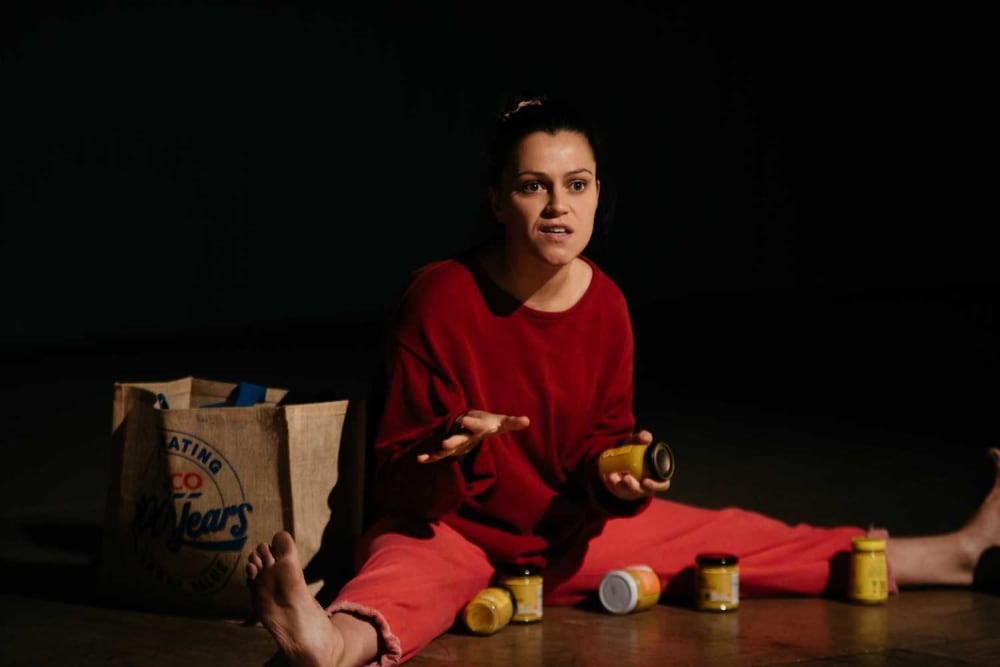 This hour-long monologue comes from Dublin's ever-reliable Fishamble: The New Play Company and deservedly won a Fringe First at last year's Edinburgh Festival Fringe. Before that, it appeared at the Dublin Fringe Festival where this recording took place.
Mustard is a tale of thwarted love, written and performed by Eva O'Connor under the direction of Hildegard Ryan. It is one of those shows that is presented as autobiography but could range anywhere between total invention and exact representation of historical fact. Given that the character played by Miss O'Connor is known as "E", it might even be the latter.
The story is simple enough. A young woman travels from rural Ireland to London to make her fortune as an artist, fed more by dreams than a guarantee of success. There, she meets the man of her dreams, clearly a remarkable physical specimen since it transpires that the anonymous hulk is a successful professional cyclist. Our heroine is instantly smitten and, her luck holding, the passion is reciprocated so that soon enough she finds herself invited to reside in his "Crouch End Castle".
The path of true love rarely runs smoothly and, if anything, that is an even more reliable maxim for stage depictions of love at first sight than examples in real-life. The cyclist disappears for longer and longer spells, pursuing his career but also his real two-wheeled passion, inherited from an influential grandfather.
What might have been a very poetic and mildly entertaining but familiar tale of unrequited love is turned into something rather different, given its unusual presentation. As things begin to turn sour, the unhappy lady rushes back home to her mother in rural Ireland and seeks masochistic diversion.
Some unusual stage business begins to make sense as the unpacking of seven pots of eponymous mustard, reeling out of a clothesline and even the inflation of a paddling pool are revealed to be preparation for the props behind an eye-catching piece of performance art / theatre.
Eva/E, finding that the pain of desertion (or more accurately rejection) is not enough, literally covers herself in hot, yellow English mustard, much the distress of her devoted mother.
While the performance element of this production is eye-catching it can also be distracting. However, this play's real strength lies in a well-told story confidently delivered in poetic language that feels as if every single word has been chosen with care and to achieve maximum impact.
Mustard is literally extraordinary and proves once again that the writer of the wonderful Maz and Bricks is a real talent.
Reviewer: Philip Fisher