My Brother's Country
Javaad Alipoor
Soroush and Routes North
The Lowry (Studio), Salford
–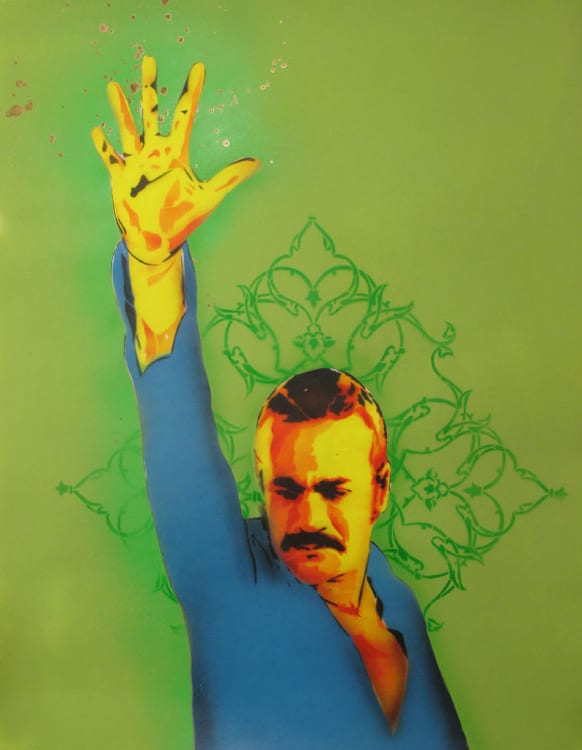 Under the last Shah, Fereydoun Farrokhzad was Iran's first true media superstar; a master of his native tongue (Farsi) and a charismatic performer.
Falling foul of the Ayatollah Khomeini's regime, Farrokhzad fled to Germany where, in 1992, he was horribly murdered in a maniacal attack by an unidentified assailant. Among the ex-patriot Iranian community, debate continues over whether his politics or his sexuality (he was strongly rumoured to be bisexual) brought him to his doom.
My Brother's Country is a play with a great title which, as yet, it fails to earn. Javaad Alipoor has hit upon a subject which might have universal appeal—the massively successful artist who is brought low by politics and personal choices before dying a terrible death. This version, however, seems to have been brought to the stage too early.
Not that it is at all under-rehearsed, but the themes within it (enormous themes like art and obligation; sexuality in a repressive regime; sibling devotion; the plight of the refugee, the decline and fall of a hero etc.) are too superficially explored.
In a fascinating post-performance discussion, we learn that the process of creating the script has involved not just the young writer, but a dramaturg (co-director Natalie Diddams) as well as enthusiastic creative contributions from the cast. All such explorations are potentially profitable and should be embraced by a writer but, given this level and variety of input from multiple sources any writer, let alone a young, developing writer like Alipoor, may find his own delicate vision buried under a feast of tempting sweetmeats.
Rather than bringing this vibrant but confused banquet of many chefs to the table, the writer now needs to go away, listening for a while only to the voices in his own head, taking back ownership of his own project, giving it focus and direction. While some ingredients must go in the pot, others must be put back on the shelf. (End of extended metaphor.)
What must it be like to live the experience of the displaced and dispossessed, in Farrokhzad's case, writ large; to go from adored cultural icon to poverty-stricken refugee? A gripping story that My Brother's Country does not yet tell.
This promenade production—part of the audience sits as guests in a café-style night club—is effective and the movement well-choreographed (the stylistic staging of Farrokhzad's killing is skilfully mounted).
Nicholas Gauci looks the part of the pop idol and, while his singing could use help from the production team, he projects a warmth and energy to which the audience is drawn. Brother and sister, Anja (Tracey-Anne Liles) and Akadiusz (Matthew Curnier) are themselves "foreigners"—persons of Polish heritage now German citizens. She becomes Farrokhzad's first wife and mother of his son, whilst her brother may or not be the star's secret lover.
The dynamics of this triangle are never fully explored. Gender and sexuality for these characters bring professional problems yet, although we are given more with respect to Anja's struggles to become a successful director/producer for TV, any parallels between her fight and Farrokhzad's remain unexplored.
Olivia Sweeney as Forough, the poet-sister, arrests the eye throughout. Rightly nominated for a Manchester Theatre Award for her performance in Rebekah Harrison's excellent In My Bed at last summer's 24:7 Festival, Sweeney once again shows courage, intensity and utter immersion in the world of her character, an outstanding poet with a complex emotional life. Sweeney takes possession of the stage; no cheap histrionics, just emotional truth, rawly and generously donated to the cause.
Forough may well have the best speech of the evening, with a soliloquy that clearly intends to transfix the audience with the beauties of the Iranian poetic tradition (this is, after all, the culture which gave the world Omar Khayyam). Sweeney gives it her all physically, but too many of her words are swept away in a deluge of supposedly background music.
This is only the most frustrating of several such incidents, drowning out what might have been key moments of dialogue—a level of incompetence indistinguishable from deliberate sabotage. At the curtain call, it would not have surprised me if the customary gesture by the cast, inviting the audience to show their appreciation of the tech team, had been replaced by the shaking of fists in the direction of the sound board.
For the sake of the cast, the audience and the poor playwright (as my dear departed father so often said to my teenage self) TURN THAT NOISE DOWN!
Reviewer: Martin Thomasson