My Night with Reg
Kevin Elyot
Donmar Warehouse
Apollo Theatre, Shaftesbury Avenue
–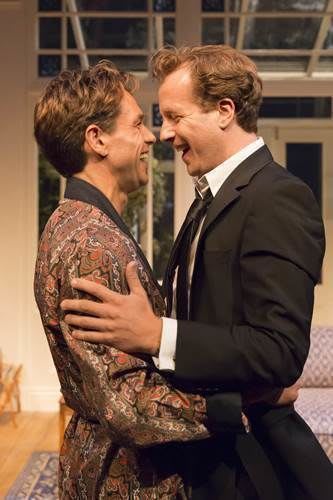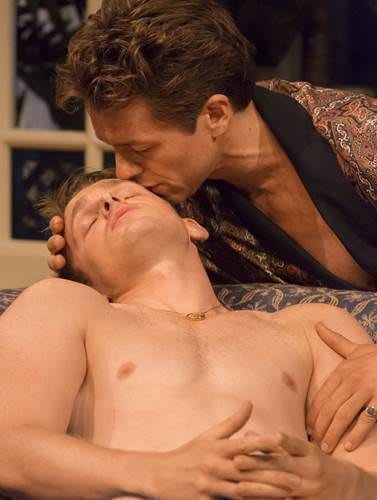 It says much about the two countries that the United States has Angels in America to commemorate the swathes of death that AIDS spread through the gay population starting in the 1980s, while Britain's contribution is My Night with Reg.
Tony Kushner's play is a double-header epic that is loud, in-yer-face and fantastical, while this two-hour long meditation by Kevin Elyot might either be seen as a very black comedy or a tragedy. Either way, it is largely quiet and understated, fitting the stereotypical British character perfectly.
It is certainly a beautifully crafted work which speaks volumes through the unstated. It opens in happy times as Jonathan Broadbent's shy Guy welcomes a few friends to a flat warming party in the kind of home that ideally fits this quiet intellectual.
We slowly gather that the main connecting factor between all of his guests is or will be Reg, a regular cruiser it seems, whose presence is constantly felt but never seen.
His partner Daniel, portrayed by Geoffrey Streatfeild, is very queer and deeply in love. The quality of the acting is shown when we move into act two a couple of years later as Daniel becomes a mourner at Reg's after-wake.
By then, we have learned that whatever Reg felt for Daniel he had no qualms about carrying on an affair with Julian Ovenden's handsome, irresponsible John, an archetypal wealthy playboy.
Adding considerable humour to the evening come Benny and Bernie, respectively played by Matt Bardock and Richard Cant, as mismatched a couple as one could hope to meet or more probably avoid.
Benny is a rough bus driver with a wry sense of humour, while Bernie is a precious, possessive bore.
The sextet on stage is completed by Lewis Reeves as Brummie Eric, almost a generation younger than his fellows and, as such, a breath of fresh air for all.
The hidden depths of My Night with Reg are of the kind often only recognised in retrospect. By the end, the complete randomness of this terrible plague becomes apparent as we see that the neurotically careful were just as likely to succumb as the careless and carefree, while those in the latter category might also inexplicably outlive everybody else.
This highly sensitive revival directed by Robert Hastie says much in a short period of time, owing a great deal to a well-chosen cast of whom Jonathan Broadbent and Julian Ovenden particularly remain in the memory, which is not to detract from their fellows.
Kevin Elyot really has written a modern classic and this bittersweet new production, which proved such a hit at the Donmar last summer, is a worthy presentation of both the play and a generous memorial to those that it commemorates.
Reviewer: Philip Fisher