Nine Night
Natasha Gordon
Leeds Playhouse and Nottingham Playhouse
The Courtyard, Leeds Playhouse
–

Listing details and ticket info...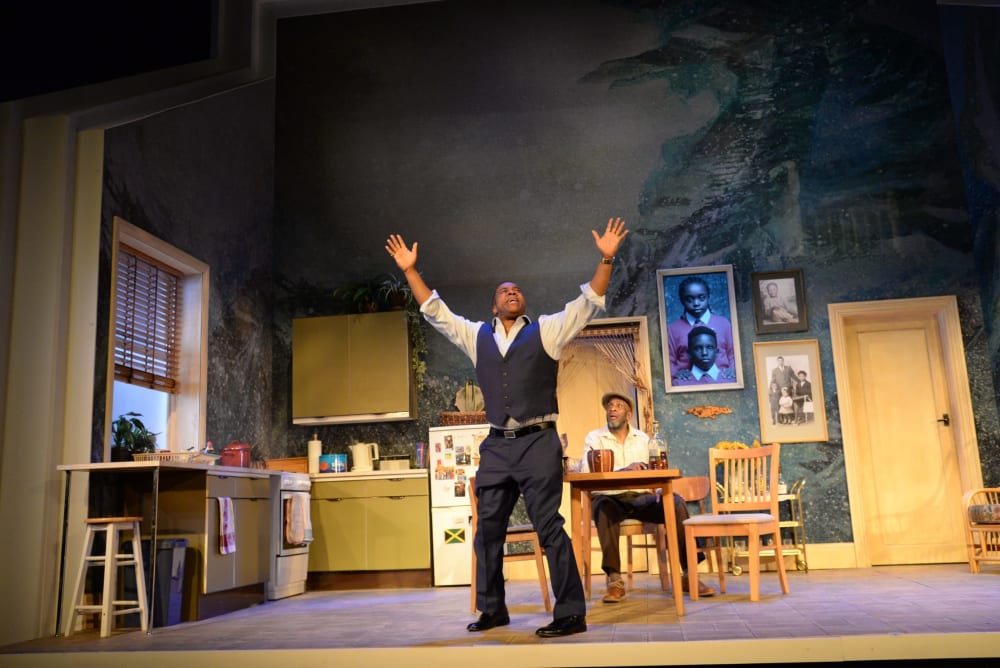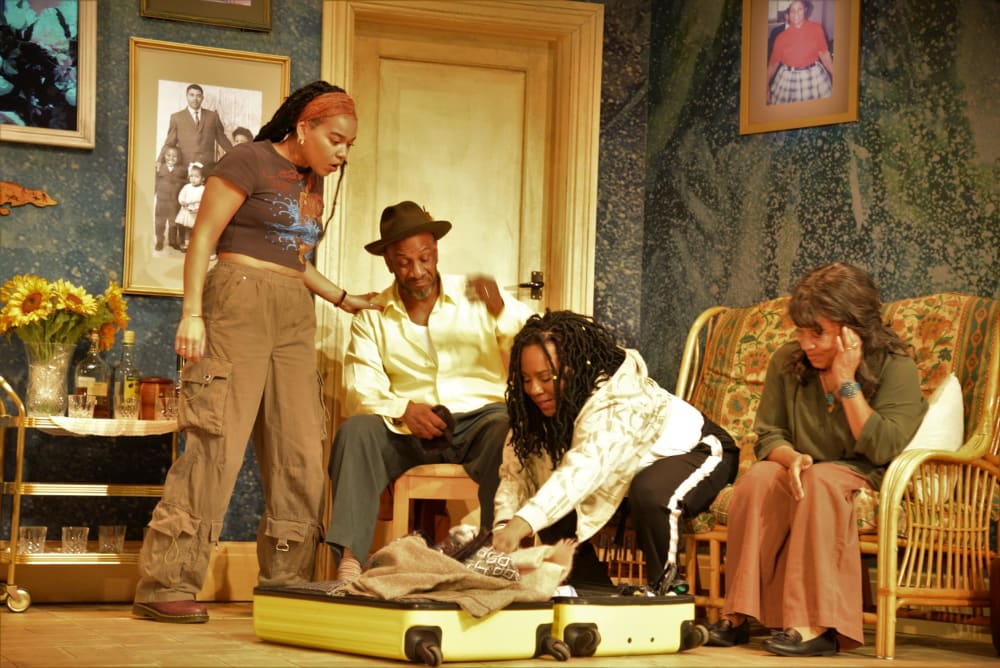 Natasha Gordon's 2018 debut play Nine Night was a critical success at the National Theatre and in its transfer to the West End. This new production staged in Leeds and Nottingham is warm-hearted and watchable, albeit slightly overcooked at times.
A nine night is the Caribbean tradition marking the period between a person's death and their burial nine nights later. After a time of remembrance and—most importantly—partying, on the ninth night, the spirit is invited to leave the house and take up residence in the afterlife. Far from a wake or a sombre ritual, it is, as the play tells us, a time for families and friends to hold "up yuh head in celebration, nuh bow it down wid contemplation."
As the play opens, Jamaican-born Gloria, whom we never see, is ailing in bed, barely conscious, and her 23-year-old granddaughter Anita (Jessica Whitehurst) is visiting the family home to help care for her. Gloria's cousin Maggie (Josephine Melville) and Maggie's husband Vince (Wayne Rollins) breeze into the house, keen to see the patient. This irks Anita's mother Lorraine (Shereener Browne), who has taken on the main care-giver role, having opted for voluntary redundancy and returned to the family home in order to look after Gloria. Quickly, the sense emerges that she somewhat resents the invasion by these others, and that Anita, despite her best efforts, can't quite get anything right.
This hints at the multiple tensions and secrets that sit at the heart of the play, which emerge over the course of the next couple of hours. Once Gloria passes away, the invasion, and these emotions, escalate. In the aftermath of the loss, and as the family honour their Jamaican heritage with a nine night celebration, their heart-to-hearts are interrupted by party-goers dancing in and out at key moments.
Other family members are introduced, each adding a layer of drama: Lorraine's brother Robert (Daniel Poyser) is a would-be entrepreneur with an eye on the next big deal. He is married to a self-effacing music teacher, Sophie (Jo Mousley), who is white and keen to contribute towards this (to her unfamiliar) celebration of the deceased.
The greatest tensions erupt when, towards the end of the play, Gloria's oldest daughter Trudy (Andrea Davy) appears, having made a belated journey over for the funeral: Trudy was left behind in Jamaica when Gloria moved to the UK in the 1970s and began her new life and family.
Gordon marshals her characters adeptly, placing them in the single-room setting and turning up the pressure cooker of social and cultural expectations in order to lay their psyches open to examination. The script sketches the characters well, and they move fluidly in and out of Jamaican Patois, with characters often switching into more heavily accented uses of Jamaican idiom to prove points, pull rank, or establish complicity with others.
Browne plays Lorraine with quiet commitment, and Whitehurst, a recent stage debutante, shines as Anita, snarling and bridling at times, exuding energy at others. One or two characters, though, tend to exaggeration, and this felt particularly emphasised in this production's slightly uneven handling. Set against Lorraine and Anita is the comically emphatic Maggie, amusingly oblivious at times, and luxuriating in every pause and one-liner. This feels like a stylistic choice rather than a failing of either script or actor—Melville is a strong performer—but it left me feeling the play had been pulled slightly out of shape.
While the script calls for overlapping dialogue and the bustle of a party in full swing, this production is slightly more ponderous, and the use of community chorus actors here is rather perfunctory, as they're largely reduced to silently shuffling across the stage making meaningful eye contact, the drama suspended somewhat inertly while the characters, and we, await their exit.
The set (Emma Williams) and lighting (Simisola Majekodunmi) is similarly fine but strangely fussy. For me, the addition of periodically shifting family photos was unnecessary; likewise the mostly pointless transparent back wall which revealed the upstairs hallway on only a couple of brief occasions. Again, this took away from the sense of the confined, realist space in which we're invited to share in the celebrations and rancour of this fraught family moment.
A deserved revival, then, of a well-crafted and compelling family story with ongoing broader cultural significance. But the direction occasionally seems overembellished. Perhaps this is the challenge of following so swiftly after such an acclaimed première production.
Reviewer: Mark Smith