Nine Night
Natasha Gordon
Trafalgar Studios
–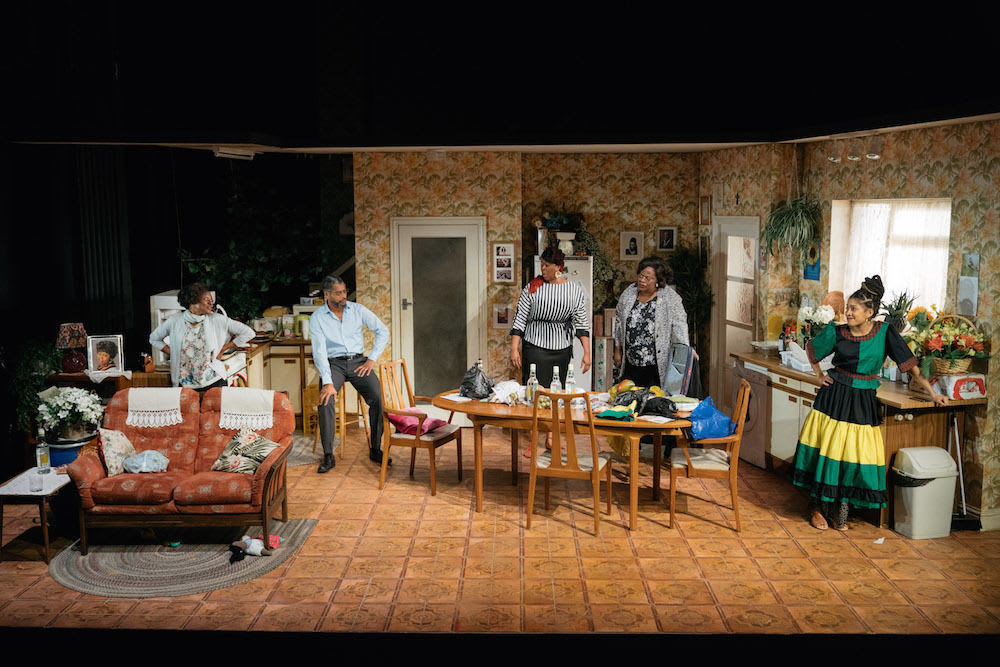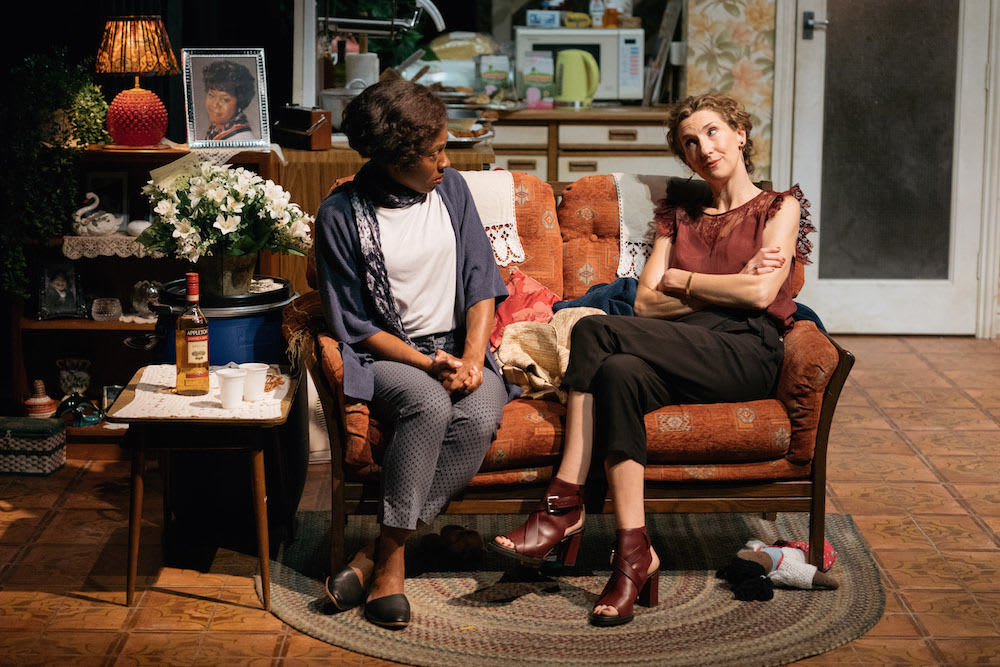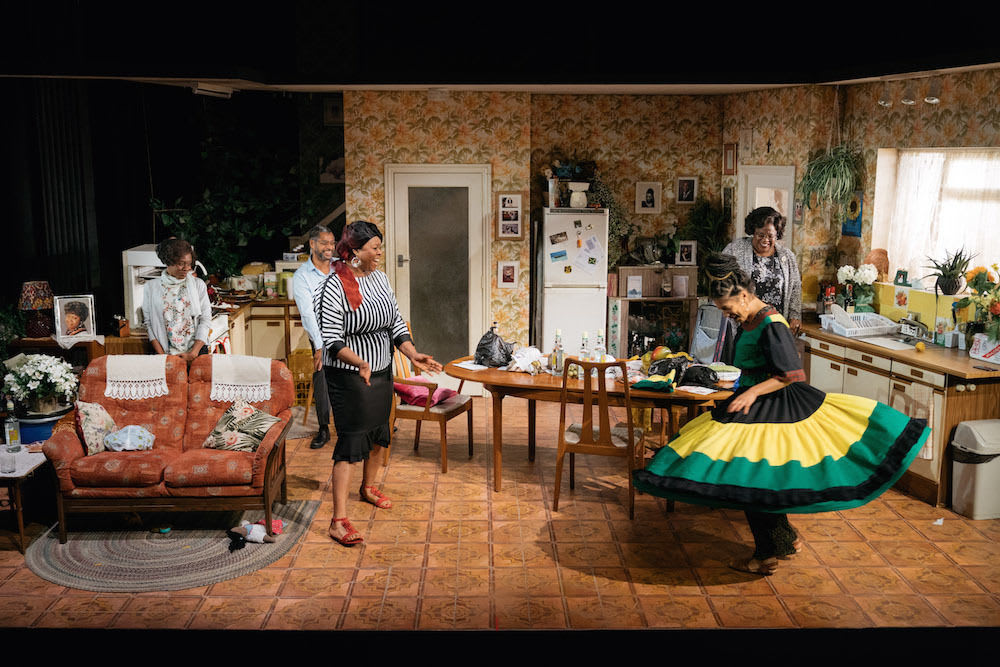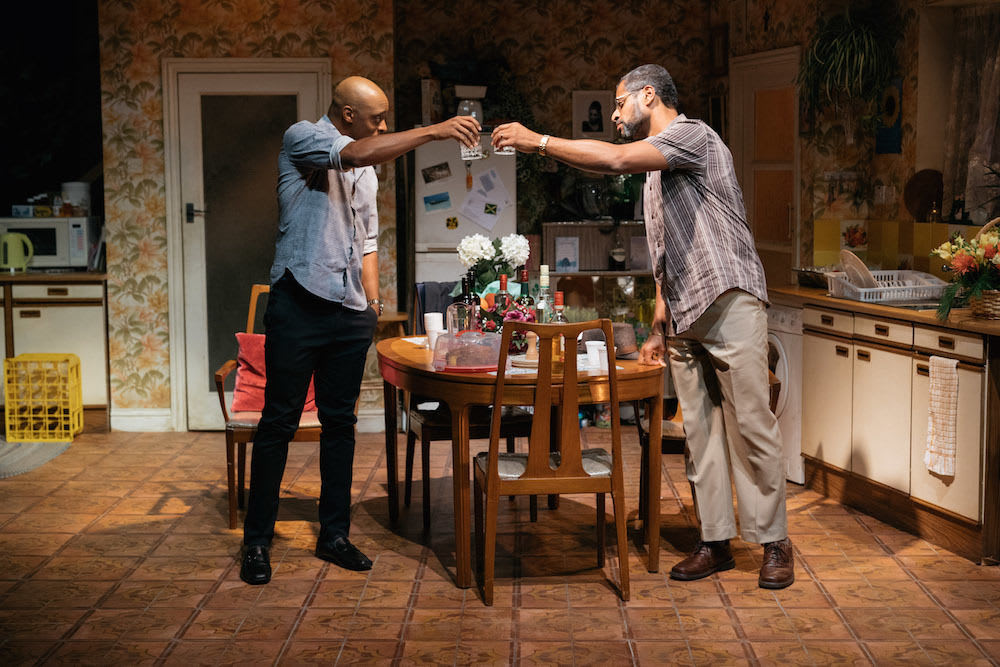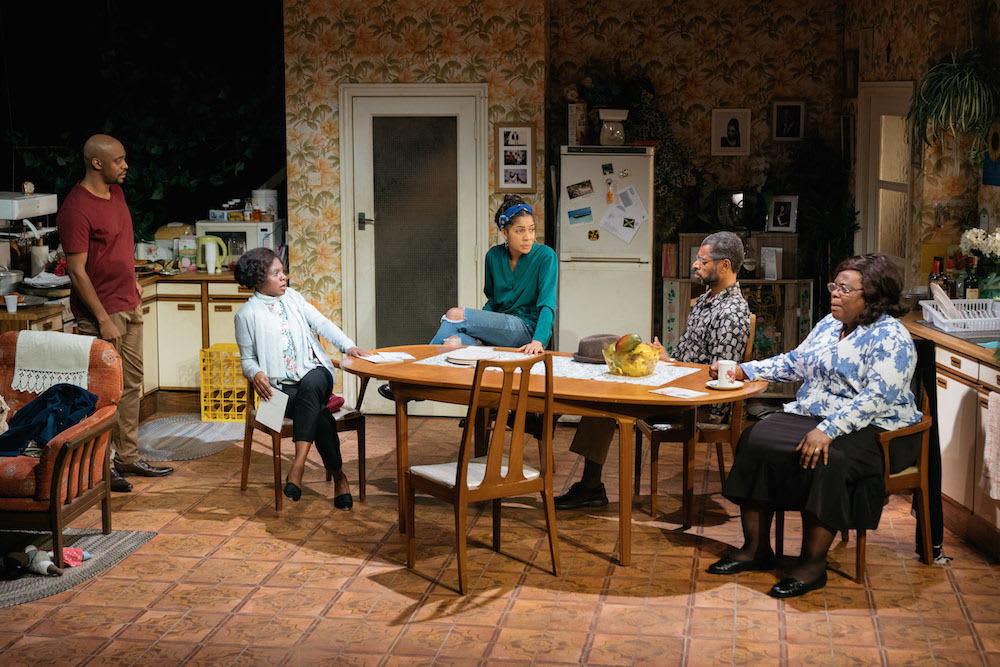 "Nine Night is Natasha Gordon's first play as a writer and this transfer will make her the first black British female playwright to have a play staged in the West End." Come the day one doesn't need to point that out.
Gordon, an actress in her former life, looks as if she has a new career ahead of her, her writing sings. Nine Night won the Evening Standard most promising playwright award recently after opening earlier this year at the NT Dorfman. Some debut play! Gordon has also "recently been nominated for the Best Writer Award in The Stage newspaper's 'Debut Awards'.
The matriarch Gloria is dying of cancer upstairs; Lorraine the dutiful daughter (Gordon taking on this lynchpin role) is the self-sacrificing chief carer with the help of her graduate daughter Anita. Anyone who has been through this scenario will find it rings very true.
Then religious, opinionated force of nature Aunt Maggie (a scene stealing role if ever there was one from Cecilia Noble) turns up with mild well-to-do Uncle Vince (Karl Collins) and sets the agenda. Tradition must be observed—as well as other superstitious rituals from the old country. The nine-night Jamaican wake must send Gloria off to the other world,
The reported party happens off stage—it's the family conflicts that are played out centre-stage and there are many as in any family. The daughter Gloria, left behind in Jamaica aged only three, arrives bringing many home goodies for everyone, especially the essential white rum to see the spirit on her way.
But she has abandonment issues: Michelle Greenidge is another larger-than-life, outspoken woman in the Aunt Maggie mould. Why didn't Gloria send for her once she'd established herself in England? Granddaughter Anita (Rebekah Murrell), looking like Frida Kahlo in the folk costume brought for her, is a cool modern woman with a baby of her own and an unseen partner doing a PhD. The journey the generations have travelled…
Son Robert (Oliver Alvin-Wilson giving a highly strung performance), a bit of a wheeler-dealer, wants to sell the house as soon as possible. He needs the money, but he also has problems with his white wife Sophie, or rather with her racist mother.
Sophie (Hattie Ladbury) is a gentle soul, who finds she is pregnant in her mid-forties, which does not please him. He doesn't want children, because he doesn't want anyone to look at his children the way he was looked at. Says it all about the hurt and anger one carries forever. 'Café latte' her mother calls the baby to be… Why does Sophie not keep that to herself to avoid further hurt? Talk about hostile environment…
Bitterness surfaces, but humour too, and Aunt Maggie gets the best lines, delivered in a delicious patois: a Freedom Pass is "the only decent ting me get from this teefing government", and talking of which, I see The Guardian, which exposed the Windrush outrage, has started a timely Windrush appeal. When cremation is mentioned, she retorts, "we don't cook our people."
Sound design (reggae mostly) by George Dennis gets Aunt Maggie on her shuffling feet, booty swinging, and Rajha Shakiry's realistic set—plastic on chair seats, doilies and antimacassars, patterned wallpaper, drinks cabinet—is a cosy kitchen-cum-dining room, where the classical unities are observed.
Unity of time of course is meant to be only twenty-four hours; here it is theoretically spread over nine nights but actually it is the last night that is the significant one, the day Gloria's spirit is released from her home, and Lorraine gives the most poignant speech of the evening.
Sketchy in places, only 105 no-interval minutes, there are more stories begging to come out. Maybe a television series… Gordon has a wicked turn of phrase and genuine warmth that crosses the footlights. The standing ovation is well deserved. Moving, funny and sad, the Jamaican diaspora has a worthy champion.
Ably directed by Roy Alexander Weise, "Nine Night is a touching and exuberantly funny exploration of the rituals of family." I can't say better than that. A finely tuned balance between sorrow and joy, between generational differences: the old, a foot in two camps, head here but heart in the birthplace, clinging nostalgically to the home country, whilst the young have moved on and assimilated. It may be the immigrant experience, but Nine Night is also a universal one.
Reviewer: Vera Liber