Nocturne
Adam Rapp
Almeida Theatre
(2008)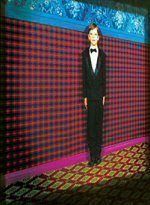 "Fifteen years ago, I killed my sister" may sound like giving away the plot but since it is the play's first line, this is a good way of introducing a beautiful, elegiac monologue about an ordinary man.
Eight years ago, when Nocturne first saw the light of day, it had a cast of five but now, under Matt Wilde's direction, first in North London and then at the Traverse in Edinburgh, it has been pared down to a minimalist solo on a stage adorned by nothing more than a light bulb and chair hanging from a meat hook.
Irish actor Peter McDonald is perfectly cast as the unnamed narrator and uses a faultless American accent. He retains a boyish innocence which covers a haunted past that he cannot escape, even in sexual congress.
He hails from a middle-class family in the suburbs of Chicago and is something of a piano prodigy. This gives Rapp an excuse to structure his 100 minute poetic drama like the piano solo of the title.
After the shock opening announcement, we hear the story of a 17-year-old and a second-hand car without working brakes that in one of those fateful coincidences decapitates the funny, bright sister, eight years his junior.
Mother goes into depression and father briefly considers revenge but, as soon as is decent, the protagonist hightails it for the anonymity of New York. There, he works in a bookstore and yearns to emulate the numerous novelists, primarily American, who are both his heroes and companions, as well as the furnishings of his sparse apartment.
For fifteen years, he lives a monastic life, publishing an autobiographical novel that doesn't really sell and avoiding cars and women, having had unfortunate experiences with both.
His stream of consciousness style, divided into five parts by dissonant piano music from Phillip Neil Martin and black and white projections seems to be going nowhere but in a very pleasant fashion.
Eventually, his cancerous father writes to fix a deathbed reunion and reconciliation, which might be the catharsis that our simple hero needs to release him back to normality.
Nocturne has some similarities with Joan Didion's The Year of Magical Thinking but on this occasion there are long periods when death disappears at least from the surface of the protagonist's life.
Adam Rapp, whose Finer Noble Gases caused such a stir in Edinburgh two years ago, could not have written a more contrasting play - classical piano against hardcore rock. This quiet, thoughtful solo is strongly recommended to all but especially fans of the early work of either Conor McPherson or Neil Labute, since in different ways, it has similarities to both.
Reviewer: Philip Fisher