Noises Off
Michael Frayn
Lyric Hammersmith
–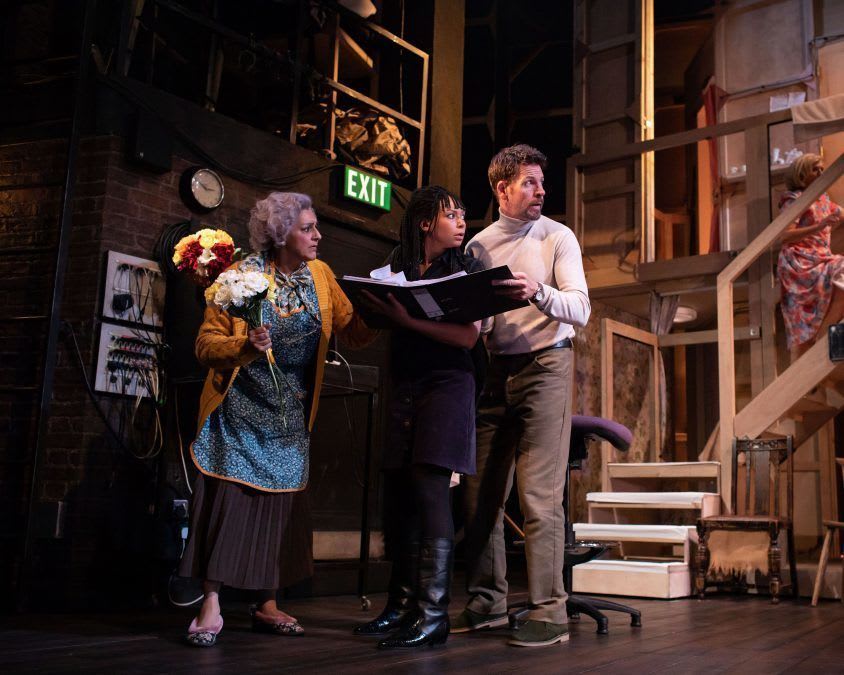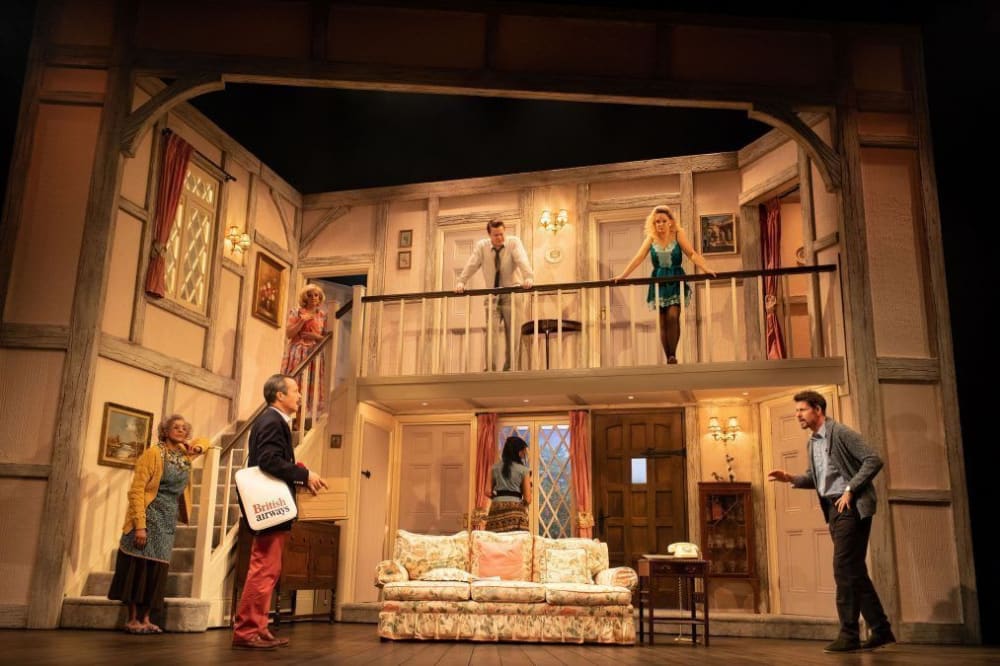 If Noises Off is not the best farce since the days of Ben Travers, it is certainly in the top echelon. Director Jeremy Herrin certainly thinks so, having lovingly brought the play to the stage for Roundabout in New York at the beginning of 2016 and, in this new production at its original venue, to London audiences.
This version designed by Max Jones feels more rooted in the 1980s than the New York interpretation but that just adds to the fun, reminding us just how awful life could be before political correctness began to hold sway.
Nobody will be disappointed. The problem with most farce is that the set-up is tedious, building to a frenetic few minutes at the end that might or might not be hilarious.
On this occasion, the jokes throughout the 2¼-hour running time are consistently funny, albeit some of them are stage in-jokes, while the slick farcical comedy starts in the second act and doesn't let up, potentially leaving audience members exhausted from laughter.
The underlying idea is deceptively simple. A professional group of amateurish actors has been brought together to stage a touring production of a farce called Nothing On.
Under the weary tutelage of director Lloyd Dallas, given an epic, deadpan performance by Lloyd Owen, we witness the cast's frantic efforts to ready themselves for opening night in Weston-super-Mare.
The difficulties are manifold and insuperable. Amongst other impediments to a smooth run, Dottie portrayed by Meera Syal can remember neither her lines nor her moves; Lloyd has been bedding both the brainless ingénue and stage manager, respectively played by Amy Morgan and Lois Chimimba.
Other affairs start and finish with startling rapidity, while Simon Rouse plays veteran Selsdon who has a drinking problem. As if that was not enough, Jonathan Cullen's Freddie is both ineffably dim and likely to swoon at the sight of blood.
The opening act introduces us to the company, portraying them happily blundering around in an all-night dress rehearsal.
In a stroke of genius, Michael Frayn literally takes viewers behind-the-scenes in act two at Ashton-under-Lyne a month later, creating a magical dumb show.
The coup de grâce comes with the final evening of the run in Stockton, as all of the chickens come home to roost in a manic, delightful period of constant laughter that never lets up.
The actors give their all throughout, with particular credit to Daniel Rigby, who literally risks limb if not life diving down stairs every night like a fully-fledged stuntman.
To add to the fun at the press performance, there was an issue with the lighting, which many present might initially have assumed was a newly scripted enhancement, although it turned out to be only too real. Even a 10-minute delay could not dampen the enthusiasm of the cast nor their guests in the auditorium.
Although this play first saw the light of day in 1982 starring Paul Eddington and Patricia Routledge, pleasingly both the playwright and original director, Michael Blakemore, were present to enjoy this latest opening night and, like everyone around them, will have been reminded just how good and tight this play is, particularly in the hands of a director who clearly loves it.
This limited run lasts only one month and is likely to sell out. It is to be hoped that the producers are already negotiating for a West End transfer in the autumn.
Reviewer: Philip Fisher