Nora: A Doll's House
A Radical New Version of Henrik Ibsen's Play by Stef Smith
Young Vic and Citizens Theatre Glasgow
Young Vic Theatre
–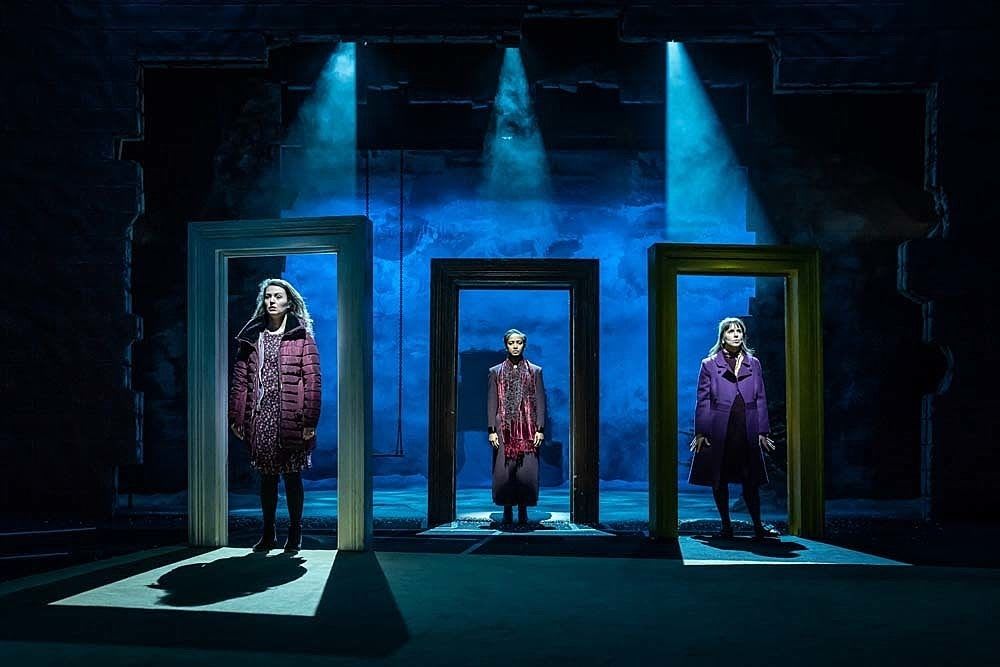 For this co-production between the Young Vic and the Citizens Theatre Glasgow, Scottish playwright Stef Smith has created what is justifiably described as a radical new version of an Ibsen classic that proved such a hit at the same venue in 2012.
On that occasion, Simon Stephens adapted the piece less radically but more faithfully in a deeply moving version was blessed with phenomenal performances by the award-winning Hattie Morahan and Dominic Rowan under Carrie Cracknell's impeccable direction.
On a thrust stage, using props that consist of little more than three doorways and six chairs, with dilapidated false prosceniums in the background, the 1¾-hour performance opens with three narrators, all of whom turn out to be the same person.
They are Nora, seen from three historical viewpoints starting at the end of the suffragette era of 1918 following implementation of the Representation of the People Act, then 50 (swinging '60s) and 100 years (austerity) on.
While respectively Amaka Okafor using an RP accent, Natalie Klamar Australian with an Essex twang and Anna Russell-Martin Scots collectively play the central role (and also somewhat confusingly also her underwritten, intermittently bisexual friend Christine), the menfolk have to treble up.
While this is relatively easy for Mark Arends and Zephryn Taite, each using single accents and characters across time, Luke Norris excels, switching with alacrity between Thomases with different accents and attitudes.
The main strength that those behind this production will have perceived is the opportunity to examine a 19th-century feminist tale from new perspectives.
This works best with strict Edwardian banker Thomas patronising a lady who is aware of the suffragettes but is yet to obtain much benefit from their sterling efforts.
By 1968, the idea of a politically aware young woman ignoring employment opportunities and allowing her menial clerk of a husband to bully her seems unlikely. In 2018, by which point he is a junior manager in a finance office, it makes no sense at all.
Without class and patriarchy holding sway, the play loses much of its meaning and power, while no payday lender would allow Nora the latitude of Victorian times.
Although director Elizabeth Freestone has worked hard to coordinate her triumvirate of Noras, the stage space and her blocking cause serious problems on two counts.
First, directing relatively statically on diagonals means that viewers spend far too much time looking at performers' backs, while simultaneously being blocked from seeing those acting upstage.
Secondly, as a direct consequence and hardly helped by strong accents, those facing in the opposite direction deliver lines that are often at least partially unintelligible.
This production clearly comes from the fashionable school which believes that Ibsen (and his peers) wrote promising plays that desperately need to be improved, usually through modernisation, the introduction of new messages and stripping back on period design and production values.
When it comes off, this approach presents rich dividends in new interpretations that add much to our understanding of the writer and his or her intentions. However, more often, the Carrie Cracknell approach which faithfully depicts the original, albeit through fresh eyes, proves far more reliable and successful.
Reviewer: Philip Fisher