Nutcracker
Choreography by Wayne Eagling, music by Pyotr Ilyich Tchaikovsky
English National Ballet
London Coliseum
–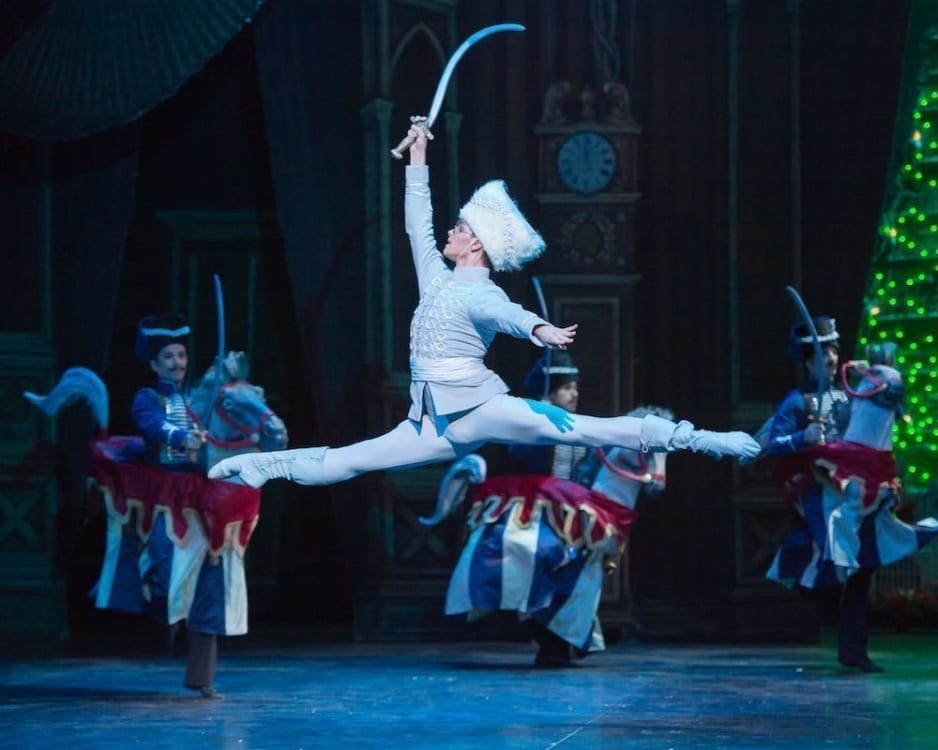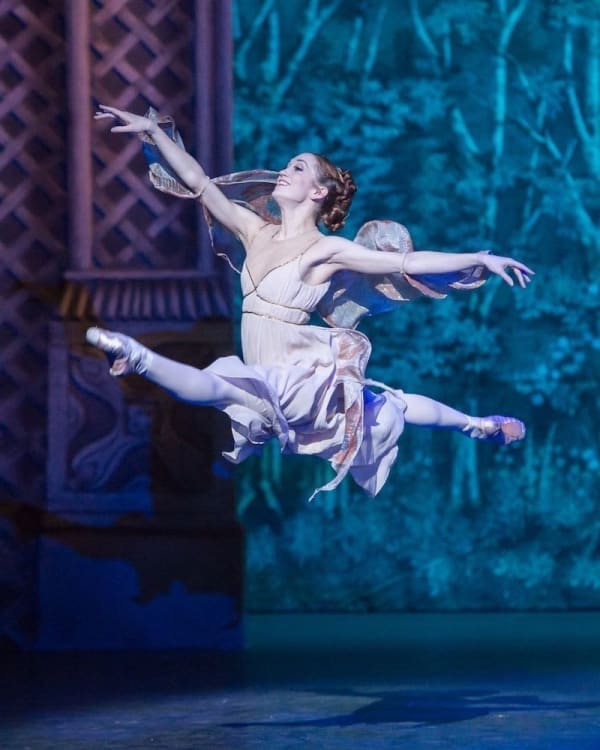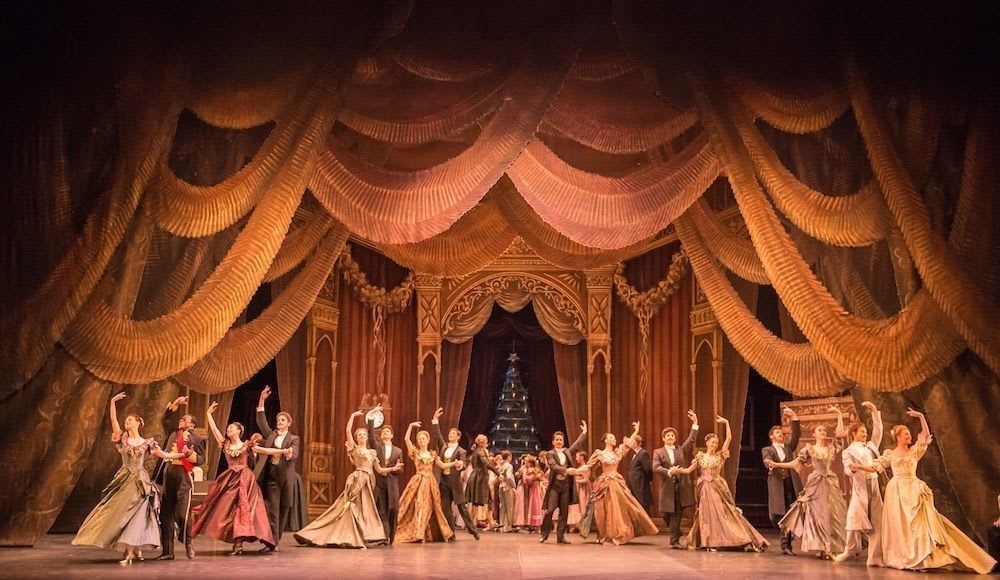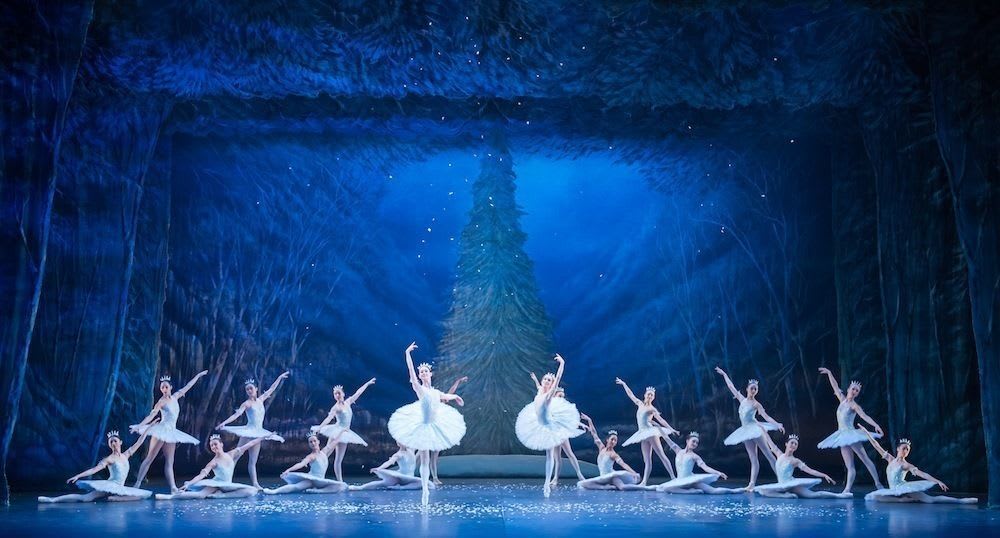 Nutcracker—notice the omission of the definite article, in the Russian style. But Wayne Eagling's crack at the nut has little Russian about it, being set in a grand London mansion on 'the frozen Thames', skaters colliding and tumbling outside.
A wealthy Edwardian household, a Christmas Eve party, merry dances, pampered children, Saint Nicholas ticking off their gifts on the hostess's list, tongue-in-cheek humour, naughty Freddie—in fact a proper family with the usual little irritations—teasing his sisters Clara and Louise with a wind-up mouse, as they get ready for the ball.
Every party has to have an entertainer—the magician Drosselmeyer (Fabian Reimair) with an elegant nephew (Alejandro Virelles) in tow—enough to set any young girl's heart aflutter. It is Drosselmeyer who sets the clock and gets the evening ball rolling.
Performs sleight of hand tricks and officiates at the puppet show. Take note: many of the things you see in the first act will appear in the second in a different dimension when the clock strikes midnight.
Sereina Mowlem's Clara transforms into Alina Cojocaru in the blink of an eye, as the Christmas tree grows and turns frosty. And don't be surprised when noisy block-shoed snowflakes fill the stage.
The puppet theatre becomes the proscenium arch under which Spanish, Arabian, Chinese and Russian themed dances take place. Spanish windmills on the horizon, Yonah Acosta with a woman on each arm disarms with his 'Basilio' flash and flare.
Freddie is no longer a whipped chained prisoner in the Arabian sequence (thank goodness that's been edited—still needs a bit more work, but better, much better), and Senri Kou with her two male attendants delights with a bit of chinoiserie.
The Russian trepak is a mix of Russian and Ukrainian: the Russian couple, she in kokoshnik head dress, he in boyar costume glide as if on casters, whilst the exuberant Ukrainian peasants leap and twirl, Fernando Bufalá astonishing in his repeated mid air sideways splits.
Ksenia Ovsyanick (debuting as Clara later in the run) is a wonderful solitary art nouveau butterfly Mirliton partnered by Drosselmeyer.
The ENB corps comes into its own in the waltzing flowers episodes that break up the grand pas de deux—the highlight of the evening when Alina Cojocaru and Alejandro Virelles get to shine in their variations, grande adage and coda.
Nutcracker (Max Westwell) turns into Nephew Prince and back again—Clara's love for each swinging back and forth, or melding into a confusing whole: difficult to pull off on stage.
The darkly handsome Cuban Alejandro Virelles has the softest feet and a boyish charm, whilst Alina Cojocaru is sublime—poise, balance, musicality—every young girl's image of a prima ballerina, a music box ballerina that twinkles as Tchaikovsky's celesta tinkles.
A musical match, and I am transported finally to ballet heaven. But the dream comes to an end, as all dreams must. Young Clara will remember it forever. Freddie (Basil James as the cheeky boy, Barry Drummond as the dashing youth) seems to remember it too.
Warm-hearted, inclusive, nothing much to scare the enthralled children in the audience (I miss my young companion of last year)—even the Mouse King (James Streeter) with his skull head and blazing eyes causes amusement when he hangs off the hot air balloon basket whisking Clara and the Nutcracker away from the battle.
He's dispatched behind the arras. No nightmares here, only dreams, the battle episode between the toy soldiers and mice naughty and silly—cannon balls that bounce and do no harm, and a cheesy mousetrap trebuchet—not too gothic or supernatural. 'Based on a concept by Toer van Schayk and Waybe Eagling', this Nutcracker—first performed in 2010—attempts to make psychological sense of its elements.
Are we tired of the seasonal Nutcracker yet—so many productions, so many versions, so many interpretations and concepts—seems not. The Coliseum audience's loudest applause goes to the English National Ballet Philharmonic orchestra and conductor Gavin Sutherland, which visibly takes him by surprise.
And the audience is never wrong. Tchaikovsky's familiar romantic music is the magic that glues all the Nutcrackers in the world together. He is the Drosselmeyer of the tale, the facilitator of Clara's dream, its apotheosis in her grand pas with her prince.
Waltzes, folk dance divertissements, distractions and diversions, Christmas tradition would be traduced without at least one Nutcracker in town. And good old English National Ballet's is the only Nutcracker in town, with a delicious cast of established and rising stars.
It maintains the tradition of performing Nutcracker at Christmas every year. This is its 11th production of it since it performed its first full length Nutcracker in 1950, its founding year. I look forward to the next version. I wonder who could undertake that…
Reviewer: Vera Liber