Nutcracker
Choreography by Wayne Eagling, music by Tchaikovsky
English National Ballet
London Coliseum
–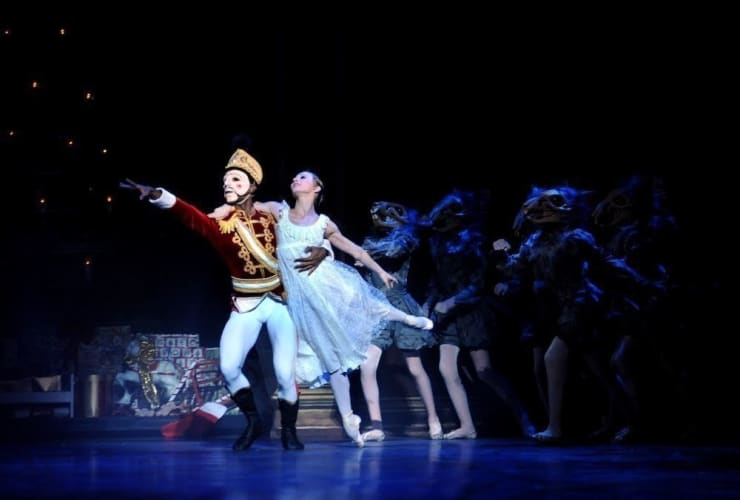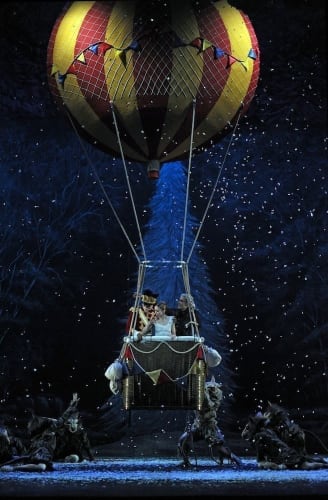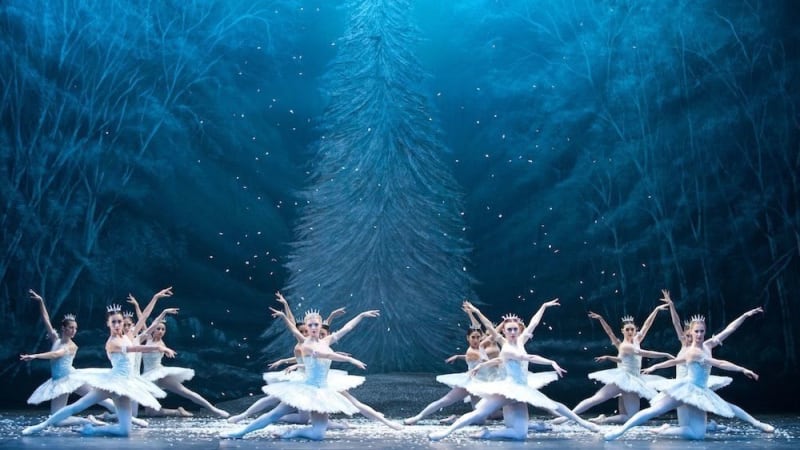 Here we are again, another year older, at English National Ballet's seasonal Nutcracker in Wayne Eagling's version's fourth annual outing, Tamara Rojo's second season as artistic director, and all is well.
Well, not quite, whilst my nine-year-old companion (his first Nutcracker ballet) and I are transported to a land of sugar plum and flower fairies, mirlitons, snowflakes, skaters, family Christmas Eve party entertainment, battles between mice and toys, and hot air balloons, at the Apollo theatre not far away a real drama was taking place.
London was snarled up, the weather was atrocious, many people were injured as Apollo's theatre ceiling and balcony gave way. Inside the Coliseum the only drama was Clara's naughty brother Freddie breaking her Nutcracker doll and teasing her with a mouse. And her pre-pubescent dream of mice and men.
Oh, and over-excited little girls projectile vomiting ice-cream millimetres from our seats. Not enough to distract from performers at the top of their game. The music, conducted by guest conductor Nigel Gaynor, tingled the skin, and Tchaikovsky's new discovery, the celesta in Paris in 1891, made us believe in fairies and handsome princes.
The highlight for me was the grand pas de deux, the apotheosis in the second half, lead principals Vadim Muntagirov and Daria Klimentová's long-established partnership making my heart skip a beat, as my companion phrased it. He was right.
A warm and secure rapport between them, together they are unbeatable, in their solo displays they are astounding, pitch and foot perfect. How much longer Klimentová will be dancing (hard to believe there is almost a twenty-year age gap between them) is a moot question, but on tonight's performance she is a very young soul.
Vadim Muntagirov's gentle attentiveness and wonderful partnering masks a steely technique. A prince amongst dancers, he must be the English National Ballet's pride and joy. Injuries notwithstanding (heaven forbid), he will be giving us pleasure for many a year yet. I tell my guest to remember them well—he has seen the very best.
But what is that to him… He prefers the first half—of skaters outside the grand house, the warm reception inside, the presents, and the ball for the whole family, grandmother (an unrecognizable Tamarin Stott) and grandfather (Michael Coleman) joining in the dance.
And the children's dances delight him, too. Students from the Tring Park School for the Performing Arts must be congratulated on wonderfully focused performances: Micaela Infante a self-possessed young Clara, Matthew Cotton for fine acting skills as Freddie.
Young and old—the evening is for all the family, drawing them together, no one excluded. I remember Michael Coleman with great fondness in his favourite role as the husband in Jerome Robbins's The Concert at the Royal Opera House. And many more—he was a lovely Mercutio, too.
Memories of times past—seemingly better than the present—the Nutcracker ballet's first half enchants the younger members of the audience with its Edwardian bourgeois cosiness, with a very grand Saint Nicholas handing out gifts to good children.
Something for the girls. Something for the boys—sword fights with large mice (an ingenious mouse trap catapult), and a boy's own adventure. I'm referring to an older Freddie, captured in Clara's dream by an Arabian Nights potentate with whip and harem. A veil had better be drawn over that.
Grown-ups will take pleasure in the superlative dancing: Ksenia Ovsyanick as a Fragonard Mirliton, Lead Snowflake, and Clara's big sister Louise; Lauretta Summerscales as lead Snowflake, and lead Flower in the Waltz of the Flowers; Junor Souza as the masked Nutcracker and James Streeter as the Mouse King.
Yonah Acosta excels in the Spanish dance, Shiori Kase in the Chinese, and Ken Saruhashi is a spectacular leaping Russian.
Fabian Reimar is a charming Drosselmeyer, who creates the magic, sends Clara on her Freudian wish fulfillment journey—the Nutcracker is one minute in his mask, a toy come to life, the next a handsome Prince who bears a resemblance to his Nephew. The constant switching of dancer could be perplexing, but we managed to keep up.
The company is on top form. Lucky Micaela Infante having Vadim Muntagirov briefly all to herself. Now that is what I call a real Christmas treat for a budding ballerina. Experience handed on, as in ballet, so in life.
Reviewer: Vera Liber