Nutcracker
Choreography Wayne Eagling, music Pyotr Ilyich Tchaikovsky, design Peter Farmer
English National Ballet
London Coliseum
–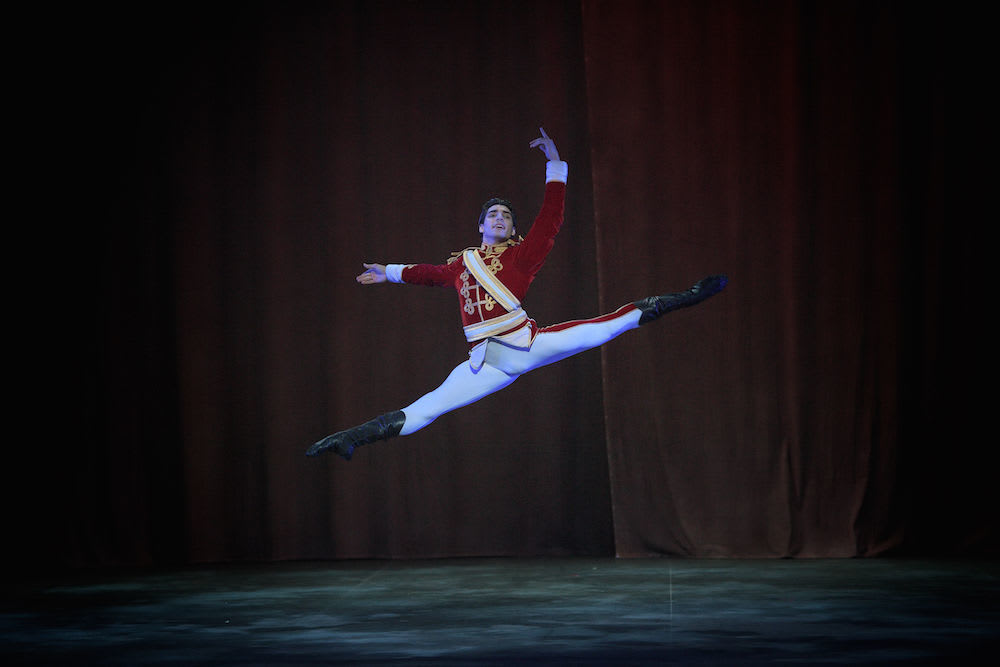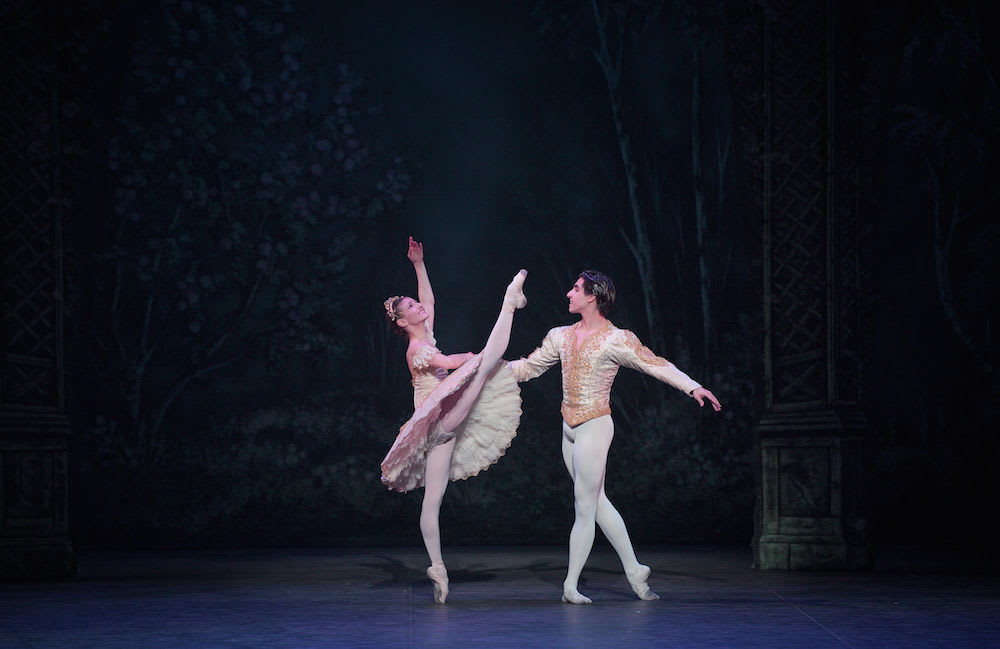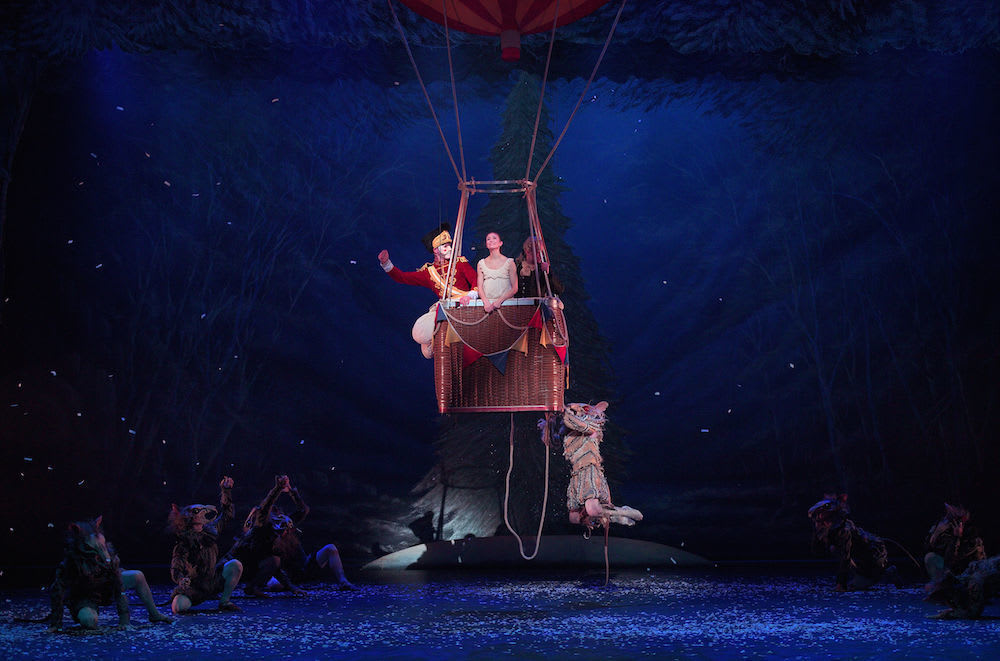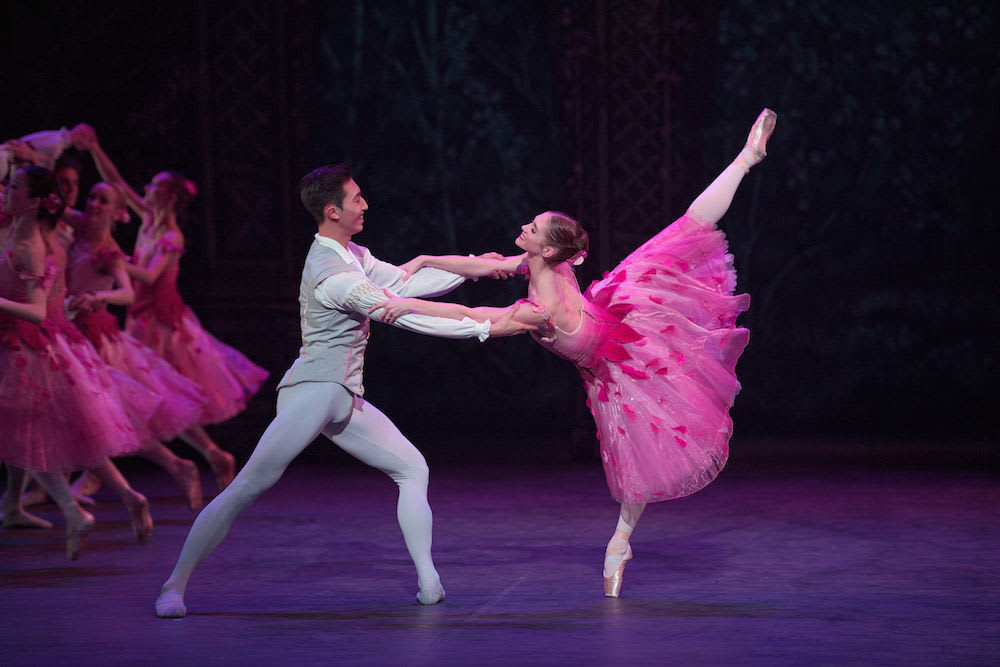 A Russian saying "how many summers, how many winters" might apply to the everlasting Nutcracker if one didn't know it meant "long time no see". Nutcracker we see all too regularly. Most of you must know the story exceedingly well by now. Even in all its variations...
The well-to-do Christmas Eve party with three generations dancing together, presents galore, stereotypically naughty boisterous boys (brothers, eh!) and prim little girls, magician, storyteller and arch manipulator Drosselmeyer with his military cadet nephew, who awakens the first pangs of pre-pubescent love in little Clara, her Nutcracker present coming to life, fighting with the Mouse King, and Clara now a grown girl in a magical kingdom getting to dance with the prince she thinks she loves.
The Wayne Eagling version has the Nutcracker and the Nephew double in Clara's dream world: one minute she's dancing with the man in the Nutcracker mask, the next it's the man of her dreams. And it all happens inside the party's puppet theatre, grown in size, where anything is possible, as Drosselmeyer weaves his spell, starts the clock, triggers the action.
Conveniently divided into two halves, the earlier one for children before they nod off in the second, the second for adults perked up after a drink in the bar, Nutcracker has become part of Christmas tradition for many. Tchaikovsky's music, of course, never palls, that distinctive tinkling celesta, the Sugar Plum Fairy's motif, that musical earworm angelic choir.
Lulled by Tchaikovsky's music, the cosy family scenes (I am slightly distracted by the non-PC Grandmother in the first stages of Alzheimer's), it's only in the second half that I am jolted upright by a shot of electricity from Nephew Cesar Corrales.
What a little firecracker—no nutcracker he! One can tell that it is not him inside the Nutcracker head—no offence to James Forbat doing a tremendous job behind that suffocating mask. First Soloist Corrales comes into his own in the final grand pas classique, superbly partnering Alina Cojocaru on splendid form after an injury.
Soaring in the air, and pausing for a second there, he has breathtaking ballon, his grands jetés stretch that extra inch, he goes hell for leather in his fast spins, and he has a sure stage presence. Definitely a showoff showman, with his confident grin he reaches past the footlights, and the audience rewards him with the loudest applause of the evening.
Alina Cojocaru, secure in balances and technique, stretches the music to breaking point, spinning liquid, and, perhaps infected by his derring-do, throws herself into astonishing leaps on to his shoulders and into his one-armed lifts. All the pyrotechnics of a gala bring the house down. More of this please...
Fabian Reimair—a quicksilver Mozartian figure—keeps it all under fabulous control: the puppet theatre, the Spanish, Arabian, Chinese and Russian visions, the Mirliton, Waltzing Flowers and the Mice. He even provides the means of transport—a hot air balloon.
ENB dancers dance their hearts out. Laurretta Summerscales is a gorgeous Mirliton partnered by Reimair; Junor Souza a lithe Arab; Katja Khaniukova a sharp athletic Chinese girl, all three Spaniards (Adele Ramirez, Crystal Costa and Vitor Menezes) are terrific, and lead Flower Alison McWhinney and partner Jinhao Zhang stand out.
But I wonder, is it time for a new Nut? I know Artistic Director Tamara Rojo can work miracles—we've just had a very successful new Giselle commissioned by her—why not a new Nut? I know Nutcracker is a money-spinner for the company, but Nutcrackers there have been many in the company since the 1950s.
The 1957 David Lichine production was designed by Alexandre Benois—imagine that: the Benois who designed for Ballets Russes, the Benois who saw the St Petersburg 1892 production. There have been, amongst others, productions by Peter Schaufuss, Derek Deane, and a Christoper Hanson / Gerald Scarfe production which lasted eight years.
Has this travelling production based on a concept by Toer van Schayk and Wayne Eagling, now in its seventh year, had its day yet? I'm not complaining, just wondering.
Merry Christmas and S Novym Godom!
Reviewer: Vera Liber