Akram Khan's Giselle
Choreography Akram Khan
English National Ballet
Sadler's Wells
–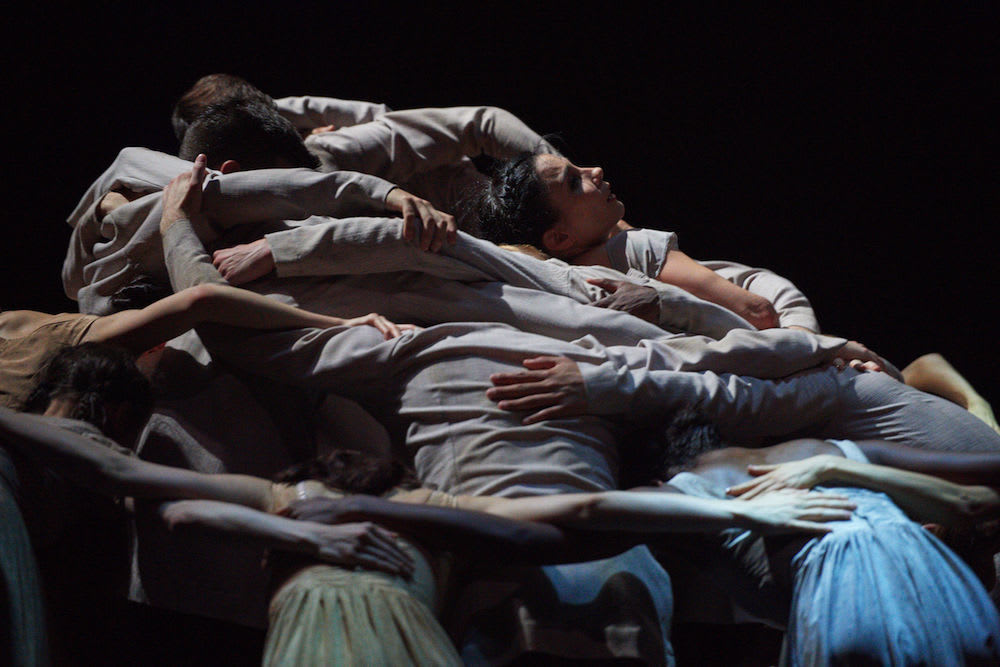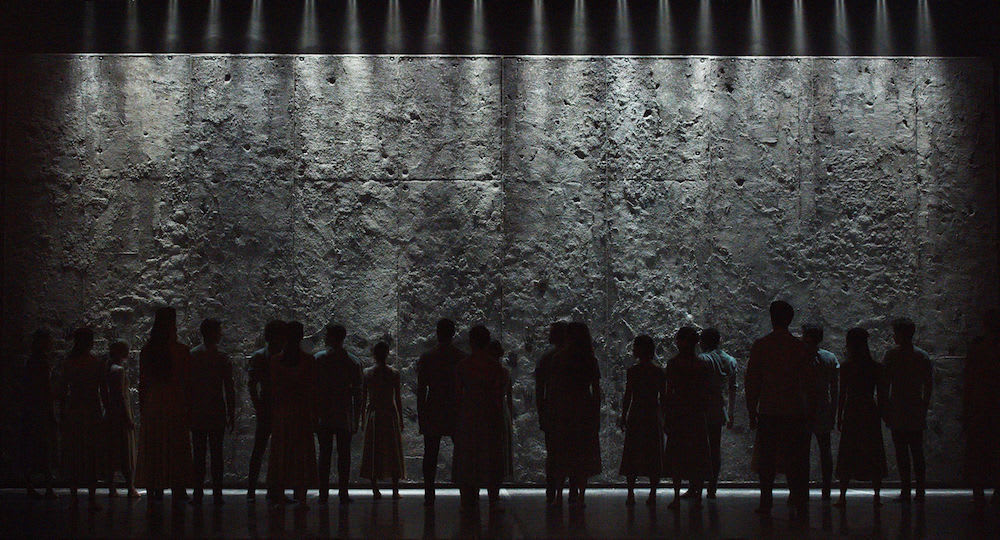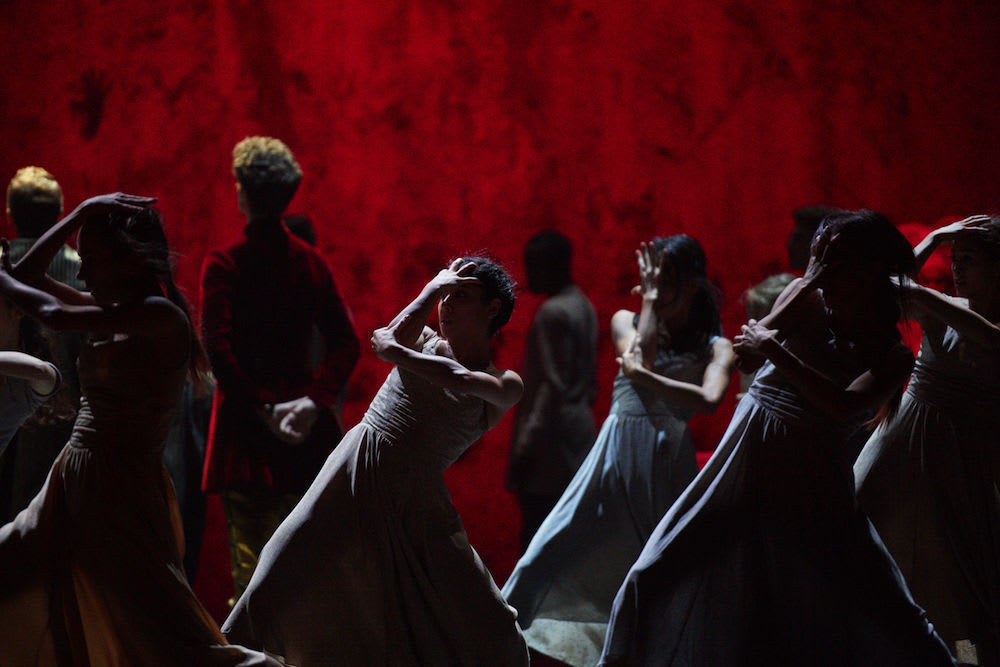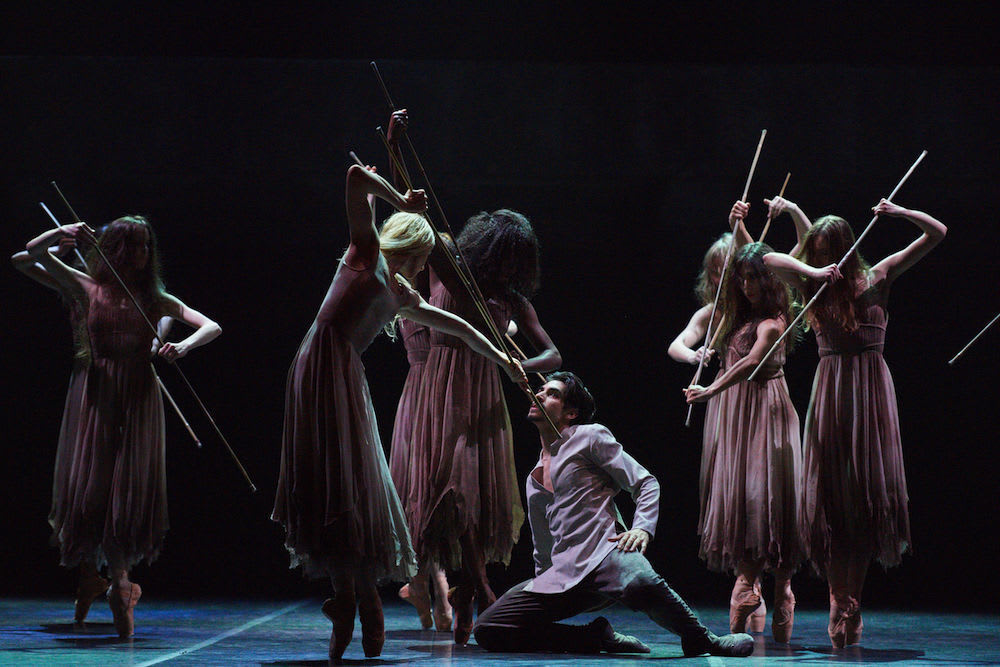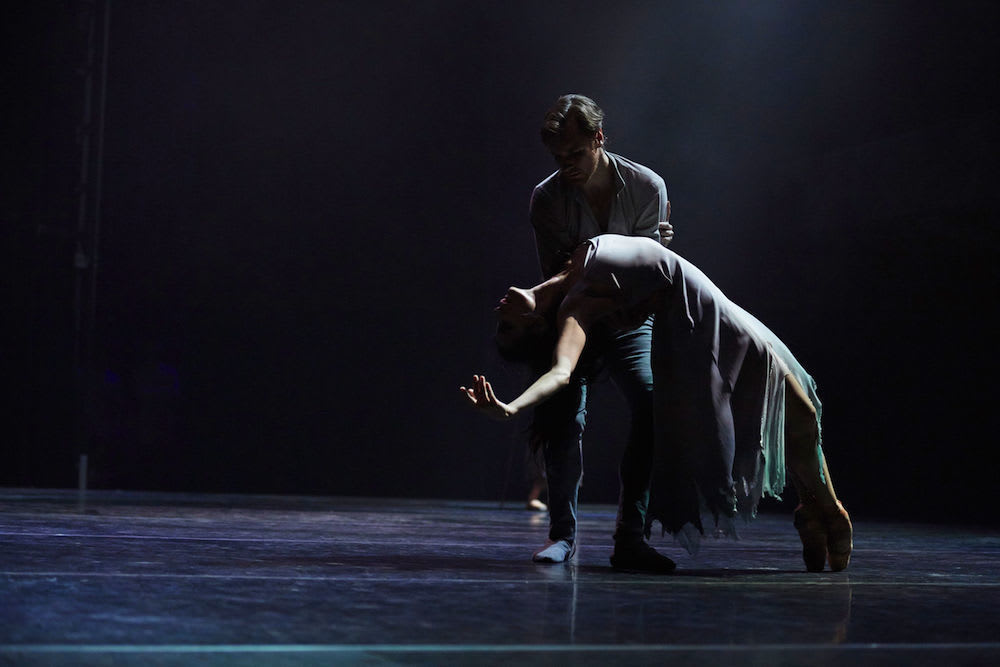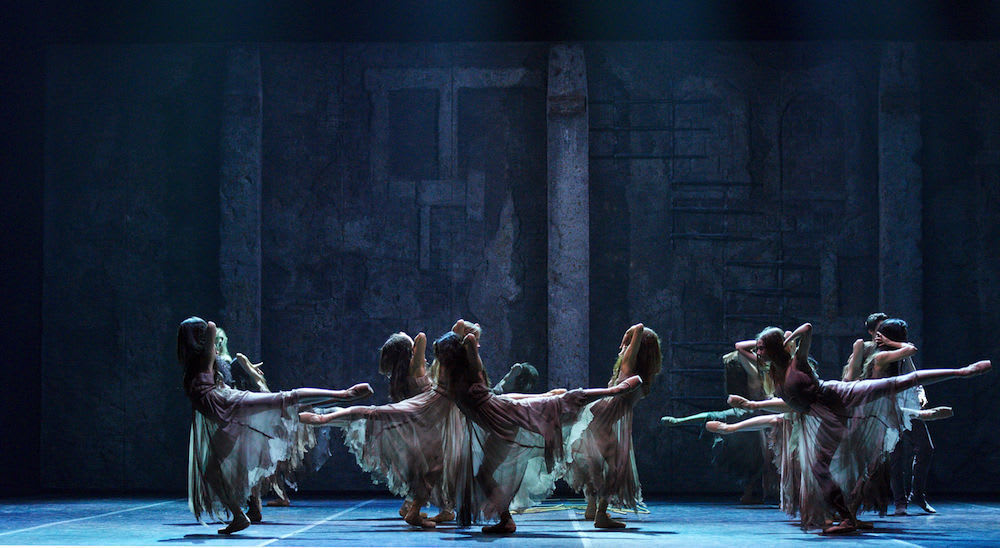 Giselle And Albrecht Defy The Wall? Divided Nation? Love Trumps Hate? Nope, don't work. So Giselle it still is, Akram Khan's twenty-first century dystopian version of the mid-nineteenth century Romantic ballet. A clarion call, or perhaps a voice in the wilderness, it is a work of dramatic intensity that crosses boundaries. Kathak hands, mercurial martial arts moves, contemporary contact work, and ballet pointes, some synthesis...
And what a hit in the solar plexus it is. A fine collaboration of talents: orchestrated and conducted by Gavin Sutherland, performed by the English National Ballet Philharmonic, sound engineered by Marcus Hyde, Vincenzo Lamagna's cinematic edgy score rumbles ominously, industrial, futuristic and emphatic; Mark Henderson's lighting dark, murky and disturbing; Tim Yip's stark design loaded with meaning. "The violence of inequality" is what dramaturg Ruth Little calls it. Khan's Giselle, not surprisingly, sold out long ago at Sadler's Wells.
A huge, grubby, concrete, grey wall, stained with the handprints of countless desperate Outcasts, a seething mass of dancers kicking up the barren dust, worn-out, out-of-work, migrant factory workers in shabby grey, playthings of Landlords on the other side of the fortress wall. They work hard at pushing that thing.
But, as we know, no wall is impregnable, where there's a will there's a way, and Hilarion is the way, 'a fixer', a mercurial go-between, the Landlord's bowler-hatted Fool, a deal- not a wood-cutter he. Cesar Corrales as Hilarion is dynamite. Quick, crisp moves, breakdance shifts, confident in his leaps, a spider, a crab, a scuttling monkey, he is never still. I can't take my eyes off him, worthy winner of last year's Emerging Dancer.
But where are Giselle and Albrecht in this crowded sepia world of indistinguishable figures, amongst the rows of dancers roused by middle-eastern sounds, hands raised in folk dance gestures? Suddenly they are there in passionate duet, hands loving each others faces, hands on her belly—a fleeting gesture but significant.
A forbidden love: Albrecht is moonlighting on the wrong side of the Wall for love of Giselle. Alarm bells should be ringing. They do. The Wall shifts, and out of the gloom, very slowly, emerge figures from another world—this is an encounter of another kind. The Landlords, six of them, bored women in Vivienne Westwood crossed with Alexander McQueen fantasy crinoline panier skirts, clothes stitched by the now redundant workers, as Giselle recognises, and effete men in velvet red or quattrocento heavy silk, come for their entertainment, aristos slumming it for fun.
A portentous hum heralds their arrival. The Outcasts dance to a grinding beat—with Adolphe Adam undertones—led by Corrales, at once sensual, virile, in control. Hilarion challenges Albrecht to a fight. Albrecht is found out. The world stops. Silence, a scratchy silence—what will Albrecht do? Albrecht is a coward. The visitors fade away like spectres, like Shakespearean shadows, he with them.
Khan is nothing if not good at dramatic effect, at dramatic pauses—I wonder if he is remembering his time with Peter Brook in The Mahabharata when he was fourteen, all grist to the epic mill.
Giselle's despair gets caught up in a swirl of bodies, rises on their waves, drowns in their midst—not easy to see what is happening, but the end result we know. Here she dies at Hilarion's hand, an inconvenience dispatched at his master's command. Madness or murder, what's the difference…
The Wall spins. Ghostly Giselle in what looks like a dingy crypt, the Wall its roof—the programme notes say it's a "wrecked, abandoned 'ghost' factory"—Khan is thinking of the 2013 Rana Plaza factory collapse in Bangladesh with over a thousand dead and nearly three thousand injured.
The land of the dead and the dispossessed, where Myrtha (Stina Quagebeuer) reigns over the Wilis, fragile gothic "ghosts of factory workers who seek revenge for the wrongs done to them in life", and where Giselle has to learn to walk anew, on pointes. Khan had to learn a new vocabulary, too.
The ethereal Wilis, ragged wisps, drift, float on tiptoes, myrtle sticks at the ready. But Giselle resists Myrtha's deportment lessons. Her defiant nature saves Albrecht. Hilarion has to relive his murder of Giselle before he is beaten and stabbed to death by a warrior coven of Wilis. Giselle watches impassively.
An expectant stillness, then a cello sounds. The final pas de deux between the two lovers is lovely, the music shaded by the original score, lyrical, familiar. Khan, too, has borrowed—from his own Dust. I see James Streeter and Tamara Rojo reprise their moves: her legs wrapped around his torso, two as one. There's an astonishing move from standing on his chest to the wraparound.
Albrecht is left alone, now cast out, on the wrong side of the Wall. He kneels and weeps; the Wall lifts. Is this what can move mountains—compassion? A clock ticked, life drained, it is ticking for us… Is there still time for redemption?
Tamara Rojo, ENB's intrepid, astute artistic director, amazingly, has not yet put a foot wrong in her steering of the company or her commissions.
Reviewer: Vera Liber