One Night in Miami…
Kemp Powers
Donmar Warehouse
–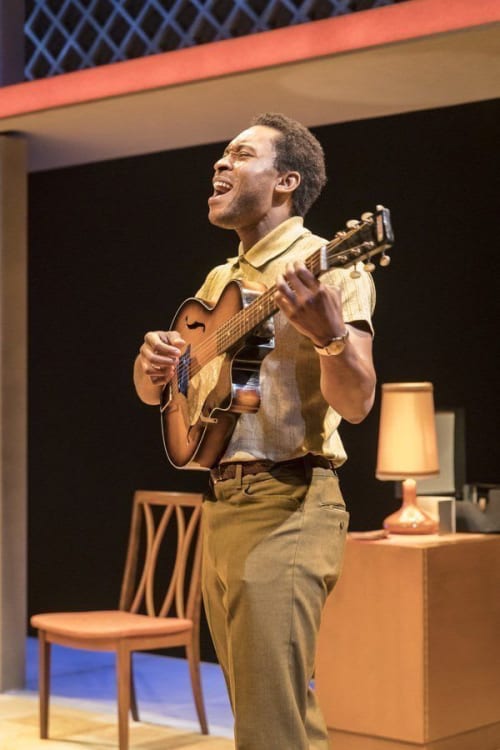 Throwing together a number of real-life people at a critical moment has almost become a genre in its own right. Terry Johnson has had several goes over the years, while Katori Hall's The Mountaintop (which coincidentally opened in a new revival in the same week) did something similar to this 2013 play from America now enjoying its British première.
Kemp Power's thesis, in a production directed by British actor, turned writer, turned director, Kwame Kwei-Armah, considers the black experience on a fateful night in early 1964. It centres on Sope Dirisu in the guise of champion boxer Cassius Clay on the day when he would forsake that name forever.
Before that, the brash, egotistical 22-year-old had established himself (at least in his own mind and mouth) as "The Greatest" by unexpectedly beating Sonny Liston.
The boxer's sponsor or, more accurately, father figure on his journey to the Nation of Islam is the silver-tongued, charismatic Malcolm X, played by American actor Francois Battiste. The revolutionary preacher was something of a fundamentalist but even the legendary civil rights leader does not find life entirely to his liking on such a defining night as this.
As if bringing together this iconic pairing was not enough for an evening's theatre, One Night in Miami goes two better introducing soul singer Sam Cooke and David Ajala playing Cleveland Browns (American) football legend and aspiring film star Jim Brown to proceedings. In doing so, he juxtaposes perhaps the four most significant negroes of the day in a single, far from lavish, Miami hotel room.
What follows is effectively a 90-minute debate about the black experience bringing into opposition Muslim principles on one side against pork chops and the attractions of white women, not to mention the demon drink, on the other.
Malcolm X propounds the benefits of the former camp, while Cooke and Brown to varying degrees get excited about the latter's attractions, the loud but far from deep-thinking Clay getting a little lost in the middle.
The most contentious of the debating takes place between the eloquent pairing of the preacher cum civil rights leader and the singer, at its height using Bob Dylan as an unlikely weapon of mass destruction. This duo fight volubly and irritably, in part because they have such similar personalities.
To some viewers, this play may come across as a structured history lesson, with the quartet used as mouthpieces for the writer, although it benefits greatly from the lively, lovely Arinzé Kene's sweet, soul voice, which really does evoke the shade of the late, great Sam Cooke.
Reviewer: Philip Fisher