Birmingham Royal Ballet Opposites Attract: Take Five / Lyric Pieces / Grösse Fuge
Choreography by David Bintley, Jessica Lang, Hans van Manen
Birmingham Royal Ballet
Sadler's Wells
–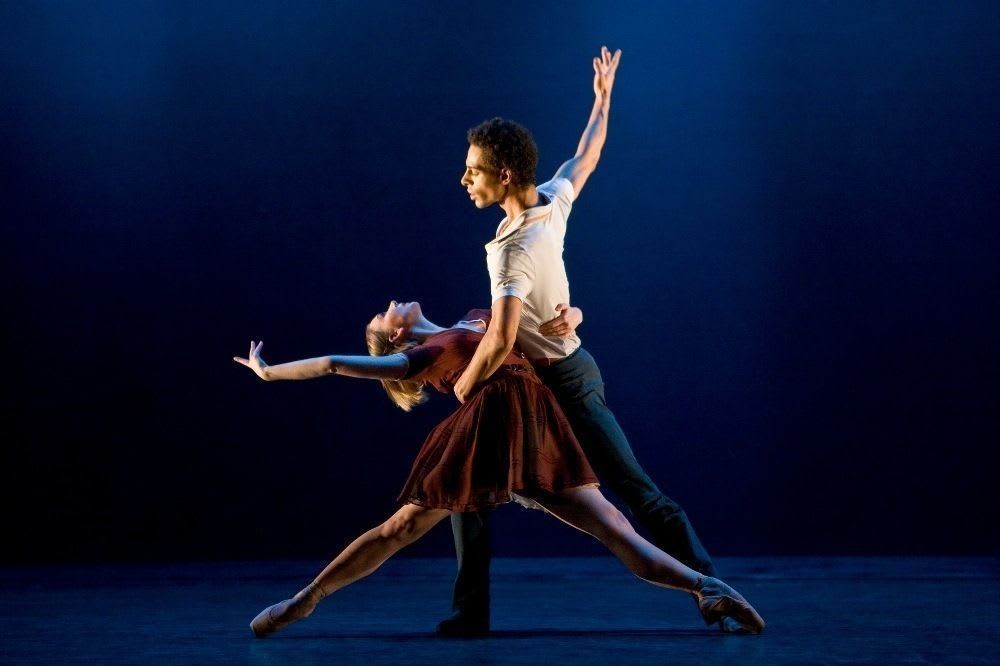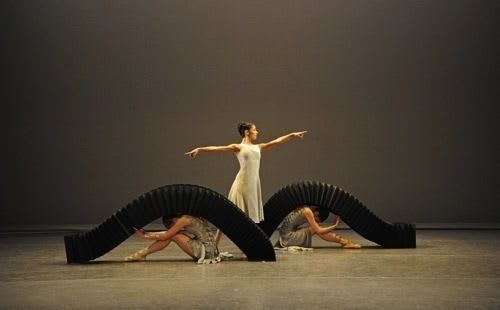 Dave Brubeck, Edvard Grieg, David Bintley, and Jessica Lang, Fit the music to the choreographer, and what do you get—not marriages made in heaven but safe charmingly arranged relationships that bridge the classical and the contemporary divides.
Only the two 'van' masters, Ludwig van Beethoven and Hans van Manen come near to a dream team, and that is tamed to appeal to as wide an audience as possible. Well, someone has to...
First choreographed in 1978 for Sadler's Wells Royal Ballet and re-worked for Birmingham Royal Ballet in 2007, Birmingham Royal Ballet's Director David Bintley turns Dave Brubeck's 1950s Take Five with its offbeat time signature and glorious saxophone into six Agnes de Mille sleepy town American apple pie vignettes.
Checkered light patterns on the floor (designs by Jean-Marc Puissant and lighting by Peter Mumford), sweet girls in short full-skirted dresses with demure white collars show off their sassy girlishness, dream of picket fence life, and eye up the eligible local talent at the hoe down.
Witty, light and easy though these twenty-eight minutes of cool Brubeck lounge music are, such is the ubiquity and familiarity of his jazz pieces that they're not hot any more. Elevator music, my young sound designer companion said.
William Bracewell stands out in the happy-clapping high-stepping Four Square, but it's Tyrone Singleton who turns up the heat in the dreamy Two Step duet with Elisha Willis.
Miniatures, too, from prolific American choreographer, former Twyla Tharp company dancer, Jessica Lang, in her Lyrical Pieces set to a selection of ten of Grieg's eponymous piano pieces (pianist Jonathan Higgins). Co-commissioned by International Dance Festival Birmingham and Birmingham Royal Ballet, it premiered in May this year.
Though this is her first commissioned piece for a European company, her Splendid Isolation III short ballet was performed by American Ballet Theatre principals, Irina Dvorovenko and Maxim Beloserkovsky, at the Coliseum Anna Pavlova Russian Ballet Icons Gala in March this year, and confirmed her spatial skills, her eye for the composite sculptural image.
Using black pleated origamic paper props, assembled and moved by the dancers themselves, Lang creates captivating art installation stage pictures at the same time as giving narrative to Grieg's titles.
But it's the stunning shape and scene shifting concertina bellows, accordion, fan, boardwalk, groyne, maze, sheltering wall, and fence configurations of the versatile molo design company's black kraft paper, which decorate and redefine the space, that attract the eye and set off the dancers.
Accessorized by Elena Comendador's tasteful grey costumes, and Nicole Pearce's saturating pale northern skies mood lighting, Grieg's music is given winsome expression by four couples in aesthetic array.
More relationship issues in one of Dutch choreographer Hans van Manen's most famous works (out of a catalogue of some 120) to Beethoven's gripping music, Grösse Fuge Opus 133 and Cavatina Opus 130.
Created in 1971 for NDT, last performed here in 2011 by the Dutch National Ballet, Grösse Fuge has stood the test of time. Sexual politics and power play as ever are the name of the game.
Four beefcake men in belted black samurai skirt trousers, the better to offset their glistening bare chests, display their attributes in front of a huddled group of four pale passive females in white tights, lingerie body shapers and Spanish combs in their neat hair. Black notes versus white piano keys.
Strutting peacocks, muscles flexing, fists clenching, Ian Mackay, Matthew Lawrence, Jonathan Caguioa and Joseph Caley shake their booty at the women, who when their turn comes, are ignored by the male gaze.
Popping like champagne corks, or alternating organ stops, the men and women don't come together till the men rip off their skirts and reveal tiny black bathing shorts.
Appendages hanging off the cavemen's belts for dear life, the tenacious women are dragged in their wake, but all is not as it seems. Rivalries develop, now the women are on top, now the men. Teasing sexuality, power shifts, and gender games. Until, finally spent, they lie down together, the lions with the lambs.
Costumes are by Hans van Manen, too. White set by Jean-Paul Vroom and lighting by Jan Hofstra, a rising horizontal lighting tube marks the measure of the erotic games. Grösse Fuge sees off the competition, but it could be better still. Come on, ladies, access your inner Cyd Charisse... 
Reviewer: Vera Liber