Orphée
Philip Glass
English National Opera
London Coliseum
–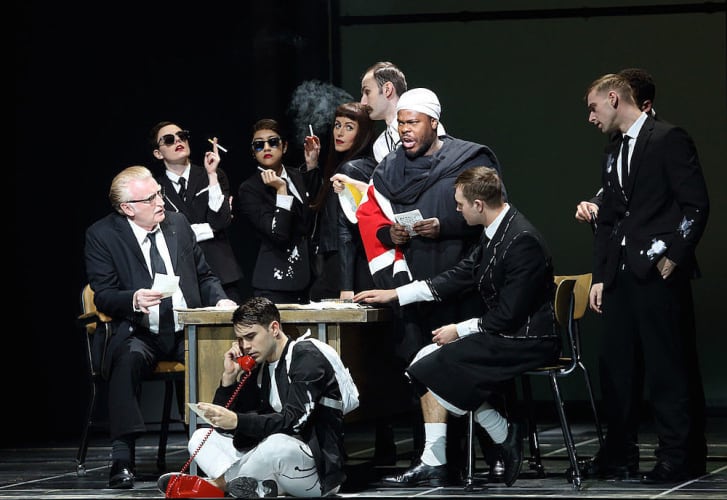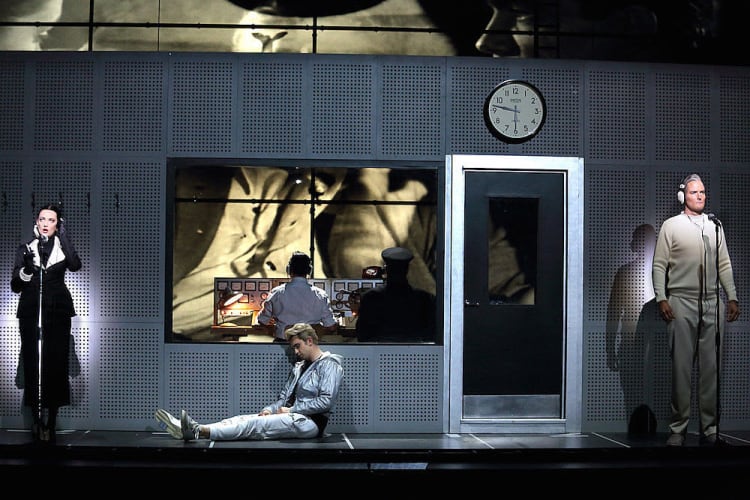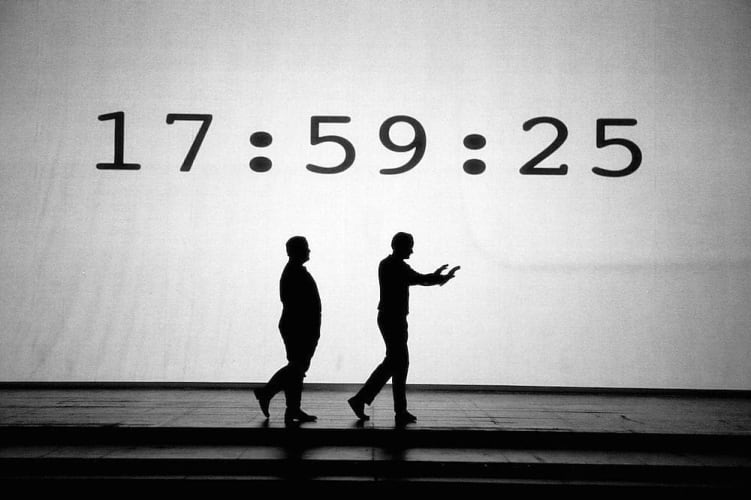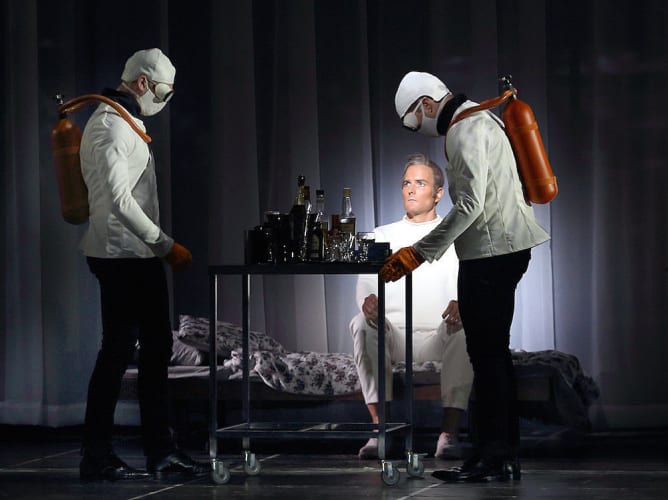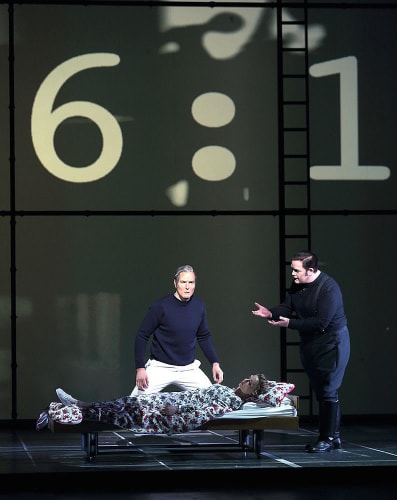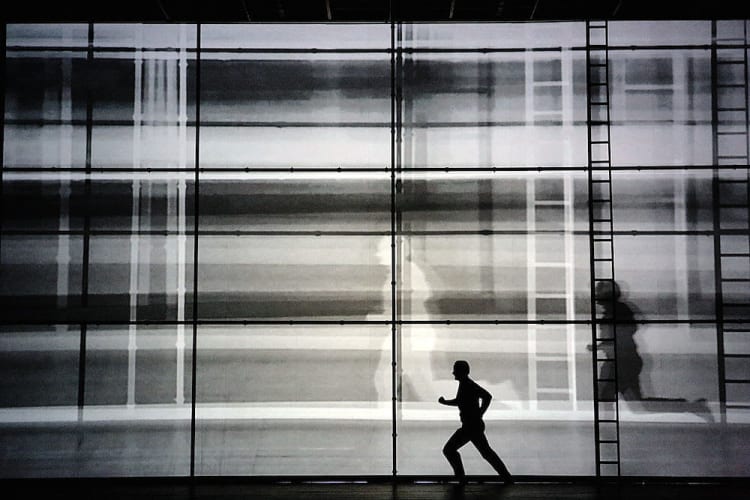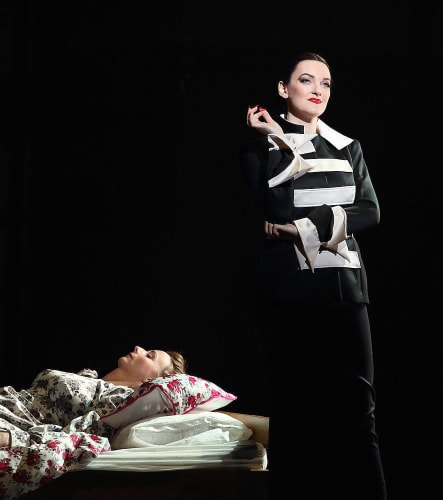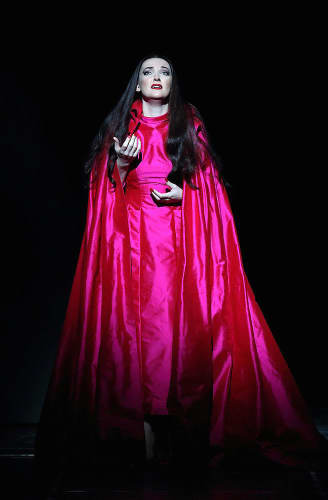 Mirrors, gateways to the underworld, mysterious perspectives and magical surrealism: in 1927 Cocteau (polymath or dilettante according to differing opinions) wrote a play Orphée, which evolved in 1950 into a contemporary film (directed by Jean-Pierre Melville). In 1993, Philip Glass turned the film into a chamber opera, using the film's entire script as his libretto. Tonight at ENO we have it translated into English by Netia Jones (also director, costume and video designer, making her ENO debut) and Emma Jenkins.
In the programme notes (from his memoir Words Without Music), Philip Glass tells of being in France for the first time in 1954 aged 17, the excitement and the decadence of the Bal des Artistes. This love affair with France and particularly Cocteau (one I must confess to sharing) I sense strongly in this opera, the first one of his Cocteau trilogy, followed by La Belle et la Bête in 1994 and Les Enfants Terribles in 1996.
Netia Jones has taken a split-screen cinematic concept and run with it, her video designs, animation and back projections referencing old film stock, black and white and negative, relying on Lucien Clergue's period photos of Cocteau's 1960 Le Testament d'Orphée set, and clips from the original film.
A poet moving between two worlds, looking back, searching for immortality... Death / The Princess at a great cost to herself (the death of Death) grants Orphée that, for a poet must be immortal or be nothing worth. Even death is a dream. A celestial court of men in suits pass sentence—there is a higher order than Death.
A video of Cocteau speaking to the year 2000 (you can find it online, Jean Cocteau s'adresse à l'an 2000) heralds our entrance, but no one pays much attention, just background noise, as is the shadow boxing—someone asks me what that is about. Does one ever ask the Surrealists to explain? But it's worth listening as Cocteau lays out his belief in immortality and asks, "Qu'est-ce que c'est qu'un poète?"
This is exactly what the film and the opera address. It seems the poet is a narcissist (more mirrors) and self-absorbed if not self-obsessed. Orphée puts his obsession with the cryptic radio transmissions by the recently dead Cégeste, a lionised young poet—the famous Orphée now a has-been to the coterie of young students and early women's libbers—before his pregnant wife Eurydice.
"I was deconstructing the film with the music" (Glass), and I'd say relating to it personally and autobiographically, which to me is what gives the opera its vitality. Cinematic and lyrical instrumental sections with voices layered on top, creative talent paying homage to creative influences, and it is inspiring. There is humour, too, for a modern audience, though I suspect Cocteau was in earnest. "What's the difference between a poet and a writer? Poets don't need pens, they don't write."
A personal testament from Cocteau equalled by one from the composer with the name of Glass. A glazier wanders through an underworld of war-ravaged buildings, his trade on his back. Heurtebise, the Princess's chauffeur, an angel of death, who was to have been a glazier angel with wings of glass in Cocteau's early play, falls in love with Eurydice and saves her too, a guardian angel. This is Cocteau saying he doesn't believe in death.
One could write a thesis on this, but I am distracted trying to spot the people (they are listed) important in Philip Glass's life as their souls drift in the surreal underworld: amongst them his teacher Nadia Boulanger, Clergue, Cocteau pierced by a lance and a young Glass himself.
As in life, there is so much going on, so many visual distractions on Lizzie Clachan's sets, doorways, screens and clever camera work, puzzling numbers on a chequered set (is that a chess piece knight or a mythical creature?) and digital time ticking, Lucy Carter's lighting creating reflections of reflections—how the performers, so small in the vast space of the Coliseum stage (of the universe?), compete is amazing but they do.
Jennifer France (ENO debut) as a high soprano Princess (her love aria and duet with Orphée piercingly dramatic) is a couturier's dream (costumes black and white and then negative reverse). Her surprise magenta gown brings gasps from the auditorium. Cocteau was friendly with Coco Chanel and Elsa Schiaparelli.
Nicky Spence is a warm, sympathetic tenor Heurtebise; Sarah Tynan a soft soprano sweet Eurydice (second one this season) in flowery chintz dress and matching tongue-in-cheek furnishings; I don't warm to baritone Nicholas Lester as Orphée, but then we are not supposed to, how dare he ignore his gentle wife; tenor Anthony Gregory is a charmingly confused but obedient Cégeste; and Simon Shibambu a funny parody poseur Poet head bandaged à la Guillaume Apollinaire.
A stimulating evening, a design-led millefeuille production, not long, only two acts, 55 minutes each, but it is one that is still with me. Cocteau said Orphée was about creativity and there's much of that on show tonight, Orphée in love with creativity and self. "All art is autobiographical and the totality of an oeuvre is nothing less than a life itself" (Cocteau).
Buy the programme, there is much of interest in it: Glass's account of the creative process and director Netia Jones's obvious deep research. "Creativity—through different lenses." Orphée feels close to their hearts. Geoffrey Paterson, making his ENO debut, conducts as if his life depended on it.
Reviewer: Vera Liber