Orpheus

Little Bulb Theatre
Linbury Studio, Royal Opera House
–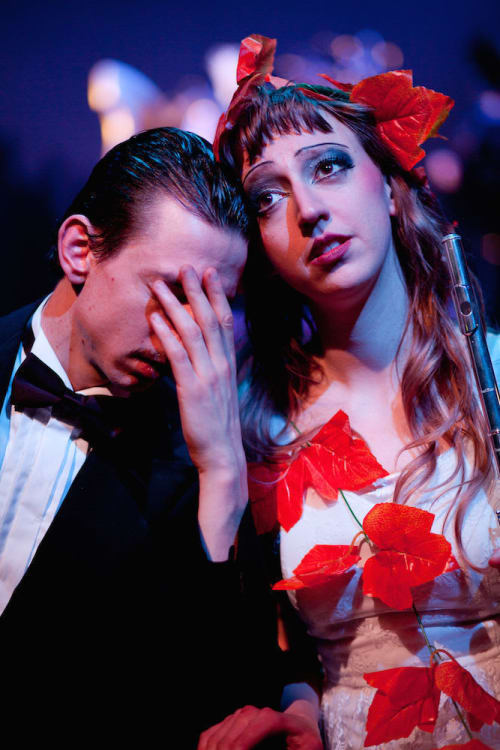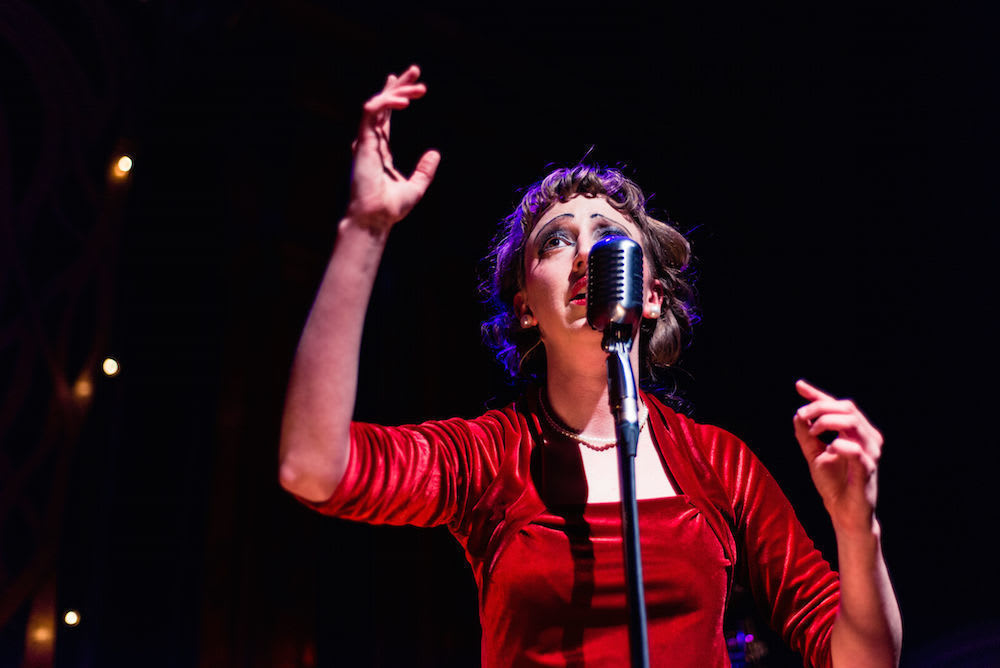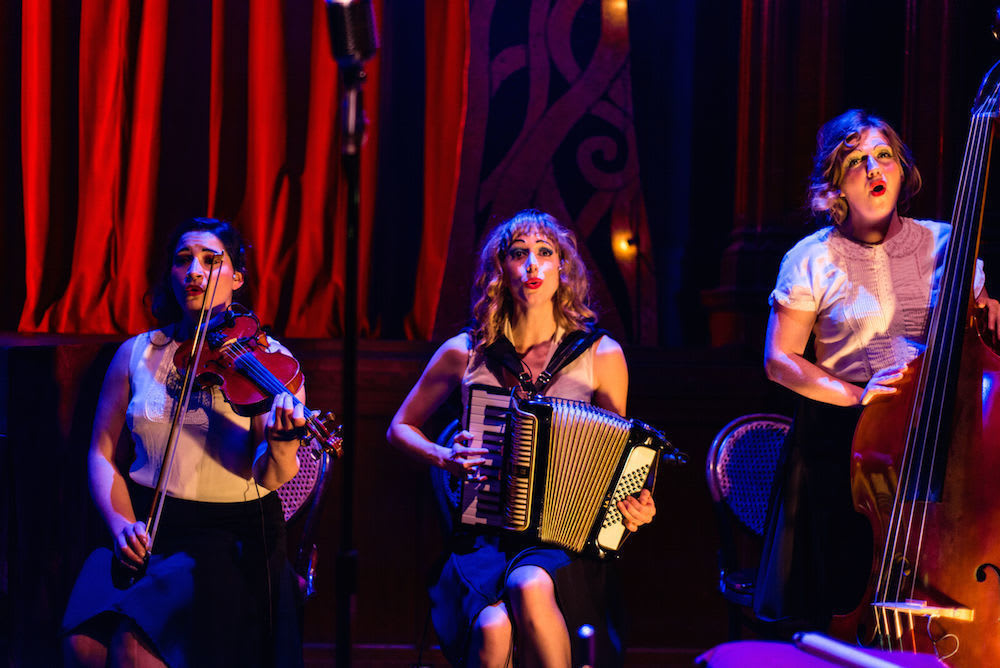 Orpheus, Little Bulb Theatre's—both illuminating light bulb and seed from which bigger things grow—light-hearted but far from lightweight small-scale production has not looked back since opening at the Battersea Arts Centre in April 2013.
I had hoped then that they'd make it to the West End and here they are opening across the river (not the Styx) the Deloitte Ignite 2015 season in the Royal Opera House, competing with the big boys in the main house's Orphée et Eurydice. Not bad going and so well deserved.
I was worried that their big-hearted music hall style would be constrained in the small Linbury Studio after BAC's Grand Hall with its original organ, convivial 1930s Parisian club atmosphere, tables, food and drink, post-show meals.
But little sparrow club owner and chanteuse Yvette Pépin in her little red dress and string of pearls, quizzical eyebrows and terrific voice has the audience eating out of her hands. She is utterly irresistible. She even has Edith Piaf's stance and walk off pat, and a belting voice that can knock the birds off their perches.
She has enticed the famous womanizing guitarist Django Reinhardt to put on an Orpheus show with her as his Eurydice and her Hot Club jazz musicians filling in all the many other roles (priests, gendarmes, Parisian voleurs, and Underworld dramatis personae) in gauche 'rude mechanicals' manner.
His rise to fame, his big ego and the rest of the cast's smaller but not so subsidiary ones are a joy to behold. His music does 'charm' the audience out of its seats in standing ovation. The Linbury is packed to the rafters, with people hanging over the sides.
A silent movie takes place before our eyes—wonderful live music, some big moment Hollywood sound score, and inventive action—with painted black and white backcloth, clever funny captions, puppets, and lengthy musical interludes which digress wildly but lusciously. Woody Allen and Fred Astaire movies have been raided. French films, too—the epilogue perhaps.
It is in these digressions that the universal time-transcending layers of the Orpheus myth can be found. Original compositions by the company blend with Django's dazzling swing and improvisations and gorgeous French chansons, which tell as much about love and heartbreak as any classical tale.
The sweetly original ploy and plot weave 1930s bittersweet songs with Monteverdi's Dal Mio Permesso Amato, Saint-Saëns Carnaval des Animaux for the bucolic scene, Debussy's Clair de Lune speaks for itself, Bach's Toccata and Fugue in D minor for the final act, Brahms's Lullaby to put the three-headed Cerberus, guarding the gates of the Underworld, to sleep.
Little Bulb's multi-talented musicians incredibly doubling as actors and stagehands are even better than I remember them. Percussionist Tom Penn surprises with his beautiful falsetto when in Persephone guise. Bushy-bearded heavy-set clarinetist Alexander Scott—another dainty stagehand and an imposing Hades—is also the director.
Charlie Penn in evening suit is the club pianist (play it again Charlie) and organist; the backing band Triplettes are Miriam Gould on violin, Shamira Turner on accordion (can't do without one of those in chansons) and Clare Beresford on a mean double bass, who sing in harmony and play the Furies in Alexander McQueen black-feathered masks, Cerberus, and a menagerie of animals.
The ill-fated couple, Dominic Conway on guitar (also music director) and Eugénie Pastor (flute and swanee whistle), deadpan big-eyed silent movie stars, let their body language and music talk for them.
Red drapes framed by an art deco proscenium arch conceal and reveal in exquisitely silly episodic vignettes (silent era home movies and a touch of Cocteau), pages from the ancient myth put on for you by an eager childish / childlike company in their own words. "Ledies and zhentlemen, I 'ave returned from ze dead."
Mary Drummond's delectable faux naïve designs, Max Humphries's puppets (the snake that bites Eurydice is great, but I love the white birds in the two chunky stagehands' hands), Michael Odam's lighting, and Ed Clarke's superlative sound design complete the talent on show.
And what talent, what generosity, what a great atmosphere: a delighted audience is treated to an encore. "Zhank you verrry much!" Did I mention the funny cod-French accent? Eugénie Pastor rolls those guttural Rs with panache. At least Django is silent, but their eyes divulge volumes, twinkling with knowing mirth and life.
Orpheus has a lot of life in it yet—and music to make our feet tap and reflect the metropolis, as Yvette puts it—beats many a West End show hands down. Love never dies.
Orpheus promises to surface in Bristol Old Vic 23 to 26 September, Nuffield Southampton 29 September to 3 October, Liverpool Everyman 20 to 24 October and Birmingham Repertory Theatre 28 to 31 October. Be there. Sell your soul for a ticket.
Reviewer: Vera Liber