Paco Peña Solera
Director Jude Kelly
Paco Peña Flamenco Dance Company
Sadler's Wells
–

Listing details and ticket info...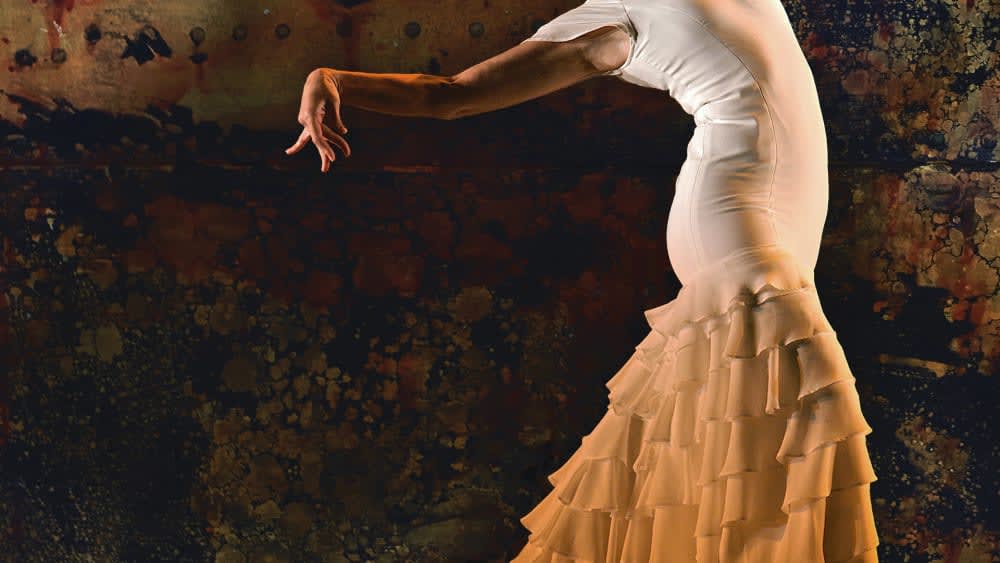 A pity Paco Peña's Solera was scheduled for Easter week, as that is the only reason I can think of why the theatre is far from full. And where is the London Spanish contingent for this? Are people still nervous about going to the theatre or are they all on holiday? No matter, the audience that is there gives the show a standing ovation, and the happy encore another one. The audience doesn't want them to leave and neither do I.
Solera is a must-see show of expertise and talent honed over many years, fermented and aged like the wine process the title refers to, young wine adding to the old, keeping the finished product robust.
I am thrilled to see Angel Muñoz, a powerhouse of a dancer Peña has used in his previous productions, Patrias, Flamencura, and more. He is joined by young dancers Adriana Bilbao and Gabriel Matias, who bring their own beautiful styles and bodies to the dance, but it is Muñoz who is the wine matured to perfection. I am transfixed by him, by his rich extensive vocabulary, his body so communicative.
Music is provided by Peña on soulful guitar, and I wish he weren't so retiring, pushing his team forward, passing his baton on. His guitar playing is quietly spectacular, and when he has a brief solo spot it is wonderful, but he prefers to edge the others into the limelight—Dani de Morón and Rafael Montilla on guitars (I'm fascinated by how all three hold their guitars so differently), and Julio Alcocer on percussion. The singers are Immaculada Rivero, who has been there and done that, and young Iván Carpio.
Naturally, they all contribute to the complex handclapping, which still foxes me. I've always wished there could be surtitles for the songs, but many are improvised, so one just has to sense their confessional content, interpret via sound and movement. Flamenco is a group effort, the inspired dancers riff off the music, their heels competing and in dialogue with it.
The duende soul of the music is in their DNA. But to see it come to life is something else. And this is what director Jude Kelly's conceit is—to show them, a close-knit 'family' unit, in rehearsal, in the first half, to see it come together—and then the polished product in the second half, in sleek Sunday best costumes by Cariola, Linda Rowell and Elvira Peña.
Choreographed by Fernando Romero, the whole company gives a two-hour show of variety and endless energy. I didn't think that the second-half concept of a professional polished production (under Tom Wickens's moody black and white lighting) could better the easy, familial, rehearsal-clothed first half, but wow, the standard is cranked up even more. The solos and pas de trois are dynamite and the musicians when they get a turn are a respite.
But, of course, it's all carefully choreographed, a contemporary narrative on top of flamenco's narrative. It makes me think of Carlos Saura's films. And I also wonder if Kelly, who comes from theatre, had Louis Malle's creative workshop style 1994 film Vanya on 42ndStreet in mind.
All culture is passed on from old to young, and the young bring their own juice to the show, freshness and eagerness, but stylish though Adriana Bilbao and Gabriel Matias in their slender balletic forms are, it is still Muñoz who seems to be living the dance, so subtle in his expressive dialogue with Peña and his musicians, mirroring the call and response in the songs. He is the dance, his fingers, hands, feet, torso, feeling the music from deep within till he becomes the music not merely its interpreter.
It's a cross range of styles, Soléa, Tanguillo, Seguiriya, Farruca, Bulería, Tango and more, Solera speaks across language, age and culture. Youth and age need each other, daring vigour and hard won wisdom in necessary interaction.
There are still plenty of seats available, go see one of the best classical guitarists Paco Peña and his troupe, like all good wine they will lift your spirits.
Reviewer: Vera Liber