Paul Auster's City of Glass
Adapted for the stage by Duncan Macmillan, based on the first novel of the New York Trilogy by Paul Auster and the graphic novel by Paul Auster and David Mazzuchelli
59 Productions, HOME and Lyric Hammersmith
Lyric Hammersmith
–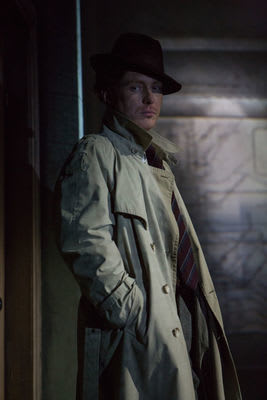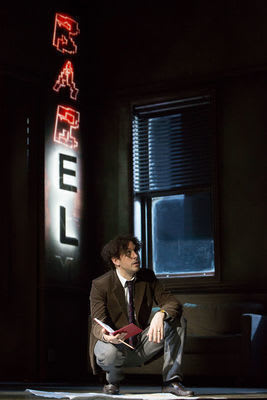 Paul Auster's New York Trilogy, of which City of Glass is the first part, is one of the finest extended novels of the last few decades.
However, the intricate plotting and rich language do not obviously lend themselves to live presentation.
It was therefore with both enthusiasm and trepidation that this fan arrived at the Lyric Hammersmith to see what highly-rated playwright Duncan Macmillan, who has been feted both for his adaptation of 1984 and Every Brilliant Thing, and a hard-working cast of five would manage to make of it.
Even before any action takes place, a heady atmosphere is created by almost non-existent lighting in the auditorium and dim glimpses of a shabby New York apartment on stage.
This is the home of widower Daniel Quinn, a writer of hard-boiled gumshoe novels from the Chandler and Hammett School.
His dreary existence is enlivened by a mysterious 'phone call from Jack Tarlton as someone called Peter Stillman.
From there, for 105 intriguing minutes, viewers are teased as they try to follow what can sometimes seem like a series of shaggy dog stories involving Stillman, his arsonist father, beautiful wife and even their little boy.
To enhance the mystery and tension, Paul Auster is a character in his own novel/play, while two actors (Chris New and Mark Edel-Hunt) take turns at playing Quinn occasionally simultaneously, while ensemble members are required to do quick changes of persona as well as costumes and hair to populate the piece.
Where Leo Warner's direction for 59 Productions really scores is in the realm of wizardry. Not only do actors transform themselves, the bland setting magically changes thanks to multimedia effects that literally illuminate the single set onto which projections are shone. These are conceived with perfect judgement and wild imagination by designer Jenny Melville and video colleague Lysander Ashton, sometimes taking the breath away.
Taking all of this into account, City of Glass is an intoxicating viewing experience with enough drama and intrigue to keep every audience member on his or her (mental) toes throughout.
It has to be said that the stage version still cannot quite compete with the novels but this production is well worth a visit in its own right, either as a reminder of that sublime experience or an enjoyable introduction to the fascinating world of Paul Auster. 
Reviewer: Philip Fisher