Peter Pan
J M Barrie, adapted by Sarah Punshon, music & lyrics by Ziad Jabero & Claire Tustin
Octagon Theatre
Octagon Theatre, Bolton
–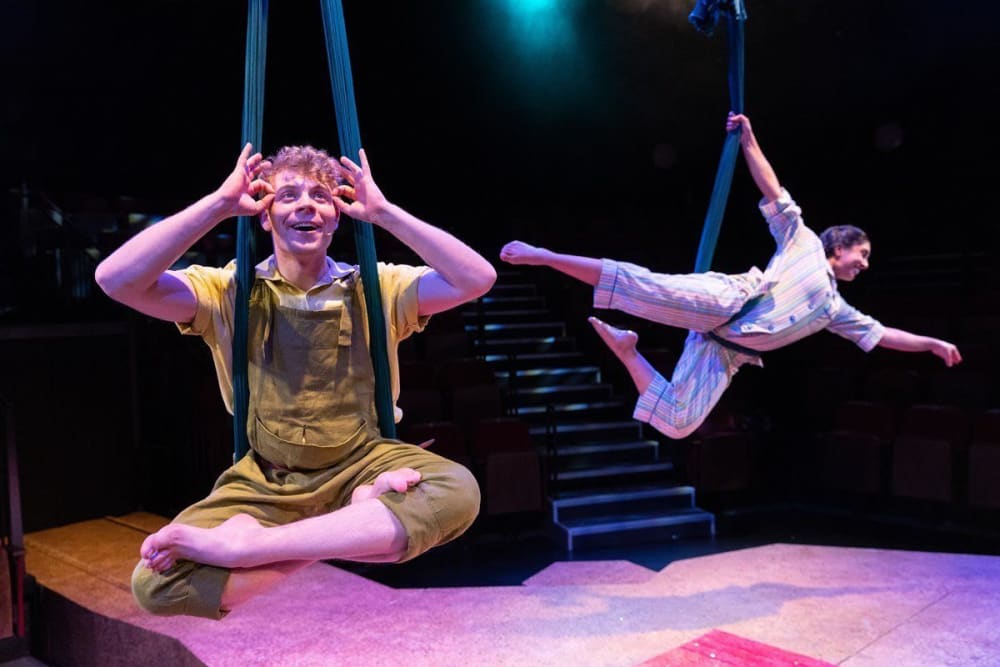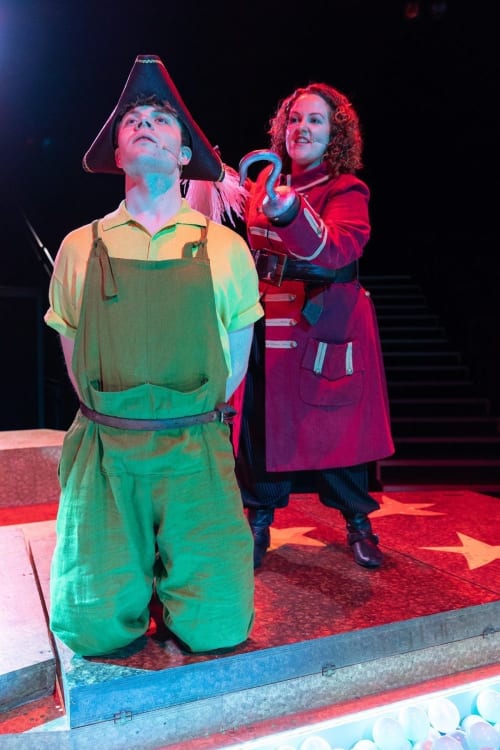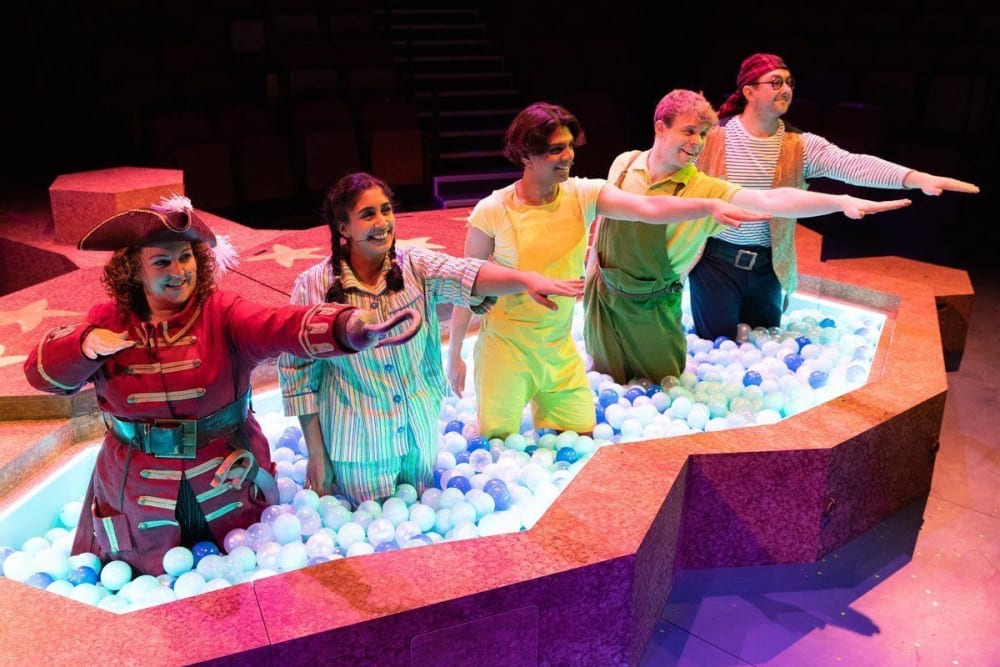 For the festive season, the Octagon has returned to a story it last presented for Christmas 2012, but this version takes off—both literally and figuratively—in a way that that earlier version never did.
This time, director Lotte Wakeham is using the adaptation that Sarah Punshon created for her final Christmas show as Artistic Director of the Dukes in Lancaster in 2018–9. It pares the cast back to just five and reduces or eliminates some characters—Wendy goes on the adventure without her brothers and Peter is down to three lost boys: Tootles, Extra (presumably renamed from Slightly from the explanation of his name) and Floss (possibly Curly?)—but this still gives all of the actors plenty to do.
The adaptation uses the now fairly familiar framing device of a group of characters telling a story and then acting it out; this time, the storytellers are fairies, who sometimes return to add some linking narration. Usually for this style of presentation, one actor would portray the same key character throughout while the others change, but in this version, Peter, Wendy and Tinkerbell all pop up from time to time as a pirate or a fairy.
The opening is relocated from a middle-class Edwardian household in Bloomsbury with servants to a one-parent family on Christmas Eve, when Amy Drake as Mum is putting troublesome teenager Wendy (Purvi Parmar) and her brothers to bed. The siblings are looking forward to their father coming for Christmas dinner, but they'd rather 'she' wasn't with him. To add to the up-to-date social messaging, Tinkerbell is later referred to pointedly using three different pronouns.
Peter (Matthew Heywood) appears in Wendy's (Purvi Parmar) room looking for his lost shadow—she finds it by turning on her torch so doesn't have to sew it back on as in the original—then takes her on a flying adventure, portrayed very effectively using circus silks (aerial choreography by Wired Ariel Theatre). Wendy is shot down after a cruel trick by Tinkerbell (Jason Patel) but, even though she survives, Peter casts Tink out; even when Tink saves them from evil Captain Hook (Amy Drake) and sidekick Smee (Robert Jackson) after Tootles (Patel again) is kidnapped by the pirates (this replaces the rescue of Tiger Lily), Peter won't allow the fairy back into the gang. Tinkerbell therefore joins up with Captain Hook.
Of course, all ends happily with an elaborate fight sequence in which Hook falls victim to an impressive crocodile—well done to designer Rose Revitt and the production team for this—and Peter learns to accept cuddles, plus Wendy learns to appreciate her put-upon mother more.
There's plenty of swashbuckling and adventure packed into a little over 2 hours with these five performers carrying out the work of 20. Some parts of the story are a bit fudged and not very clear, whereas others are over-explained in narration when we'd rather see the action, but it's carried out with enough energy for it to work. The songs work well with some lovely harmonies, despite the recorded backing tracks sounding a bit flat dynamically.
But overall, this is a fun couple of hours with impressive performances that genuinely caters for all the family in a way that some past Octagon Christmas shows before the refurbishment perhaps didn't.
The show is billed as suitable for ages 5+, but some at the lower end may not cope will with some parts. A little boy on my row was vocal about his dislike of Captain Hook before stating quite clearly, "I want to go home"; his wish was granted. On the other hand, the balcony was crammed with a party of much older youngsters and I heard one say to the other enthusiastically in the bar at the interval, "what was your favourite part?". Perhaps the only review you need to read.
Note that if you're travelling by car, you should plan your parking in advance. Most of the non-disabled street parking spaces around the theatre, usually on meters and free after 6PM, have been suspended. The NCP multi-storey next door is open as usual.
Reviewer: David Chadderton