Phaedra
Frank McGuinness after Racine
Donmar Warehouse
(2006)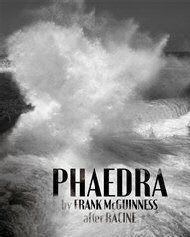 A couple of years ago, Clare Higgins received the Olivier Best Actress Award for her performance as Hecuba at the Donmar. Subsequently, she was rather strangely cast as an expatriate American opposite Woody Harrelson in Tennessee Williams' Night of the Iguana.
Now she's back on top form playing the tragic heroine in another Greek classic, albeit in an Irish reworking of a French version of a play by Euripides. Come the end of the year, she will almost certainly be the recipient of a bunch of Award nominations and possibly a top prize.
The strength of Tom Cairns' one and three quarter hour production is that it is not just a star vehicle for Clare Higgins since the whole cast contribute to a very intense but rewarding and fascinating evening. This is particularly to the credit of Ben Meyjes who stepped in to play Hippolytus at very short notice after the unfortunate Paul Nicholls had to withdraw through illness.
Cairns also designs the set, on this occasion favouring a minimalist drabness that fits in with Amy Roberts' timeless costumes.
Phaedra's tragic flaw was an unquenchable love of her stepson, Hippolytus the son of Theseus. Her inability to resist her lust has tragic consequences for three different people, each of whom is mirrored by a loyal servant, and also for a husband who is absent for much of the play, apparently in the Underworld.
Rumours spread that Theseus has died and consequently a power struggle ensues as to who will succeed him as King of three different realms. It could be one of the sons of Phaedra, her stepson Hippolytus or the only female option, the last remaining member of the slaughtered line of Pallas, Aricia.
Hippolytus is a genuinely good and wronged man since, once his father miraculously returns, he is accused of seducing his stepmother by her servant, Linda Bassett's chilling Oenon. This woman has the best interests of her mistress at heart and will seemingly do anything to promote them.
The surprise is that the possibly too jocular Theseus (Michael Feast) is more willing to believe his wife at second hand than his own son.
Up to this point, Hippolytus had seemed asexual which does not help his cause. This was not because of a lack of interest in women but a passion for Irish actress Marcella Plunkett's Aricia, a family enemy who would in no way be acceptable to his father.
Sean Campion as Hippolytus' servant Theramenes is never better than when he finally has to inform the young man's father of his death. His grief is palpable and it is only at this point that Theseus finally realises the dreadful mistake that he has made.
Even in this company, the pick of the acting comes from Miss Higgins in the title role. Phaedra has not eaten for three days when we first see her and such is her demeanour that it would be perfectly believable if we were told that the actress had entered into a fast of this length to prepare herself.
The internal battle between her desire for Hippolytus and her wish to remain within legal and ethical bounds is beautifully externalised by the actress' speech and body language so that we are able to sympathise with her while at the same time feeling horrified by her actions.
As with all Greek tragedy, there are few laughs in Phaedra but in Frank McGuinness' excellent modern translation it provides an insight into the human condition that is as relevant today as it was all those thousands of years ago. It should therefore be on everybody's must see list.
Reviewer: Philip Fisher