Pigs and Dogs
Caryl Churchill
Royal Court Theatre Downstairs
–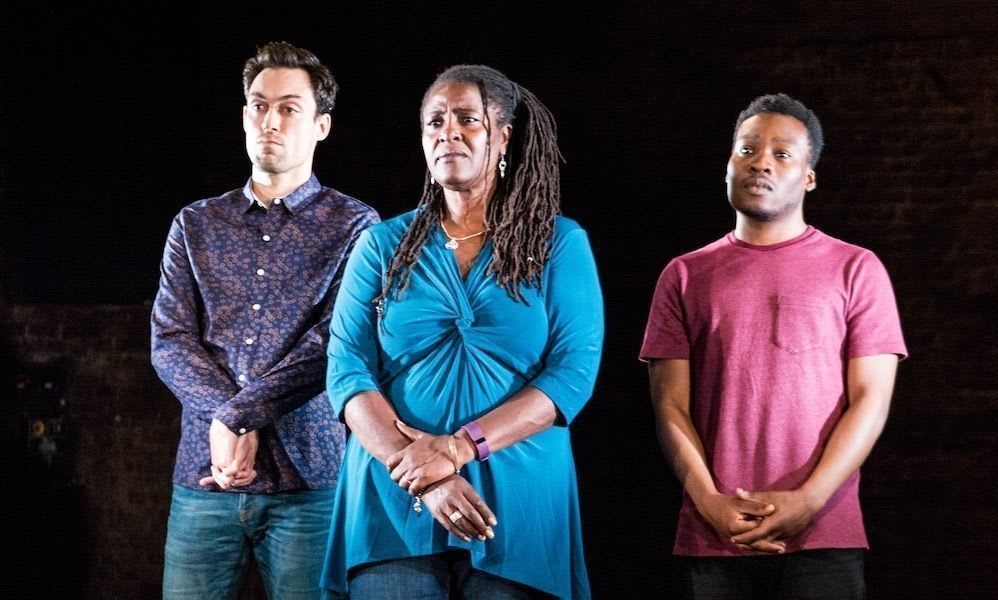 If ever proof were needed that theatre comes in all shapes and sizes, enthusiasts could compare and contrast two plays opening within a week of each other.
At one end of the scale comes Pigs and Dogs, a 15-minute long meditation / polemic on the treatment of homosexuality in Africa, featuring three actors on an unadorned stage.
At the other will be the extravaganza that is Harry Potter and the Cursed Child, five hours of dramatic spectacle that, one might wager, will be a cheery crowd-pleaser without quite the same level of intellectual and political exploration or introspection.
Leaving J K Rowling and Jack Thorne aside for a few days, Pigs and Dogs packs an awful lot into its very short running time.
Caryl Churchill has substantially based the piece on material in the book Boy-Wives and Female-Husbands: Studies in African Homosexualities edited by Stephen O Murray and Will Roscoe.
In effect, she has pieced together a long series of soundbites about a topic that is clearly close to both her heart and head. For those wondering, the dogs and pigs of the title are homosexuals, at least in the eyes of Zimbabwe's President Robert Mugabe.
Delivered at breakneck speed under the direction of Dominic Cooke, it comprises an eclectic selection that builds to a powerful work attacking intolerance not only in Africa but also elsewhere, particularly the United States and United Kingdom.
Perhaps the most shocking revelation is that an anti-homosexuality act that carried a death penalty, later generously amended to life imprisonment, was enacted in Uganda only two years ago.
However, there are many more examples that do not go quite so far but must still make the lives of homosexuals terrifying on a daily basis.
Fisayo Akinade, Sharon D Clarke and Alex Hassell work well together using a variety of accents and voices to convey serious messages from anyone and everyone including tin pot dictators, more serious political leaders, academics and most poignantly, ordinary folk who just happen to have different sexual inclinations from those demanded by the laws of their countries.
It is these characters who lend humour to what would otherwise be an undiluted but very strong indictment of irrational intolerance.
In might be hard to persuade potential visitors to travel all the way to Sloane Square for a mere 15-minute performance but anyone who is planning to see Unreachable should consider witnessing this curtain raiser beforehand, while it would also provide plenty of food for thought to enhance a subsequent dining experience.
Reviewer: Philip Fisher