Plexus
Conception, scenography & direction Aurélien Bory
Compagnie 111 / Aurélien Bory / Kaori Ito
LIMF 2015 at Sadler's Wells
–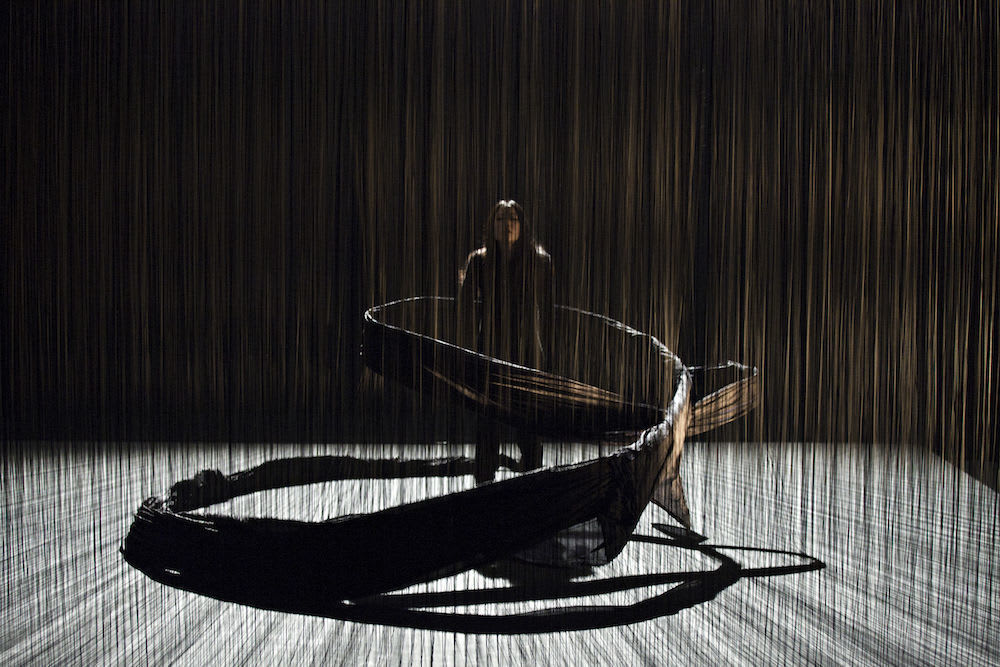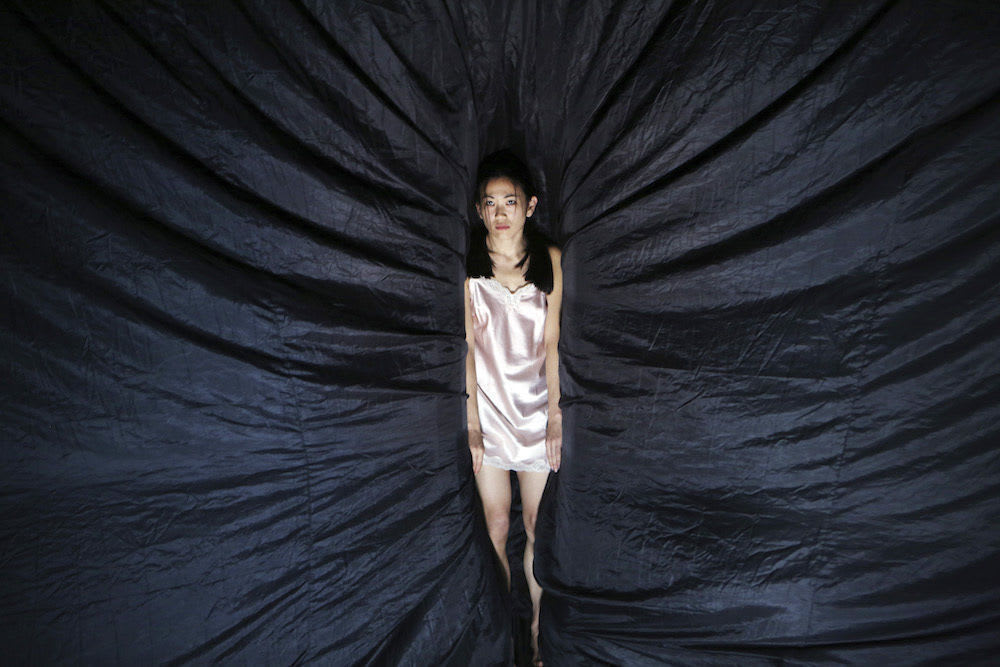 It is no surprise, as with last year's What's Become of You? (Questcequetudeviens?), conceived, designed and directed by Aurélien Bory, that Anthony Gormley again comes to mind, or that I think Plexus is a crossover theatre / art installation work.
The boundaries between the two are constantly shifting and being eroded: after all the Barbican Curve gallery featured Wayne McGregor's Rain Room, with which Plexus has an aesthetic affinity.
Bory is interested not only in visual effect, in the structural design of solo performer Kaori Ito's body in space, but in how external 'dance has shaped, sculpted, and eventually expanded or crippled her inner space'. Effect and affect…
More than that, Bory, together with Arno Veyrat's lighting and his technical team, is a master illusionist: presence and absence, visibility and invisibility his Plexus calling card.
On a caged cube set, constructed of five thousand cords we're told, Ito negotiates an unusual environment, at once hostile and entrapping, liberating and uplifting, turning disadvantage to advantage. Metaphor for life…
A spotlight breaks on Ito's small body in silk chemise alone front stage in an otherwise dark void. Heartbeats and breathing amplified, Ito bares her plexus, so to speak, until the front cloth silk drape drags her into its black hole, sucks her into its shredded maw.
Light projection making silver patterns on the optical illusion cords, Ito is swept up into a storm of sci-fi music (original music by Joan Cambon; sound by Stéphane Ley). Leaning into its force at 45%, movements fractured and broken, her body plays chords on the surrounding strings.
Piano strings, harp strings, is she making the sounds or is that another illusion? Of course it is. Our senses straining, we know that, but how is it done? Does that matter? Enough that it is done.
A shuttle in a weaving loom, back and forth, up and down she moves, suspended in space, a circus artist and a magician's assistant. Initially compliant, Ito's narrative becomes more and more defiant.
She sets the highly-strung raft swinging, stomps her presence, strips down and battles her way through a bamboo forest. Slips from light to dark and back again, an enfant sauvage in a cinematic mix of Hong Kong kung fu flying sequence and cartoon animation.
A black cloth square dancing in the light, distracts, descends, enfolds her: a cloak of invisibility. But she returns as a mythological creature, a powerful black scaly serpent folded from trailing stiff cloth (Sylvie Marcucci's costume design). With a heavy tread.
The floor shakes, becomes a sounding board. And then all air and graces she flies up like Tinker Bell to the very top. Shape shifts, becomes the trickster monkey of Chinese myth, look no hands, climbs using her feet.
Relaxes, gives in to what is there, trusts the elements. Body cradled by the cords, gravity free, Ito hangs loosely in space in motion capture special effect, as the apocalypse plays out.
Now light as air, she transforms into an avenging angel, its black drapery seeping squid ink in viscous fluid. But wait, in the blink of an eye she's back on terra firma wearing samurai chain mail. And then she's gone.
A remarkable sustained sixty-minute performance from classical ballet trained Kaori Ito, who has worked with Philippe Decouflé, Angelin Preljocaj, Sidi Larbi Cherkaoui, James Thierrée, and Alain Platel's les ballets C de la B, now Bory's latest muse.
Via Ito's cryptic episodic narrative, Bory questions in philo bandes dessinées spirit our / his ongoing dialogue between the inner and outer world: 'is this dialectic the architect of our inner self, or is it the hub of our frailties?' He may well ask. But the mystery remains.
Reviewer: Vera Liber