Pocket Playhouse
Michael Frayn
Faber and Faber
Released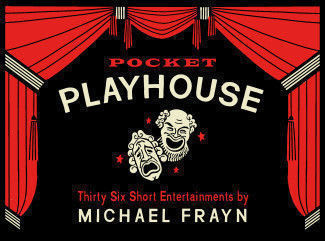 Pocket Playhouse is to all intents and purposes a follow-up volume to the popular Matchbox Theatre.
Readers and theatregoers will be aware that the earlier volume contained a series of microscopic humorous pieces that were subsequently adapted for the theatre.
This book looks like a sawn-off hardback retaining the standard width but only approximately half to one-third of the height of a standard novel.
As the subtitle announces, it comprises 36 short entertainments, typically 4 to 5 pages long, each easily read in less than five minutes.
The subject matter varies but, as often than not, an entertainment features somebody pondering on some of the mysteries of routine life today, possibly railing against technology or behaviour that would not have passed muster in the good old days.
As one has come to expect, the author also pokes gentle fun at the theatrical industry on a couple of occasions, which will almost certainly ring true with those in the business.
Both the book itself and the individual items are undeniably slight but nevertheless provide pause for thought and amusement, as one would expect from a major playwright and novelist who has always been willing to follow a whimsical path when the opportunity arose.
One imagines that it can only be a matter of time before Pocket Playhouse is also turned into a stage production, which will be good news for fans of Michael Frayn. In the meantime, they have the opportunity to get their fix in paper form.
Reviewer: Philip Fisher