Punk Rock
Simon Stephens
Lyric Hammersmith and Manchester Royal Exchange production
Salisbury Playhouse and touring
(2010)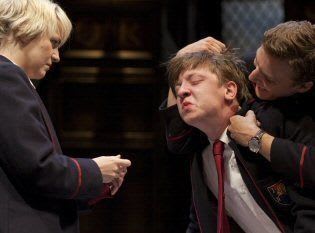 "School days are the happiest days " words sung on steam radio by, if memory serves, Cardew (the cad) Robinson.
Well, that's certainly not how schoolteacher- turned playwright Simon Stephens sees them in his latest play Punk Rock, touring this week to Salisbury Playhouse in a Lyric Hammersmith - Manchester Royal Exchange production smartly directed by Sarah Frankcom.
Tuesday's full house included a large contingent of the younger generation who, to judge from their ready laughter, enjoyed the evening greatly. However, I'm not so sure about the reaction of the many more mature members of the audience.
For that matter, I'm not altogether sure about my own response. In fact, I'm rather worried about Simon Stephens' dark, disturbing thoughts about young people.
Punk Rock is set in a secondary school in Stockport, a town I once knew well. On this reading it has changed, perhaps because it is no longer a County Borough.
Be that as it may, there are no teachers at this school - or none that we see. Which, in itself, is disturbing although I don't doubt for one moment that Mr Stephens has his own reasons for this.
Paul Wills' austere pillared setting allows us to focus exclusively on the young characters themselves, rather than on their surroundings, with the result that our concentration is entirely on their thoughts, attitudes and irritations.
There is a fascinating study of William Carlisle by Rupert Simonian whose best scenes are with Laura Pyper's excellent Lily.
Subtle shades of contrast are found in the performances of Edward Franklin (Francis), Nicholas Banks (Chatman), and Mike Noble as the sensitive Meade. No less vivid are the characters played by Ruth Milne (Cissy), Katie West (Tanya) and Juliet York (Lucy).
The doctor is played by the experienced Simon Wolfe - though any further reference to him would spoil the onlooker's enjoyment.
Altogether this is a sobering view of young people, inspired, on the author's admission, by his own children and childhood and his twelve months teaching in Dagenham, as well as by the impact of such works as Salinger's Catcher in the Rye and Wedekind's Spring Awakening.
One can hardly resist the conclusion that the total effect of all this experience has been, to say the least, sobering.
The production continues on tour to the Theatre Royal, Plymouth (26-30 October), Oxford Playhouse (2-6 November), Curve, Leicester (9-13 November) and Warwick Arts Centre (16-20 November).
Matt Boothman reviewed this production at the Lyric Hammersmith
Reviewer: Kevin Catchpole