Radio & Juliet / Faun / McGregor + Mugler
Choreography Edward Clug, Sidi Larbi Cherkaoui, Wayne McGregor, music Radiohead, Debussy & Nitin Sawhney, Holly Herndon, Nils Frahm
MuzArts
London Coliseum
–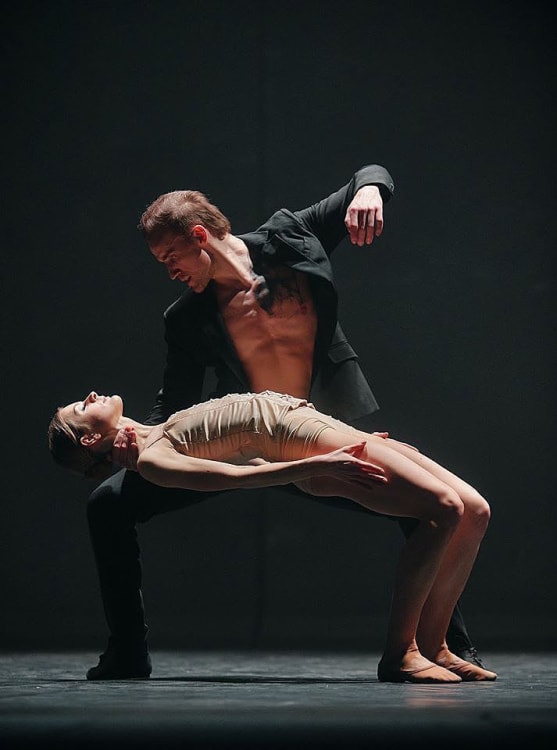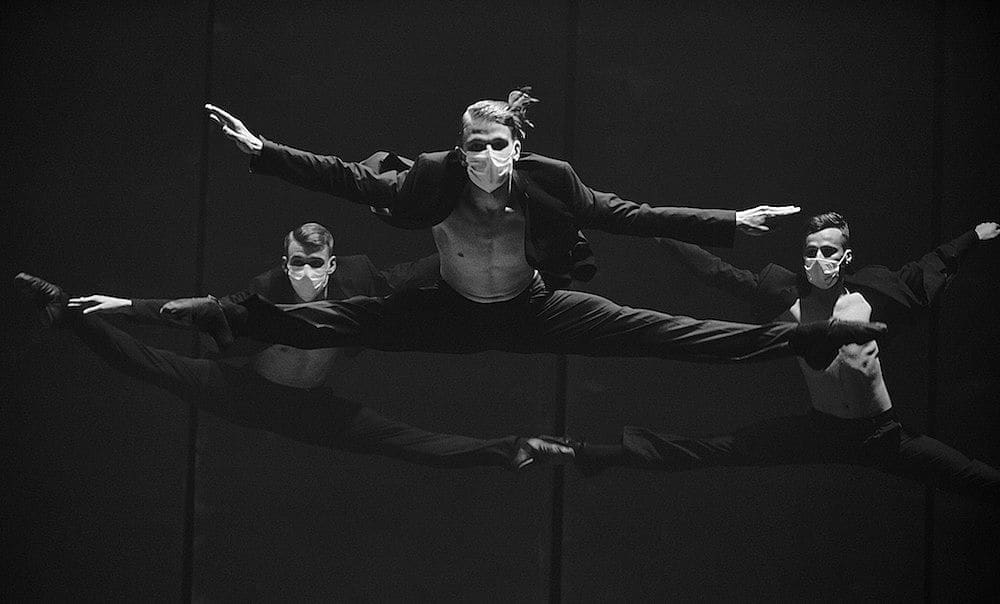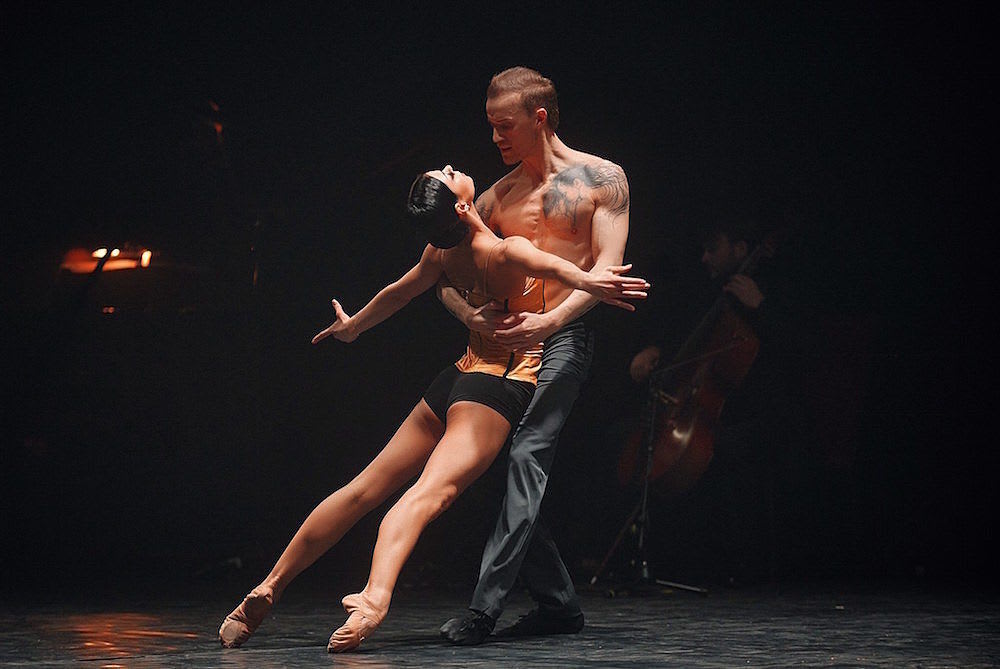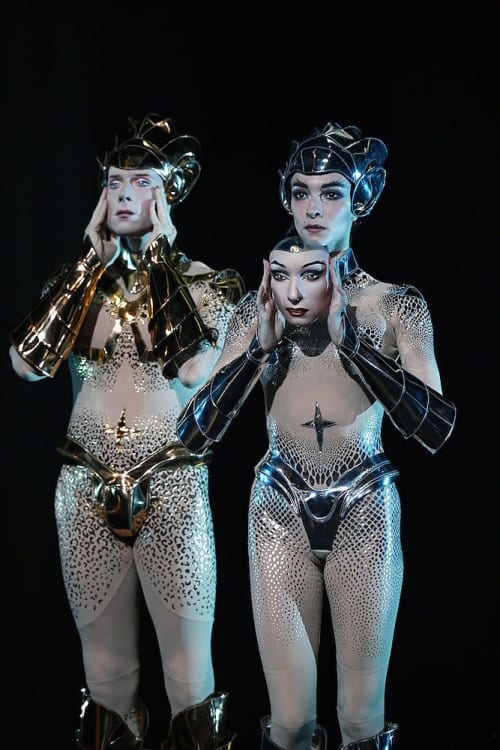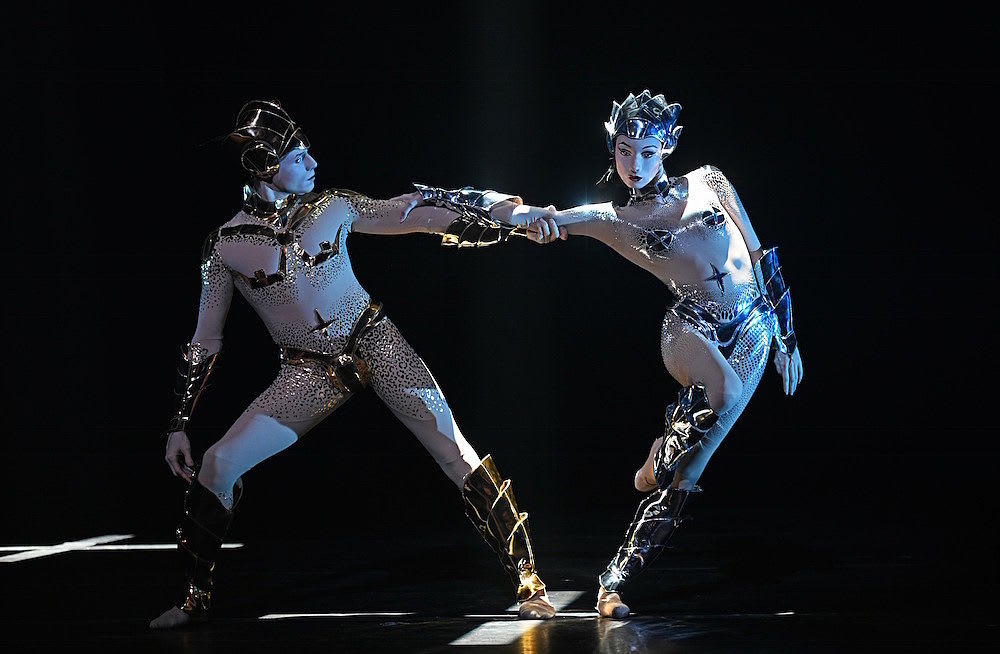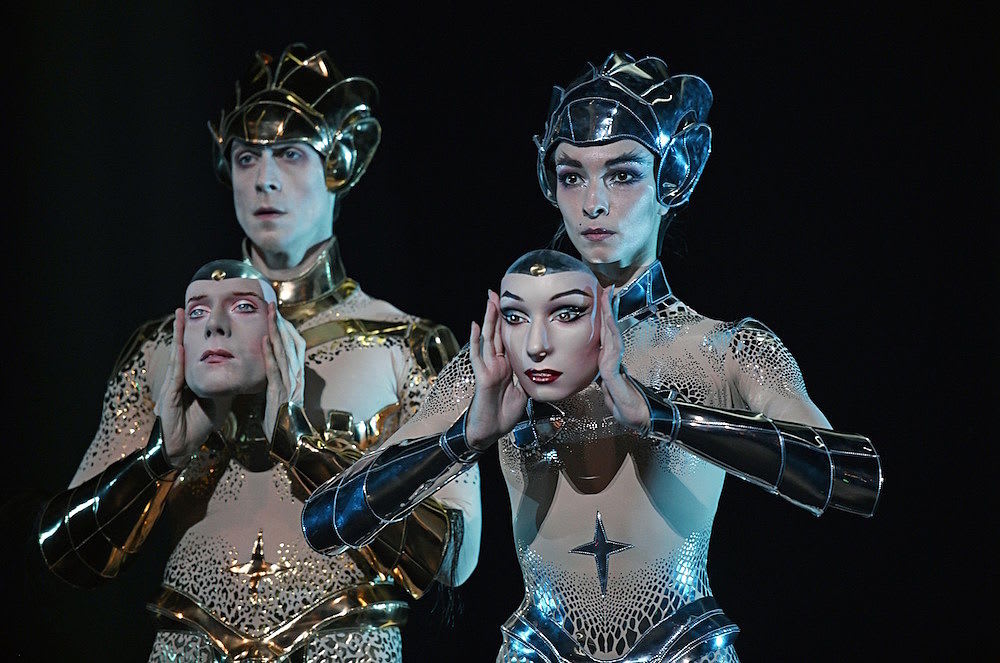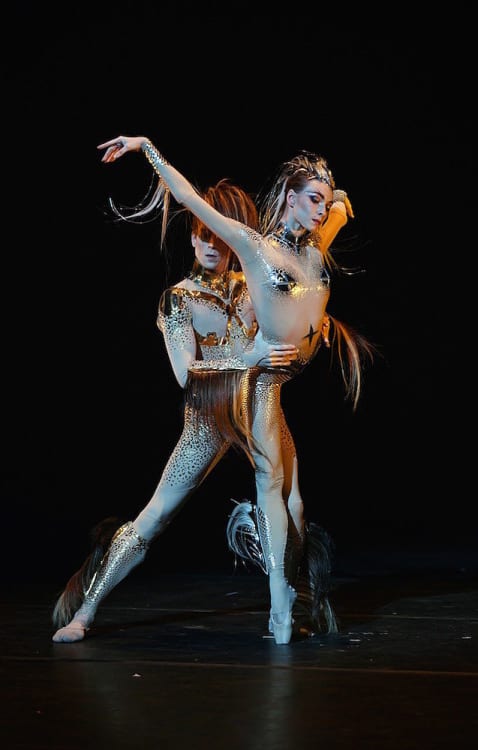 Following their presentation of Modanse, a showcase for Svetlana Zakharova and stars of the Bolshoi, Russian production company MuzArts presents a triple bill that blows the mind in oh so many ways—what were Wayne McGregor and Manfred Thierry Mugler on during their collaboration?
The fifteen-minute piece that closes the evening has been the one most promoted of the three for its collaboration between Royal Ballet's resident choreographer McGregor and French fashion designer Mugler. I'll save them for later. Coupled with Sidi Larbi Cherkaoui's fifteen-minute Faun, it's a short second half.
The main offering, a UK première, is the fifty-five-minute Radio & Juliet, which opens the show. Choreographed in 2005 by former dancer Edward Clug, now artistic director of the Slovenian SNG Maribor Ballet, it has toured extensively—you can also find it on YouTube—and it has become a popular hit, not least with Radiohead fans one must assume.
A dissection of Romeo and Juliet, which has Juliet looking back—no she doesn't die with Romeo—and reflecting on what was and might have been, to Radiohead's electro-acoustic, fretful, paranoid, introspective songs, mostly from OK Computer and Kid A. Six studs in black suits, no shirts, and Juliet in tiny corset… I don't hear the ecstasy of love.
A teenage rite of passage, over-amplified in her mind, perhaps, which at times looks like a moody fashion shoot or an art house movie—black and white backdrop videos of her sitting in windows, on a mattress on a parquet floor in an otherwise empty European flat (could be Verona with its antique porticos, doorways and alleyways), lying in a bath dressed in Romeo's jacket.
On the stage, camera shutter blackouts, episodic snapshot scenes, recalled impressions on her mind. Dramatic moments relived: the masked ball (men in surgical masks), the electric moment (lights switch on and off) they spy each other, Mercutio's death (twitching body removed by men in white undertaker gloves), the street fights, her wedding day, Romeo's death. She doesn't bite the symbolic bitter lemon, but puts it in his pocket—she will not be joining him on his final journey.
What impresses the most is the dancing, winged-feet and rapier-legged choreography that makes me think back to Hélène Blackburn's Les Beaux dormants and the Le Ballet de l'Opéra national du Rhin dancers. I am reminded that Canadian Blackburn was much influenced by Édouard Lock, the Quebecois founder, artistic director and choreographer of La La La Human Steps dance company, from 1980 till its disbandment in 2015.
Leads danced by two Ukrainians, Bolshoi principal Denis Matvienko and ENB's first soloist Katja Khaniukova, supported by five Maribor male dancers (Matjaž Marin, Gaj Žmavc, Christian Dominique Guerematchi, Filip Jurič and Tiberiu Marta), they are all dynamite, with energy and angst in abundance.
Classical ballet taken at a fast-forwarded speed without losing any precision or foot placement—imagine Russell Maliphant cranked up to ten, capoeira fights, martial arts, disco and a hint of breakdancing, popping and locking, six macho, cock of the yard, men and a slender young girl, a spinning toy in their hands. Choreographic draughtsmanship and nihilism… fascistic state Verona? Black night—Tomaž Premzl's chiaroscuro lighting hides sinister times.
Nothing sinister about Sidi Larbi Cherkaoui's 2009 frolicking acrobatic inquisitive Faun, discovering eroticism in the scent of his female equivalent. Acosta Danza brought Faun to Sadler's Wells less than a month ago and I couldn't imagine anyone topping their performance. Bolshoi principals Vyacheslav Lopatin and Anastasia Stashkevich don't, though Lopatin is remarkable, elastic, boneless, conjuring up the legend of Nijinsky in L'Après-midi d'un faune. His body liquefies with desire, amazing…
What comes next is jaw dropping, expensive WTF kitsch. McGregor + Mugler—what a team... art direction and costume design Mugler, choreography and direction McGregor. Their predilections to the fore, they bring out the camp emptiness of unfettered affluence. I'm not sure whether it's satire or a wanton curiosity knocked off in sketchy haste.
French fashion designer, now bodybuilder, 70-year-old Mugler studied ballet in his youth and spent time in the ballet corps of Opéra national du Rhin, has worked with Cirque du Soleil on their 'adult-themed' Extravaganza / Zumanity, costumed Beyoncé and Kim Kardashian, so what a catch for the try-anything McGregor.
Two AI figures (Royal Ballet principal Edward Watson, looking ill at ease, and Bolshoi prima ballerina Olga Smirnova with her superhuman high extensions) in white snakeskin bodies, the male topped by gold accoutrements, helmet, codpiece, arm and leg armour; the female by silver, G-string, etc. Oh, and crosses on their lower torsos, and face masks in their own image. Masks off, punk hair liberated from the helmets, choreographically these gender fluid / transgender (he tries her face on) creatures break little innovative ground.
"Manfred Thierry Mugler is not only a true fashion icon, but an incredible collaborator. It has been a pleasure to share energy, passion and trust throughout this new creative adventure. The process has offered new perspectives for both of us. The resulting work is unexpected, extreme and transformative." Wayne McGregor… Hmm... if only...
Reviewer: Vera Liber