Rambert Summer Livestream 2021: Eye Candy / Rouge
Choreography Imre van Opstal & Marne van Opstal, Marion Motin
Rambert
Rambert Home Studio
–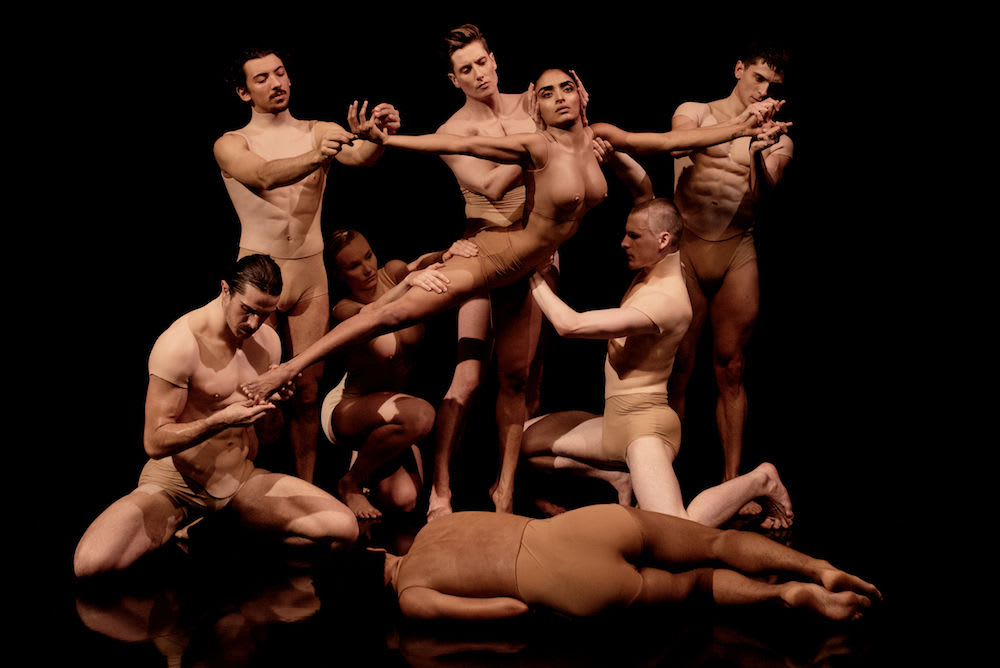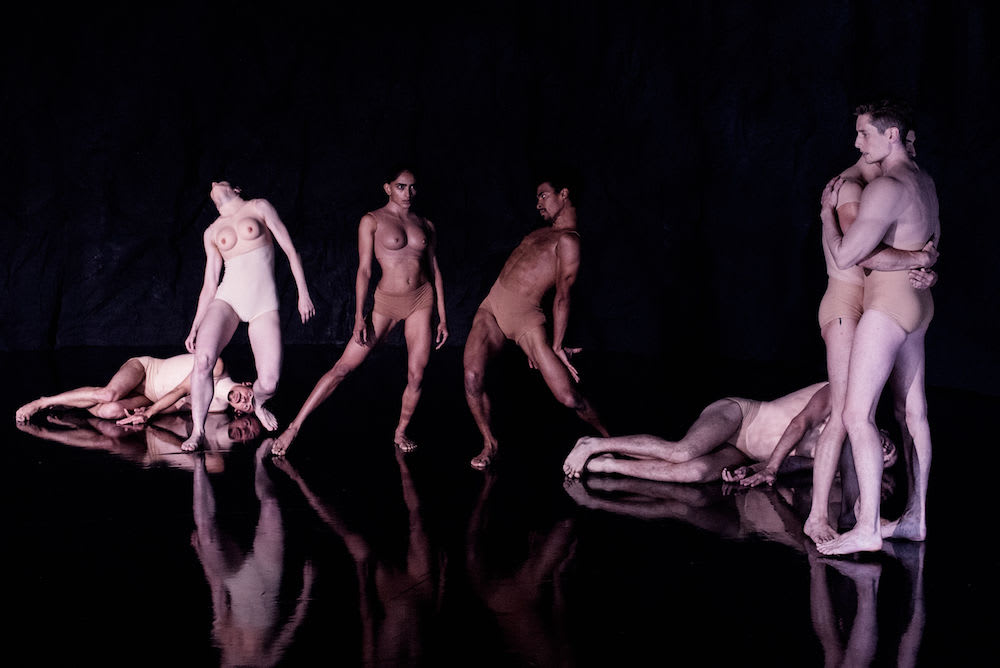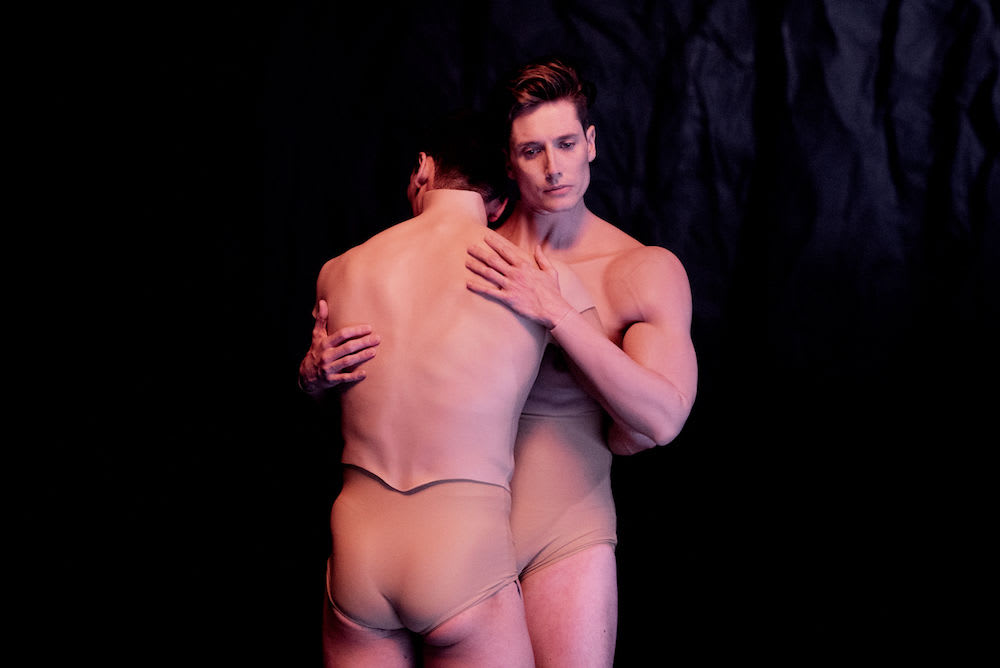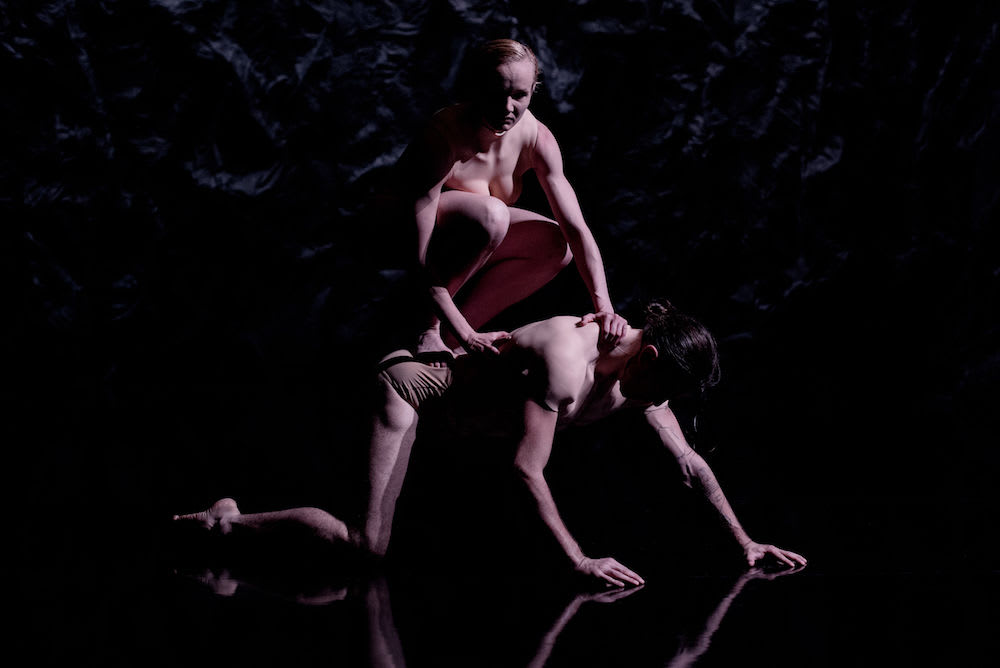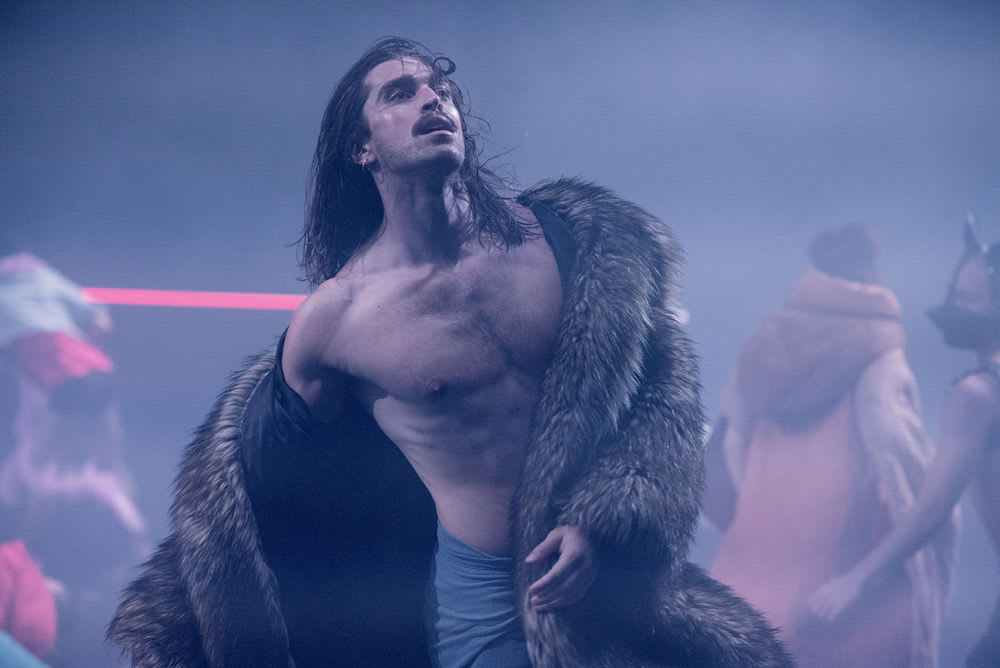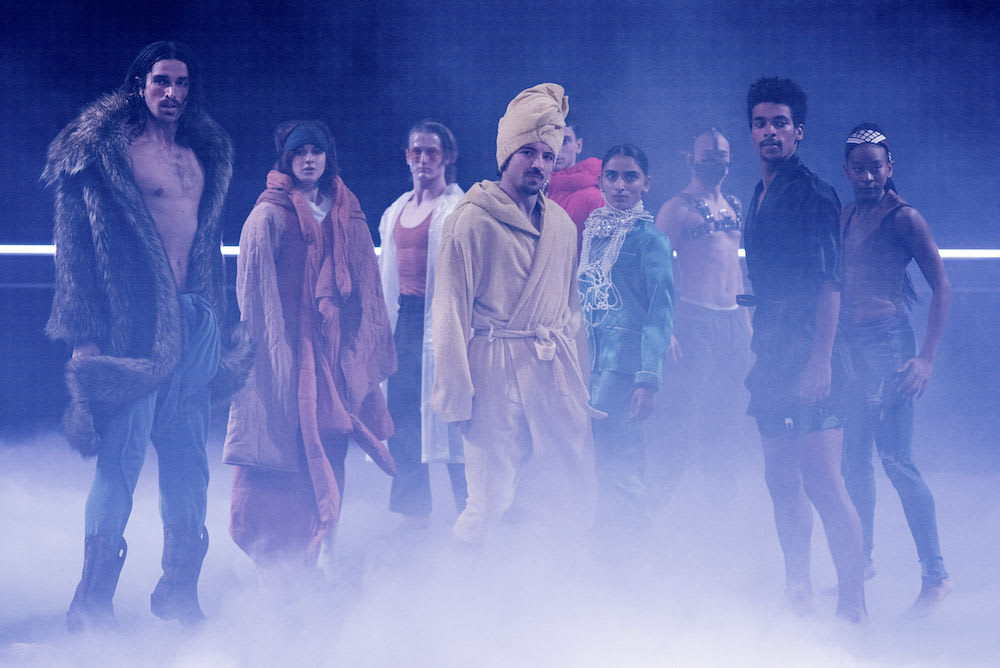 If I didn't know better I'd have thought the double bill choreography is by Sharon Eyal, so distinctive is her influence. Then I read (after I'd watched both) that Eye Candy's choreographers, Imre van Opstal & Marne van Opstal (also its costume and set designers), had "successful and prominent careers at the prestigious Batsheva Dance Company and/or Nederland Dans Theater 1 & 2", Batsheva being Eyal's alma mater. And Marion Motin's Rouge comes out of the club scene—a frequent Eyal setting.
Eye Candy (a world première, the first Opstal siblings' work outside of their home company Nederlands Dans Theater) with its eight dancers, two female six male, in bare skin look prosthetics, could well be named the naked ape or basic instinct. Simone Damberg Würtz and Guillaume Quéau could be Eve and Adam, he trying it on, she giving him a pitying look… but the voice coming out of her mouth is male. We're in gender fluid territory. The male duet couple walks on tiptoes as if in high heels—another Eyal proclivity, the mannequin look. They kiss, pull apart, bump chests—all a bit simian and Darwinian.
But dance is about bodies whatever the gender and these are wonderful movers, grouping in Matisse "Dance", articulating every bone of their feet as they walk like jungle cats (in t'ai chi I was taught to walk like a tiger), primeval, to the beat of drums, in a dark, cave-like environment. The camera comes close and reveals lovely unblemished faces. But then faces distort—what that's about is anybody's guess. Ritual, rites, evolutionary development... there's distress, misunderstanding and maybe even self-harm. Life is a struggle and a puzzle.
Simone Damberg Würtz and Guillaume Quéau's volatile relationship develops: she climbs over his body (Henry Fuseli's "Nightmare" in reverse). The last image is of her standing on his prostrate form. Apparently, the Opstals want us to consider how "cameras […] affect our relationship to our body". Music is by Amos Ben-Tal (himself a choreographer and a former dancer with NDT, musician and writer).
Rouge I reviewed two years ago live at Sadler's Wells. And if I remember it was a blast. This time reworked for the camera—and Motin has experience with music videos, having choreographed for Christine and the Queens, the video for her breakthrough track "Tilted". In 2018, she was nominated for an MTV Video Music Award for her choreography on Dua Lipa's IDGAF. And it translates perfectly to the smoky screen.
A lone guitarist plays great guitar, smoke rising from his amp, outside the building, round the grimy back the audience never gets to see. This is nighttime London when its night owls come out to play. Rain is falling. Film noir vibes: Simone Damberg Würtz walks past in collar-upturned mac. Cinematography is good: director of photography: Gabi Norland; multi-camera director: Thomas Bowles; sound supervisor: Jack Allett.
Ten bodies in various individualistic garb (costumes by Yann Seabra) rise out of the haze (original lighting Judith Leray)—in porcine S&M, in bathrobe, in drag, in fur coat. The music hums in anticipation. They fall and rise, fall and rise, fall and rise, life's oddballs, life's originals. What amazing movers they are—you'd think it was a trick of photography this rising and falling, but it looks pretty real to me...
They discard their outer layers, strip off their outer skins. Sensual, edgy, trippy, orgiastic, they seem smashed out of their faces, off their skulls, in a sweaty pile-up of dance and in an ordered formation routine. Micka Luna's music is their driving force.
"I see my dance works as films, where the performers are very much actors, so I was really excited about the prospect of recreating Rouge for the screen. I wanted to give room to the dancers to bring something of themselves, a little of who they are. Their fragility, doubts, fears and desires really inform their beauty. We've reconsidered the relationship to the space and the perspectives, bringing audiences into a new dimension." Marion Motin.
Much is demanded of the Rambert dancers (Alex Akapohi, Adél Bálint, Simone Damberg Würtz, Daniel Davidson, Max Day, Edit Domoszlai, Liam Francis, Juan Gil, Brenda Lee Grech, Conor Kerrigan, Naya Lovell, Guillaume Quéau, Aishwarya Raut, Antonello Sangirardi, Kym Sojourna, Alex Soulliere) and they always deliver whatever the content and context. They are the reason for watching in close-up, seeing the nuts and bolts, and the work that goes into creativity.
Eighty minutes in all with a ten-minute interview break in which Gloria Rowe gently questions Rambert's artistic director Benoit Swan Pouffer on his strengths and weaknesses. And he promotes their web site with its podcasts, all-inclusive classes, music tracks, and more. Well worth a look.
Reviewer: Vera Liber