Rambert Triple Bill: Eye Candy / Cerberus / Following the Subtle Current Upstream
Choreography Imre van Opstal and Marne van Opstal, Ben Duke, Alonzo King
Rambert
Sadler's Wells
–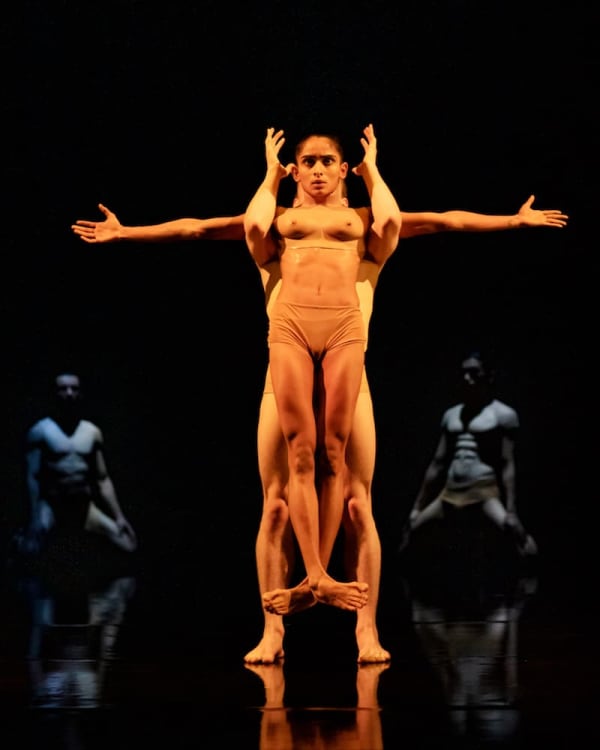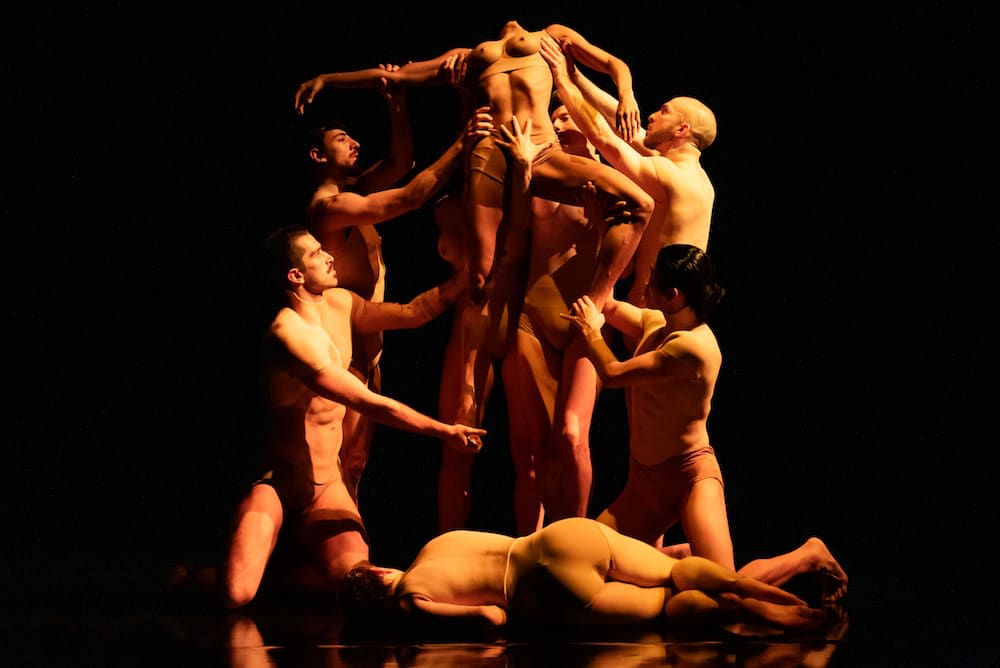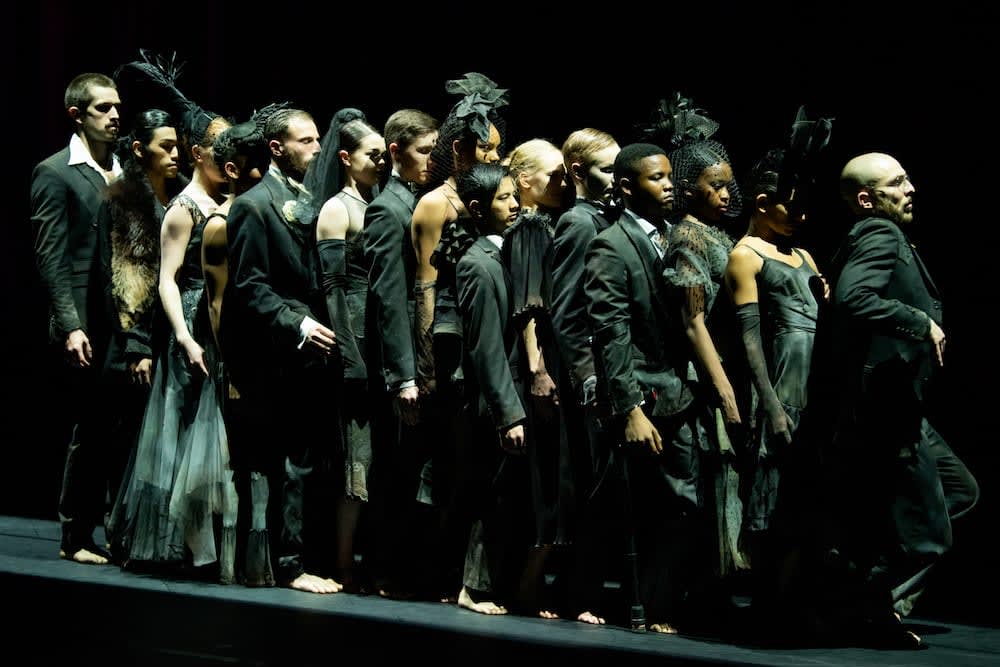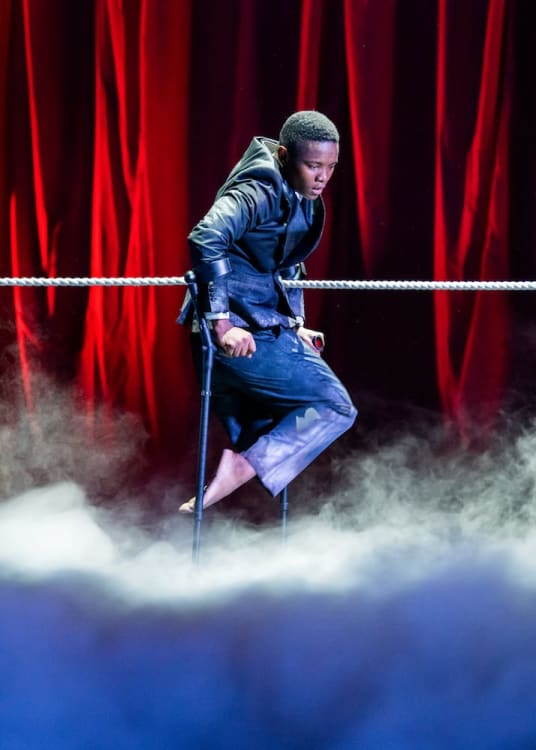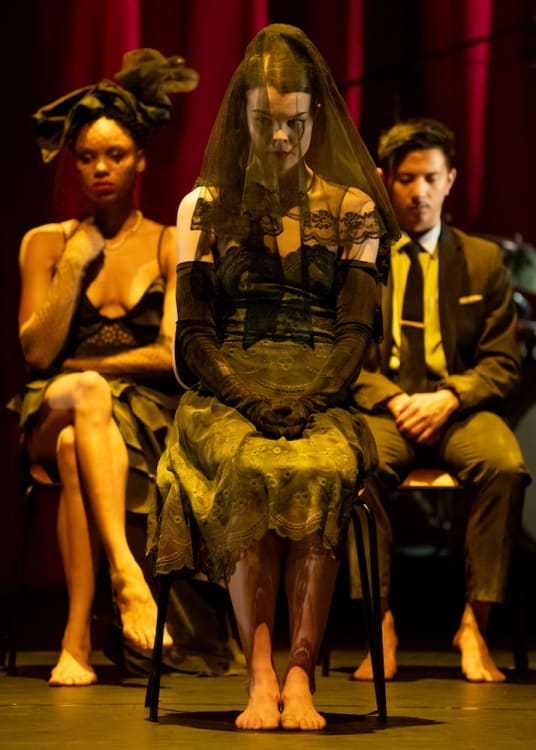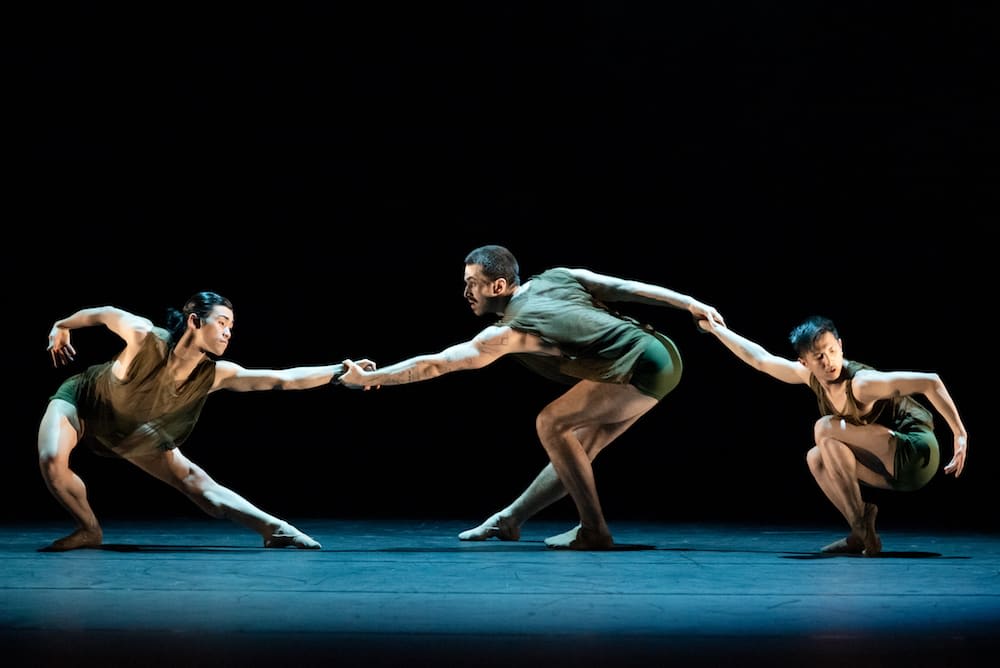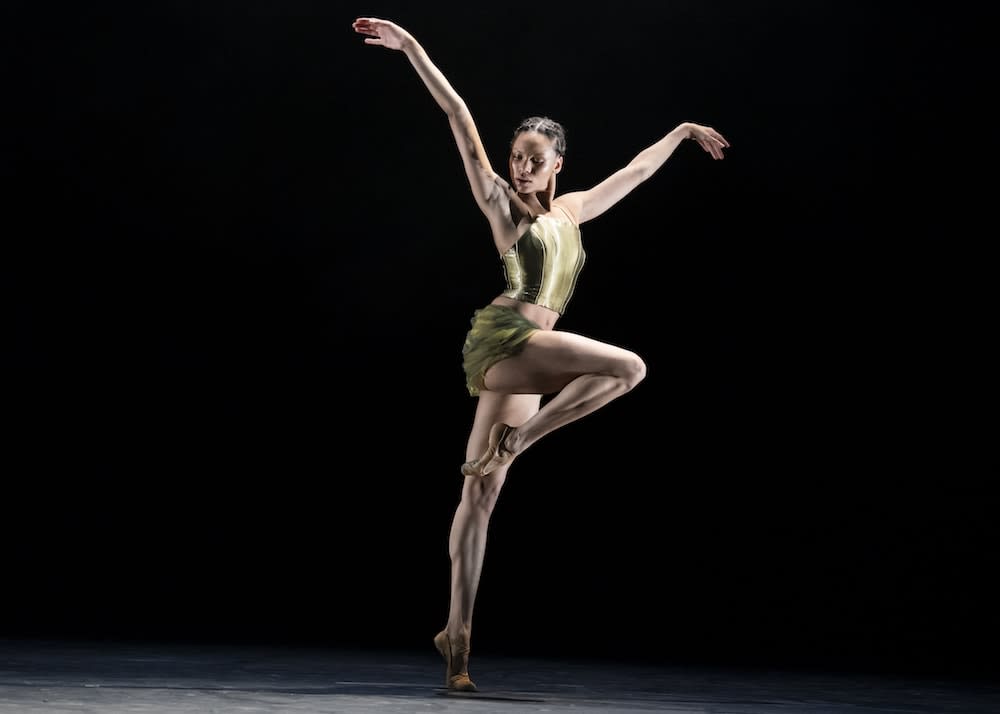 Three half-hour (or thereabout) pieces with wildly differing styles do not appear to be a challenge for Rambert's dancers. They are astonishing. The same cannot be said for all the three pieces: they are interesting, demanding, but what unites them is the dedication and quality of the dancers.
Eye Candy, by Dutch sibling choreographers (and set and costume designers) Imre van Opstal and Marne van Opstal, you may have seen on Rambert's livestream in 2021, as I did, but seeing it again, live, confirms it is a keeper. And on second viewing also reinforces my initial Sharon Eyal reference. Music by Amos Ben-Tal, former NDT dancer, as were the Opstals, who also danced with Batsheva dance, Eyal's alma mater, completes the connections.
The 'naked' malleable bodies, six male, two female, are quite remarkable down to the individually articulating toes. Dolls that can be manipulated into any shape, Aishwarya Raut in particular. A future race newly born, a future artificial species, and the birth of a brave new world—I think of Miranda in Shakespeare's Tempest. I think of Matisse and Van Gogh. And Maori haka.
Where are they though? The landscape is grey, mottled: adjacent walls rise behind them, the sound of water dripping… Are they trapped? Have they been abandoned? Don't we like to search for a narrative…? Is this some distant sterile planet? But I could be way off the mark. You make your own connections—that's the beauty of abstract dance.
These are adults behaving before Adam and Eve were expelled from paradise, exploring their own and each other's bodies—flesh-coloured bodies, well-endowed bodies in their prosthetic attributes—innocently like children. Without guilt and with little emotion—that dawns later. Beautiful Blakean androids on a journey of self-discovery: intriguing.
Ben Duke likes to deconstruct the classics—his Cerberus, which premièred five days ago in Hall for Cornwall, is a very short, Pina Bauschian piece of dance theatre. We don't get to see Cerberus the three-headed dog that guards the entrance to Hades, of course we don't; this is mildly amusing metatheatre with lots of witty voice-over (as there is no programme, the voice says, to explain what is going on). And I might add, there is only a digital cast list to download.
It is about birth and death ("if you see a white light, don't walk towards it"), the journey through life, and is in fact the tale of Orpheus and Eurydice.
A woman in Victorian black with a white rope around her middle struggles across the stage, pulling something behind her—what it is we can't see. Turns out it's a stagehand with a miner's lamp on his forehead. Actually, we discover later via his interpreter (he's not prepared for this—we are none of us prepared for this, life that is) that he is Orpheus, Italian, of course. The expressionless audience listens silently behind them to this stand-up comedy routine.
All the cast is in fashionable, funereal black: looks like a still from a film with 'Frida Kahlo' costumes in black. An old monochrome Italian film—if not for the red stage curtain. Or maybe Spanish, or maybe French—who knows... Tied together by rope, the cast of eighteen, amongst them Musa Motha beautifully fluent on crutches, strains across the stage in line formation again and again, on and on as in life, on repeat. Orpheus approaches the underworld with a climber's rope over his shoulders. He will drag Eurydice back. Hmm.
The musical mélange is interestingly eclectic and you might like to look it up: "A New Error" by Moderat, "Built Then Burnt" by Thee Silver Mt Zion Orchestra, and Monteverdi's "Lamento Della Ninfa" performed on stage by Rebecca Leggett and George Robinson. Romarna Campbell improvises brilliantly on drums at the back of the stage.
And now for the one we've been waiting for—American Alonzo King's first piece for Rambert, the abstract Following the Subtle Current Upstream, which premièred in 2000 at the Alvin Ailey American Dance Theatre at New York City Center. A gentle fluid piece about love and joy, he says. And don't we need some of that these days.
A cast of twelve, in metallic vests and briefs that catch the light, flit in fours, trios, duos, solos, in formation, on and off in response to stirring music by Zakir Hussain, Miguel Frasconi and Miriam Makeba. Music giving them impetus, as they flex and leap, three male graces intertwined, soft, supple, impatient goddesses in individualistic jazzy free form, brief appearances. All get to show off, as they ride the wide-ranging choice of music.
It's good to see Rambert again after lockdown. There are lots of new faces: I recognize only a few from the past. But, the theatre is far from full on a press night, which is surprising. Age recommendation is 15+.
Reviewer: Vera Liber