Raven Girl / Connectome
Choreography Wayne McGregor / Alastair Marriott
Royal Ballet
Royal Opera House
–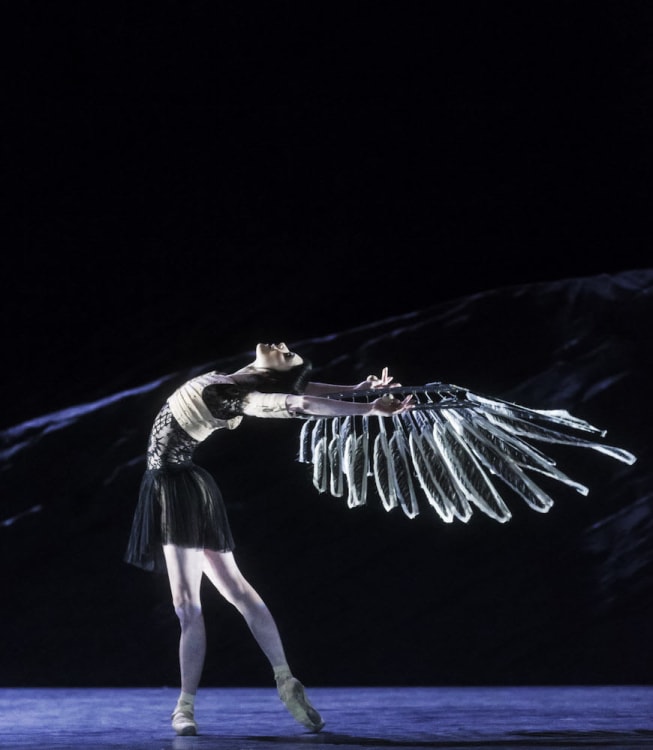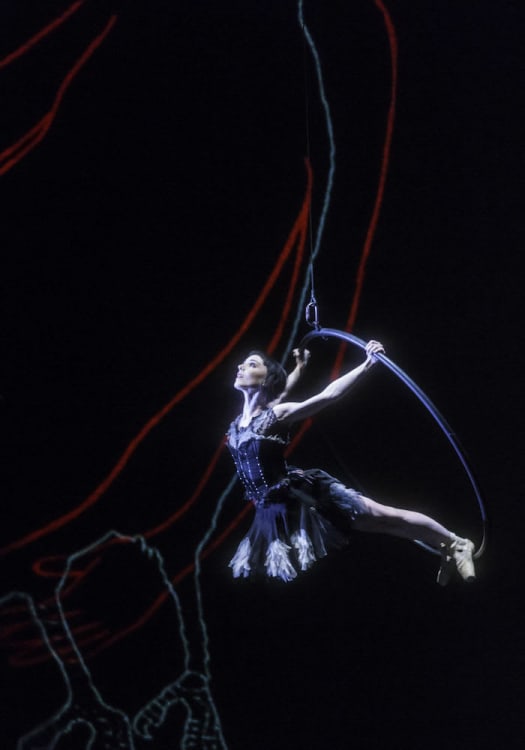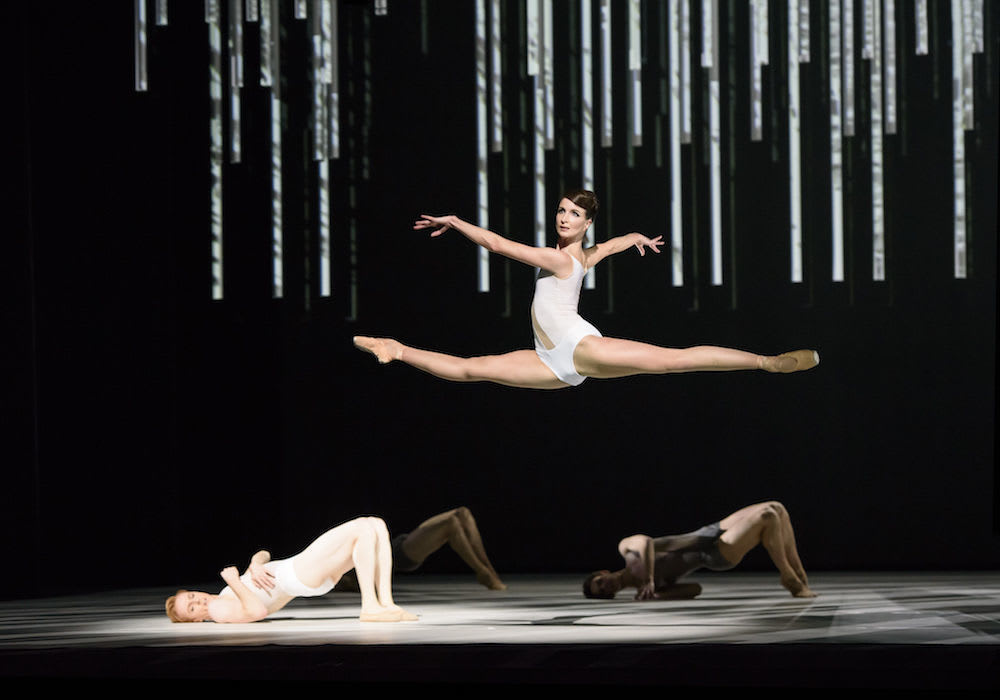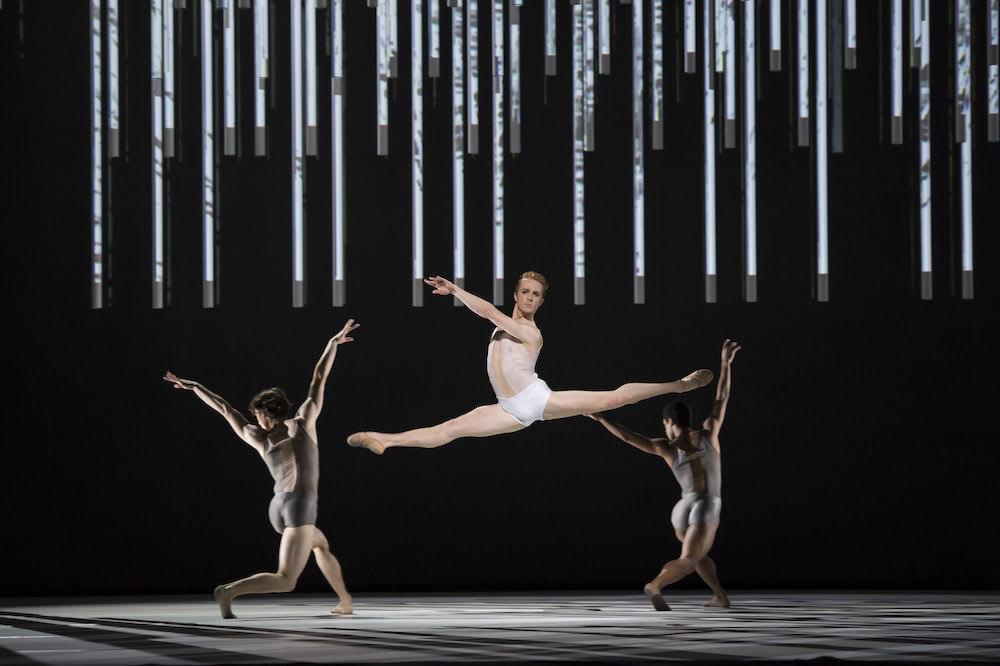 Raven Girl, resident choreographer of the Royal Ballet Wayne McGregor's 2013 re-creation of Audrey Niffenegger's fantastical short story, is back, edited, slightly reworked, Lucy Carter's lighting brighter, but the Gothic fairy tale remains unchanged, as does my opinion.
As usual McGregor surrounds himself with top-notch creative talent. Vicky Mortimer's set design, borrowing much from German expressionism (Carter's lighting too), Grimm's tales illustrators and even Casper David Friedrich, is superb.
As is her 'Alexander McQueen' (another avian lover) costume design for the untidy mess of ravens on the stage: feather and crystal masks, black tabards, lacy bodies, and silvered wings. The circus ring the Raven Girl swings on has that bird in a cage and fashion show concept connotation.
And cabaret—a macabre Weimar cabaret: replace the feathers with feathered fans and you totter on the verge of burlesque. Silk purse and sow's ear also spring too readily to mind.
McGregor maintains Raven Girl is not narrative, though it tells a story, but visual theatre, and Mortimer's work certainly is the prime feature in that. Ravi Deprees's film animation design, projected on to the front scrim, gives us a flavour of Niffenegger's own book illustrations, punctuates and adds another layer to the stage picture.
Muybridge's flickering bird in motion and Hitchcock's 'Birds' are evoked in familiar cinematic images of birds careening, flocking and nesting on cliff tops. Add to this film composer Gabriel Yared (The English Patient, Betty Blue, The Lives of Others, The Talented Mr Ripley, Cold Mountain and many more) and you have a multisensory experience that might just appeal to a young audience up for anything new.
But, as regards dance idiom, McGregor is not a natural storyteller. And Raven Girl's seventy-five minutes feel very long, dull, uneven in exposition, earthbound and banal—it does not take flight for me. Two Pigeons it ain't. McGregor's synapses may be firing on all cylinders, but his unique 'connectome' has an alienating effect on me.
A product of cross-species gestation—a Postman (plus bike) and a Raven (Edward Watson MBE and Olivia Crowley)—Raven Girl longs to be a bird, to have wings. Enter the Doctor (Thiago Soares in a reduced thankless role), a Josef Mengele figure, with his lectures on ghoulish chimeras and trans-species transplants: the stuff of horror movies. The operation is grotesque, as are his creature creations.
Her dad the Postman rips up the book and writes her a happy ending with the Raven Prince. The shy human Boy (Paul Kay spot on) doesn't get a look in, as ever the outsider in the wrong body she moons over flying.
The pas de deux between Sarah Lamb and Eric Underwood as happy raven couple is very beautiful and very familiar—is McGregor recycling? And Watson has little dancing, which is just as well as he is in the next piece, Alastair Marriott's twenty-eight-minute Connectome.
Natalia Osipova in the only female role brought electric vitality to the 2014 première. Much as I love Lauren Cuthbertson who replaces her—Osipova is injured and apparently out of dancing till the New Year—she does not have the same dynamic.
Marriott, taking "inspiration from neuroscientist Dr Sebastian Seung's theories on how personality is determined not by genes but by our neural connections - the map of the brain, or 'connectome'", aspires to tell a story of a lone woman in a field of men. Is she the spanner in the works or the electric spark?
Again this abstract scientific investigation is supported by essential visual aids: Es Devlin's set design—a forest of isotope rods, Luke Halls's video design of tetrahedrons and scrambled wiring, Bruno Poet's lighting, and Jonathan Howells's minimalist white unsex leotards.
The choreography is geometric, dry, clinical, and intense if a little generic: shimmering bodies, Steven McRae, Edward Watson and Cuthbertson jeté beautifully across the stage. The four backing boys, Luca Acri, Mathew Ball, Tomas Mock and Marcelino Sambé, dance their socks off.
The best is Arvo Pärt's elegiac spiritual music: Fratres, Vater Unser, Silouan's Song, and Wenn Bach Bienen gezüchnet hätte.... Dedicated to his late father, Marriott has put his heart and soul into Connectome, and maybe something of Kenneth MacMillan (Requiem, Gloria, Song of the Earth), Nijinsky's frieze movements, too.
An imbalanced double bill, neither ballet a firecracker, does not lift the spirit, move the soul or fire the brain, yet fields dancers that are good to watch.
Reviewer: Vera Liber