Red Forest
Belarus Free Theatre
Belarus Free Theatre
Young Vic Maria Studio
–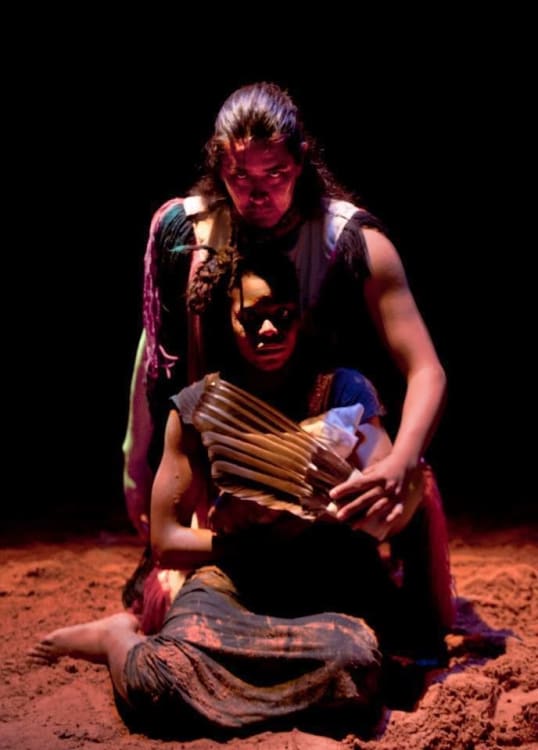 Belarus Free Theatre has made quite a splash with its over-the-top and always spectacular attacks on political oppression in its home country and elsewhere, which spill out into commentary on Western complacency.
Following Minsk, 2011 and Trash Cuisine, both of which stunned Young Vic audiences on their UK debuts, the company's latest production Red Forest focuses on globalisation and contemporary society's unavailing attempts to self-destruct.
Red Forest is a somewhat quieter work that frequently brings to mind Godfrey Reggio's Powaqqatsi, the film that toured the undeveloped regions of the world to the accompaniment of a Philip Glass soundtrack.
The difference on this occasion is that, in addition to focusing on ancient beliefs and rituals, Red Forest forces viewers to face some of the horrors that man piles on to his fellow man, which make the world such a terrible place.
This means that while the 80 minutes contain moments and images of great beauty, there are also memories that it will be hard to shift such as the loss of a child, rape on mainland (civilised) Europe and, hardest of all to stomach, the consequences of a leaking nuclear power station.
The almost-constant in an ever-changing landscape is a mother who witnesses the good and bad, as a kind of surrogate for both the audience and the wider world.
This production is spare on language, combining music and dance as well as physical theatre and a screen the width of the stage that assails the eye with artistic imagery.
This helps with the pacing, as does the setting: a rectangular sandpit flanked by shallow pools on either side. These elements also play an active role in advancing many of the stories that make up the evening.
Red Forest is impressionistic and switches between stories, all of which are true, with such rapidity that some fail to hit their targets.
Overall, though, it is a thought-provoking production that should shame us all.
Reviewer: Philip Fisher