Red
Devised by the company
Likely Story / Wales Millennium Centre
Weston Studio, Wales Millennium Centre
–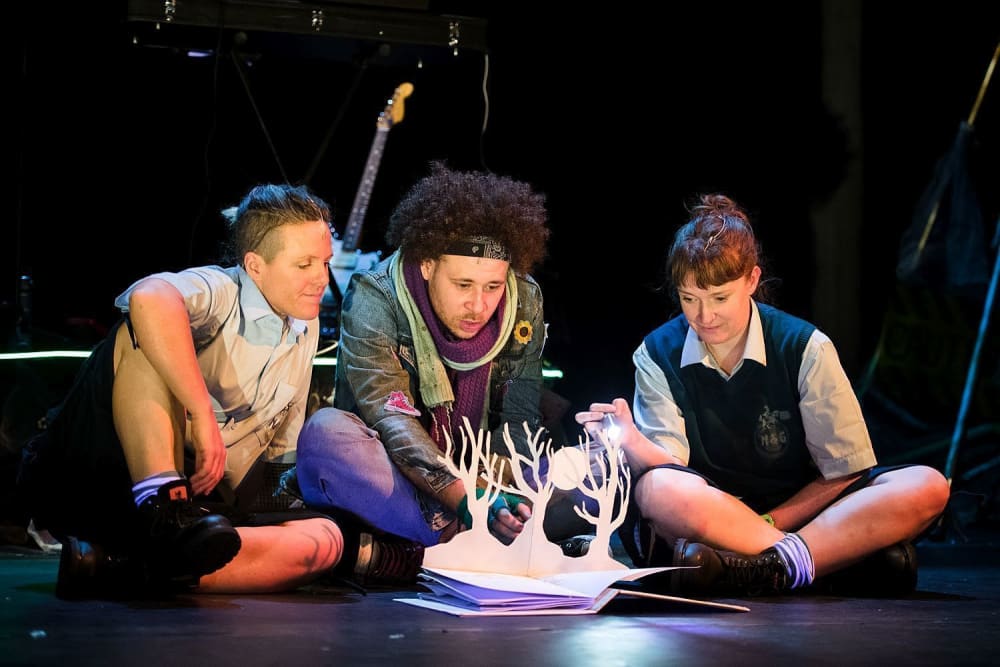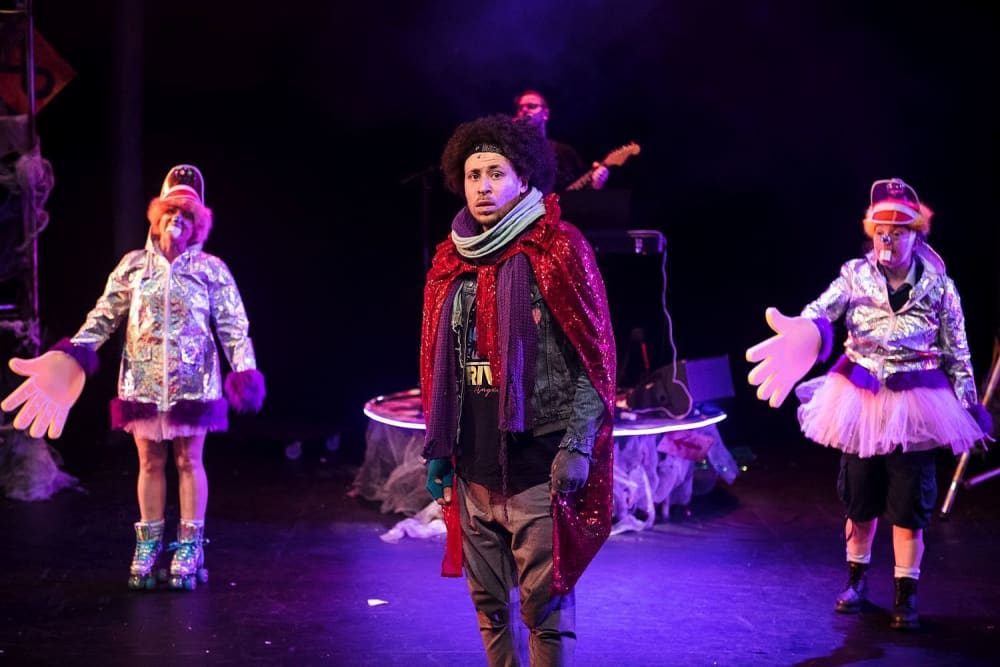 While Les Misérables will be continuing to pack them in at the Wales Millennium Centre's main auditorium over the festive period, the official family-friendly Christmas show is Red, from Cardiff-based Likely Story in the Weston Studio; also part of the venue's Performances For The Curious season of non-traditional theatre.
Likely Story describe their work, largely aimed at young audiences and often playing unusual venues, as "daft and magical"; and Red certainly fits the bill, taking place in a fairy-tale universe of sentient vegetation and talking animals.
The narrative is inspired by the legend of Red Riding Hood, but takes place many years after the girl ventured into the forest, never to return. No-one in the village goes there now, and even though the wolves who are presumed to have done her harm appear to have become extinct, there is a constant reminder of the fear they inspire in the form of an ominous shadow projected on the back wall of the set.
We begin with musician Tom Elstob centre-stage, narrating as well as impressively providing keyboards, guitar, percussion and sound effects. He tells of two postal workers, Jones and Grimsby, who are just about to knock off for Christmas when they discover an undelivered package in one of their bags, addressed to a cottage in the woods. Since their company always delivers ("eventually"), the pair are duty-bound to swallow their trepidation and trek into uncertain territory.
As the journey begins, they encounter an as-yet unnamed tree-dweller, who has been unable to move on since his friend disappeared in the forest, many years earlier, and lives alone but for his friend Toby (who resembles a stick). Inspired by Jones and Grimsby's determination to fulfil their obligations, he decides to confront his own fears and accompany them.
Needless to say, there are numerous unusual encounters and minor mishaps before they reach their destination and discover what really happened to Red Riding Hood: mysterious red shoes which follow them around, dream beavers who invade their sleep, an aerobics-obsessed spider and green slime-monsters, not to mention an old lady who appears to be unclad.
The show starts out as a comedy double-act between Hazel Anderson's Jones and Ellen Groves's slightly dimmer Grimsby, complete with repeated jokes and banter with the younger members of the audience which acknowledges their occasional bemusement. When Connor Allen's tree-dweller joins them, things get a little more emotional, his keenness to take part in their adventure reflecting hs long-felt sense of disconnection.
Kristy Harris's set largely comprises scaffolding, minimally but imaginatively dressed; helpful neon signs provide useful information (e.g. "The Woods" and "You Are Lost"); and the cast make a joke of the fact that the small performance area is playing the part of a vast tract of inaccessible land. The costumes cleverly give the impression of being improvised, as does the text, but under Hannah McPake's assured direction, the devised narrative remains on track.
Red encourages us to embrace our inner wolves and seek harmony with the natural world. It's a funny, fast-moving and periodically baffling hour or so of entertainment.
Reviewer: Othniel Smith