REDD
Choreography Kenrick 'H2O' Sandy, music Michael 'Mikey J' Asante
Boy Blue
Barbican Theatre
–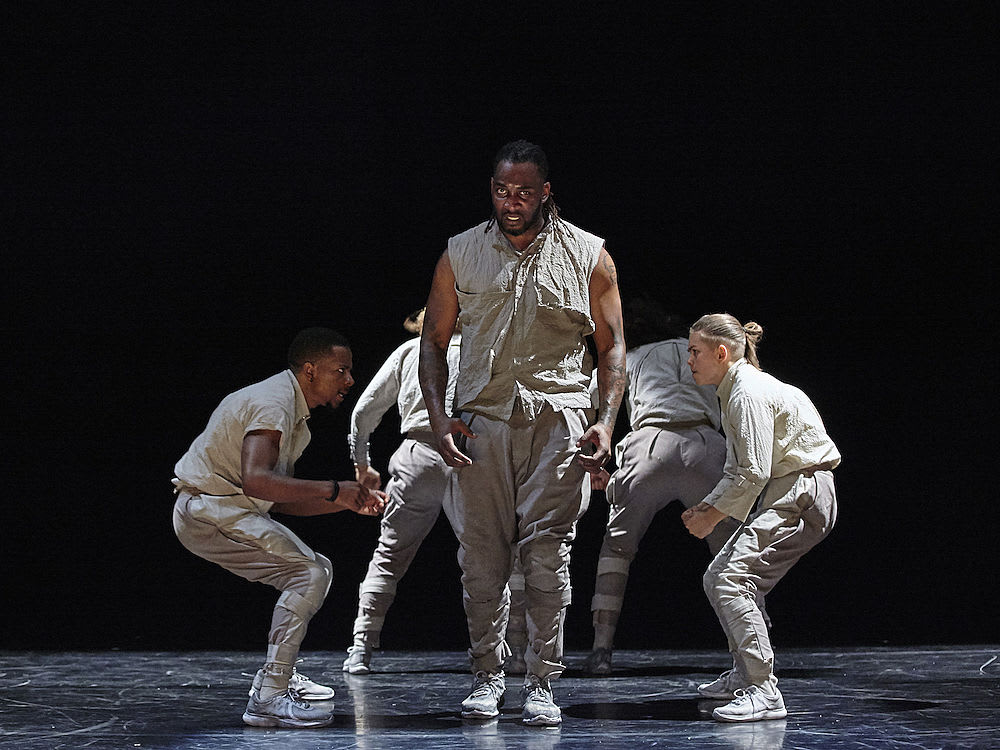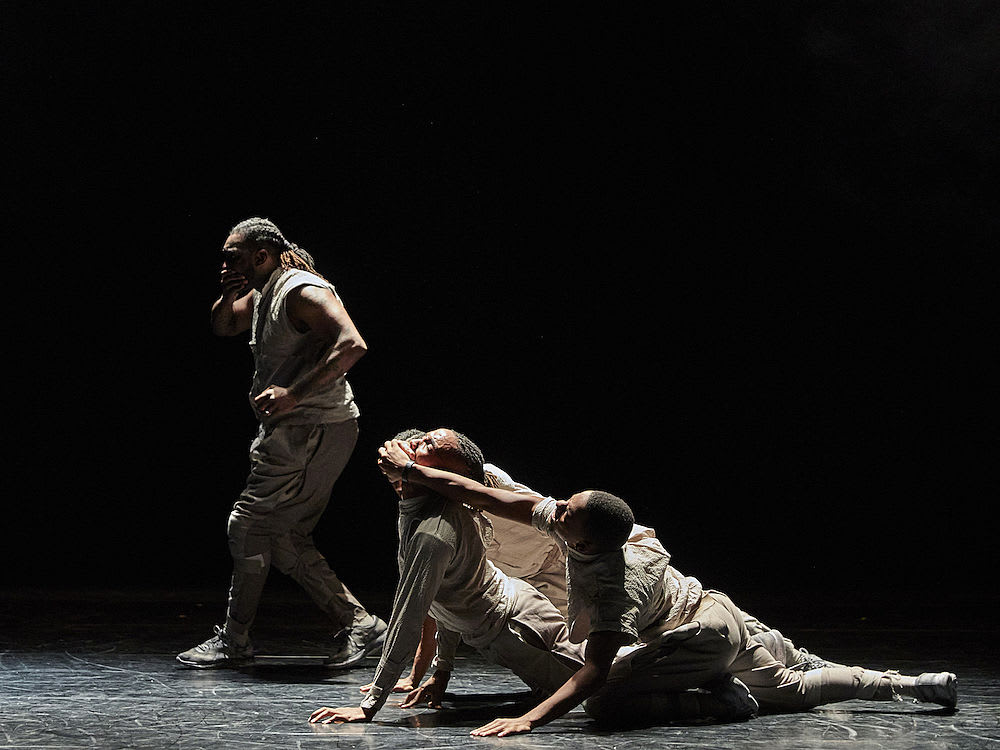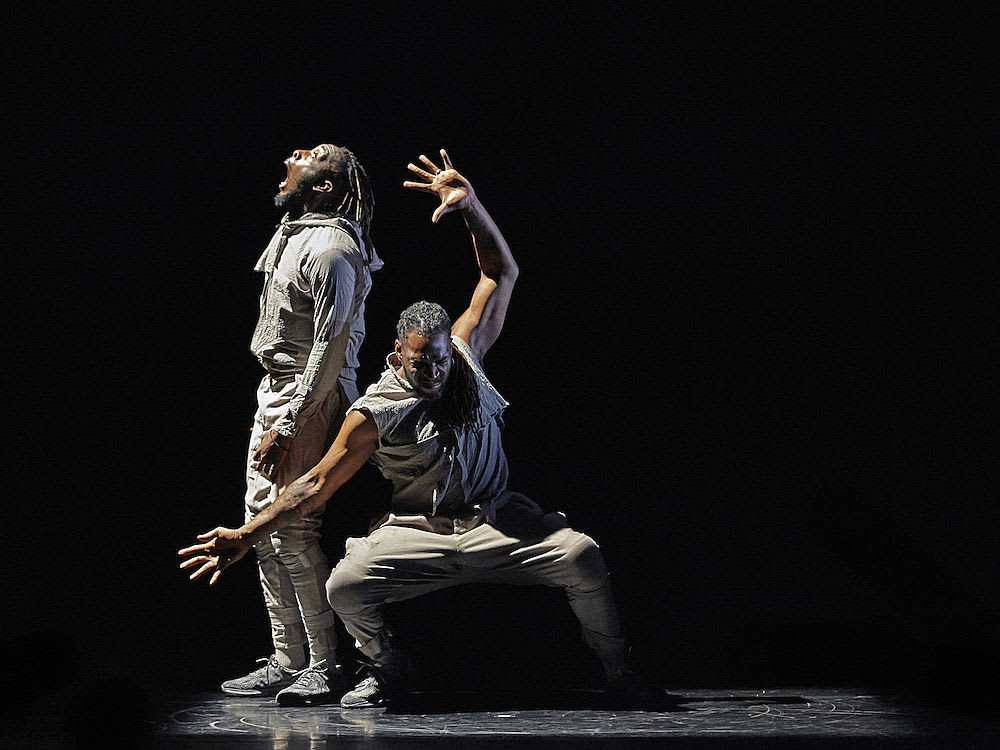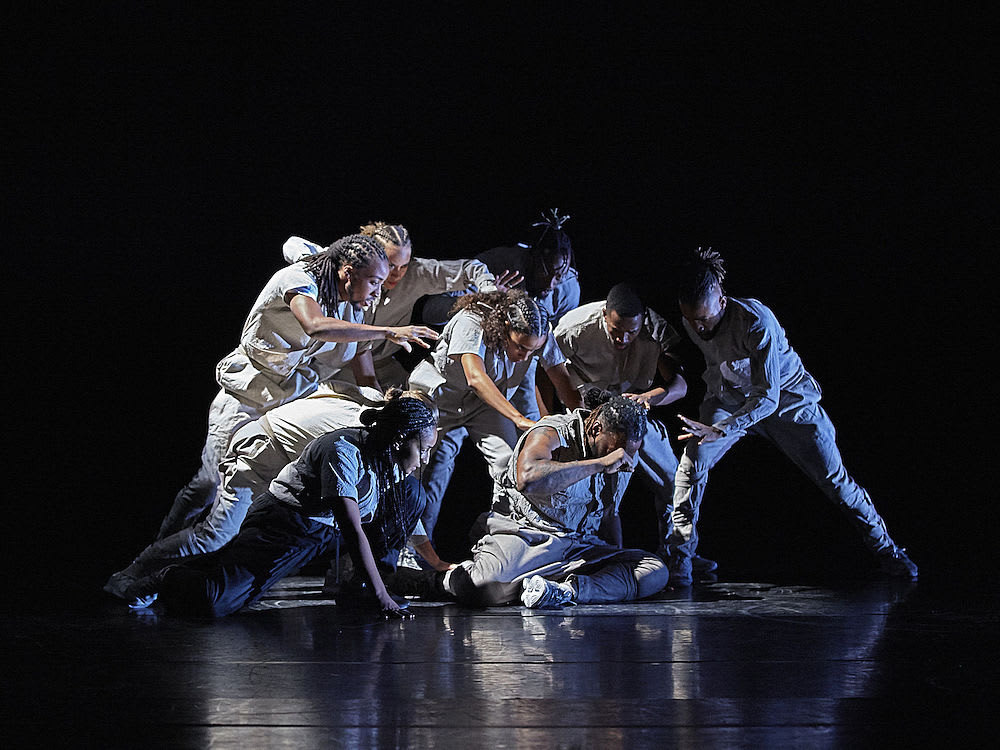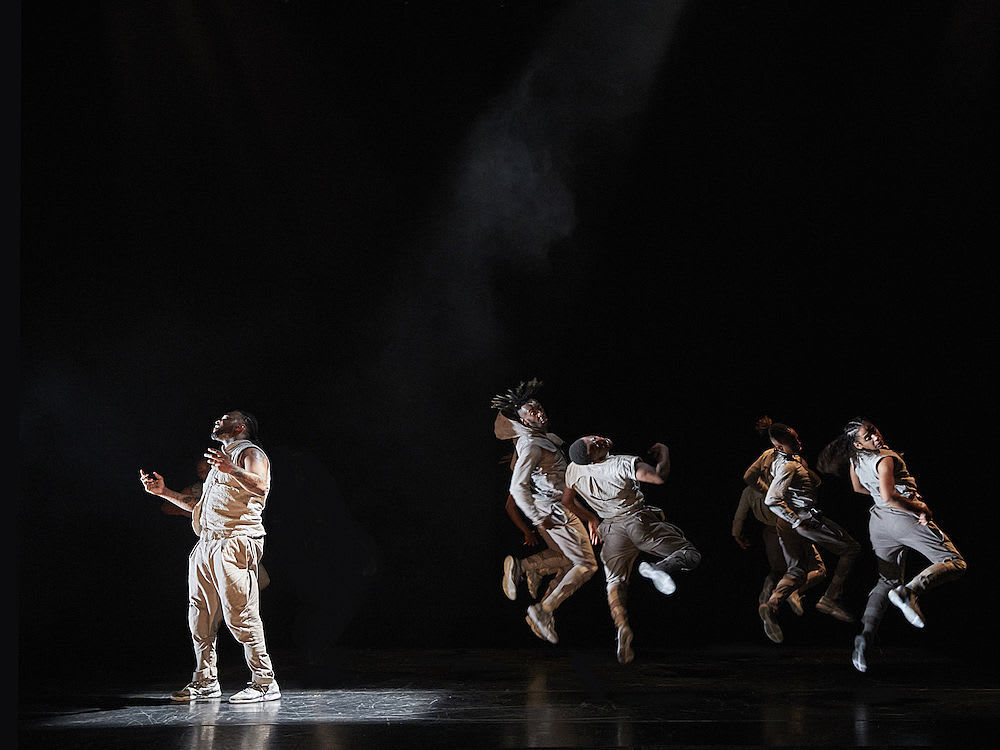 Barbican Artistic Associate, East End company Boy Blue's motto is "Educate, Enlighten, Entertain", and if one reads the biographies of the nine dancers, nearly all are teachers as well as performers and choreographers. And what I get from this introspective seventy-five-minute straight through piece about grief and its many manifestations is a sense of an end of term showcase for them all with choreographer Kenrick 'H2O' Sandy MBE their leading man and mentor.
Not an easy subject to pull off, REDD (from the Gaelic verb 'redd' meaning to put things in order, put right, settle) is one man's journey to hell and back, krumping, crumpling, crumbling from grief. Michael 'Mikey J' Asante's new lo-fi hip-hop score provides the cacophony in his head, the white noise trawling through various radio frequencies, the scrambling for some sense, electronica multi-layered, voices in his head, all a bit sci-fi, a bit angelic, a bit distorted. Synapses short-circuiting...
There is no colour in this purgatory, this halfway world between life and death, just bleak lighting (Charlie Morgan Jones) and fog, post-traumatic fog. I wonder if this is Sandy and Asante's homage to the young London boys lost to knife crime, or whether it is closer to home, for what strikes me most is the sincerity of the performances from Nicey Belgrave, Tanaka Bingwa, Mikiel Donovan, Shannelle 'Tali' Fergus, Emma Houston, Ajani Johnson-Goffe, Kayla Lomas-Kirton, Kelsey Miller, but especially from Sandy, the towering character around whom the others spin like satellites around a super-Earth.
Choreography grounded, Sandy's body juddering and shuddering in pain, moves convulsive, hands over face, in grief or obliteration, hands grasping at a mirage. A man trapped in a square of light on a black stage, in his own nightmare, scorched at the touch of another.
A sleepwalker in his own life, but he is helped by his youngsters, all clad identically (costumes Ryan Dawson Laight), everymen and women, family, friends, and eventually he accepts their help. But they peel away and he is left alone again. So it goes. In grief one is always alone. Figures come and go. Are they demons that beset his fractured self, or his shadows, his echoes?
Hands over eyes, mouth, over ears, but he is getting there. Nausea gets him, he expels his breath, which grows into a shout—is this a form of therapy? He must be strong and conquer those tears. Even big men cry.
The light grows warmer, his eight young dancers envelop him, but who is the tall young man—his departed son? He seems very happy to see him. Both smile. And then he is gone. His fingers grasp at a tiny thing—is it a soul, a spirit he is trying to catch?
Is this a dance of memory, a memorial, or an exorcism? What does the sudden appearance of red scarves hanging off belts signify? Restoration to vigorous life? Do I hear snatches from James Bay's melancholy "Let it go" track?
There's a poem titled "143 Words on Grief" by Rachel 'Maiday' Moulden in the programme on loving one's grief for it is always with you. Some say it eases, others say it doesn't, there are many words of comfort, people mean well, but it's an individual thing.
As is REDD, which feels very personal. It is not in Boy Blue's Blak Whyte Gray league, which won them accolades and awards, but a subdued chamber piece. It won't have you skipping down the road.
The interiority of grief is hard to communicate with those who have not been there yet, so hats off to Sandy and Asante for going into this difficult territory, hardly a crowd pleaser. If you've been through intense grief, it could go either way; if not I expect you could think it moving. Boy Blue hope you'll "find inner peace"…
After the Barbican run, REDD will be performed at Fairfield Halls, Croydon on Saturday 19 October as part of Dance Umbrella's Fairfield Takeover weekend.
Reviewer: Vera Liber