Blak Whyte Gray
Concept and creative director Michael 'Mikey J' Asante (also music); directors Kenrick 'H2O' Sandy (also choreographer) & Michael 'Mikey J' Asante
Boy Blue
Barbican Theatre
–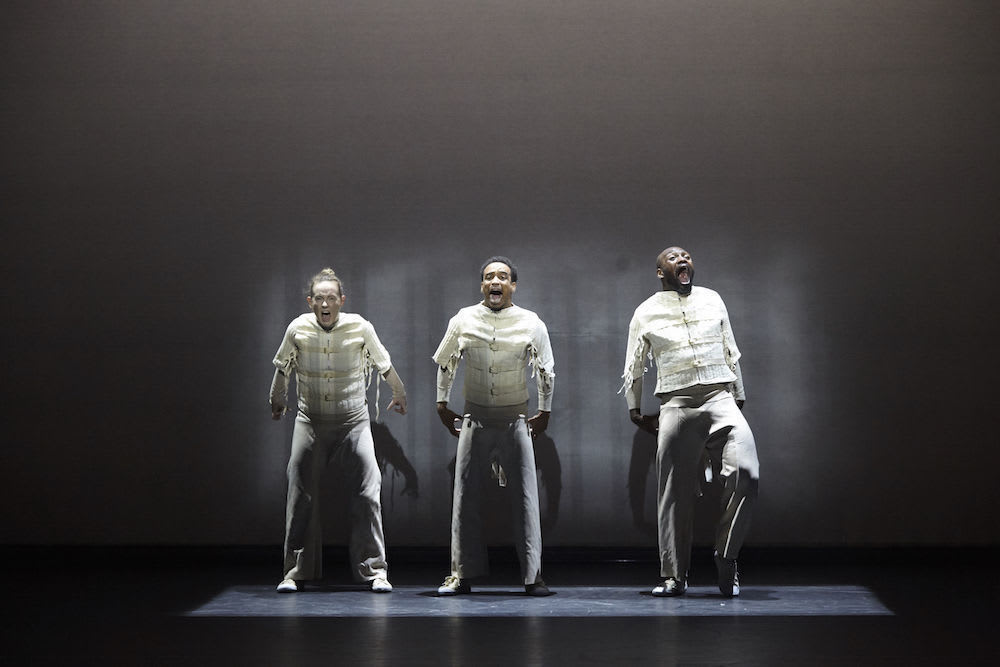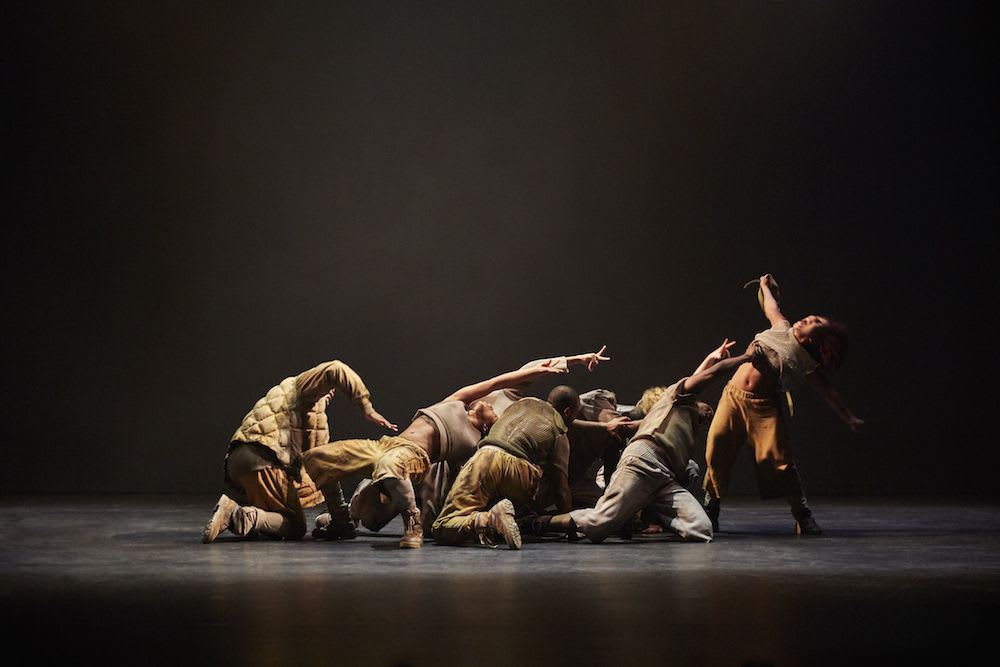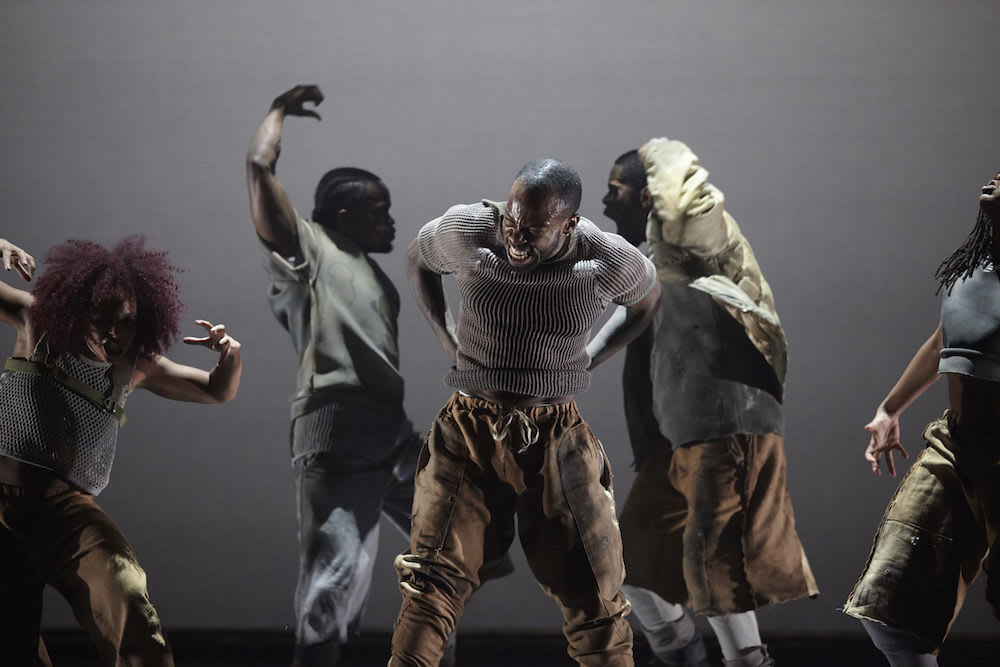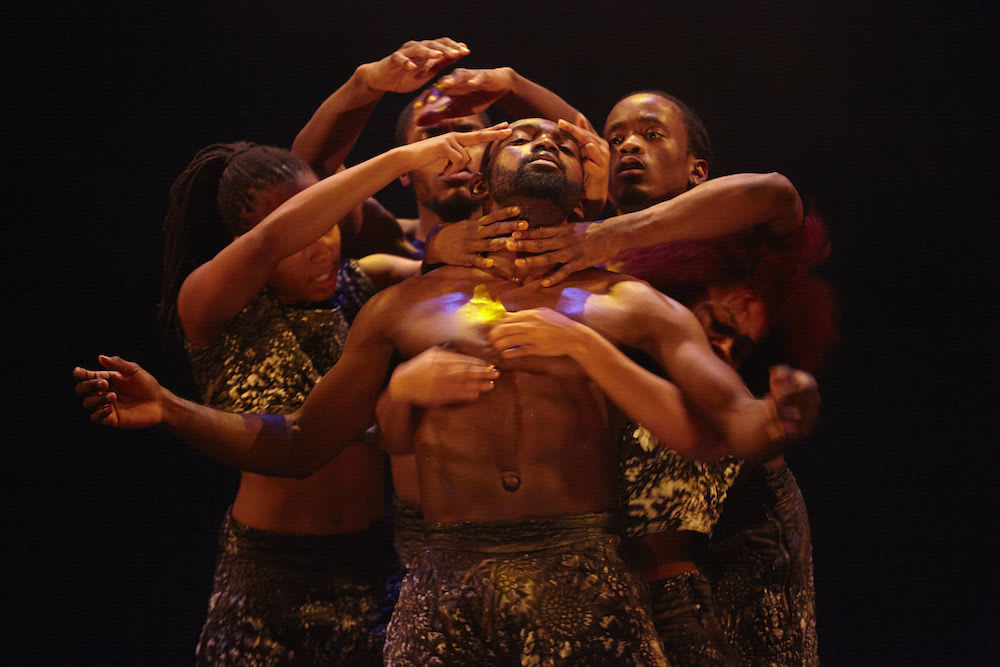 "As the first full-length abstract work by Boy Blue's founders, Michael 'Mikey J' Asante and Kenrick 'H2O' Sandy, Blak Whyte Gray is personal, a response to their experiences and observations of the world."
Blak Whyte Gray is actually Whyte Gray Blak—in that gradating order, three half-hour pieces take fusion hip hop to a sophisticated level. There's a rap text in the free programme, but the narrative is not too difficult to get from the potent choreography.
Whyte is three figures (Ricardo Da Silva, Gemma Kay Hoddy and Dickson Mbi) dressed in white, AI samurai in padded jackets (design Ryan Dawson Laight), robots with marionette arms, controlled, precise, simple minimal moves but oh so effective in triplicate. Lee Curran's lighting is a player.
White on spaceship white, they judder into life, twitch to heavy beats that crank the heart, in unison until they are not. Are they replicants; is this a space odyssey? Moves become softer, almost human, the music more ambient, is this a dream? Mouths open wide in protest? Are they trapped in space? But who can hear you in space?
Figures slide in on their backs from the side—in grey (Gray). The transition is smooth. Are they AI's embattled ancestors? In beige grey flak these eight are acrobatic fighters, their moves simian, angry. Krumping is the down to earth style.
A voiceover sounds doom-laden, apocalyptic, what is it out there that threatens them? They strike aggressive poses, guns at the ready, and what physiques—Theophillus 'Godson' Oloyade not one to take on readily. Static crackles; the group unites, strength in unity, defiant to the last.
Blak is more complex. And Dickson Mbi is its star. I can't take my eyes off him. No wonder he is the one robed in a Roman red toga—he is head and shoulders (and what rippling shoulders) above them in commanding presence. His solos have something of Russell Maliphant about them, but then he has performed in several of Maliphant's works.
Light on a body, on its sculptural back, rising from the primordial clay, Mbi is a beautiful specimen. Wind chimes tinkle, he tries to stand, but like a newborn foal unsteady on its feet he falls again and again. The embracing tribe catches him, steadies him, until the life force takes over. A metamorphosis.
Is this the one they have been waiting for, the chosen one? The circular dances have something of the rite about them? They initiate him in the dance; demonstrate moves. The power of the human body is electrifying, collectively a powerhouse. And the work to sculpt these bodies into warriors has to be extraordinary.
Do I hear throat singing on the multi-layered track? Then the drum and bass kicks in again. I love that unrelenting driving thrum, who wouldn't want to dance to it? On and on they go—too long perhaps and there are a few false endings—noble savages in painted faces beholden to their primitive gods against the blazing sun of the red desert.
Blak Whyte Gray was first seen at the Barbican Theatre in January 2017, which earned it an Olivier nomination. It has toured to HOME Manchester and The Lyceum as part of the Edinburgh International Festival 2017.
Part of the Barbican's The Art of Change 2018 season, this autumn, Blak Whyte Gray heads off to Blackpool (20 September), Düsseldorf (20 to 21 October) and New York's Lincoln Center (16 to 17 November). Power to its elbow…
Reviewer: Vera Liber