Revisor
Choreography and direction Crystal Pite, text Jonathon Young
Kidd Pivot
Sadler's Wells
–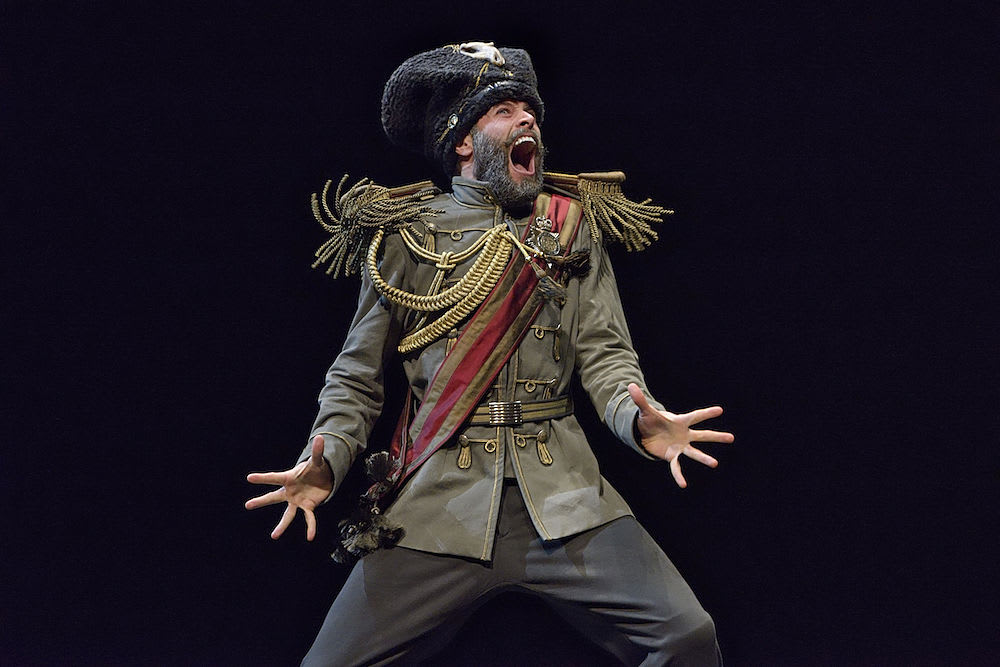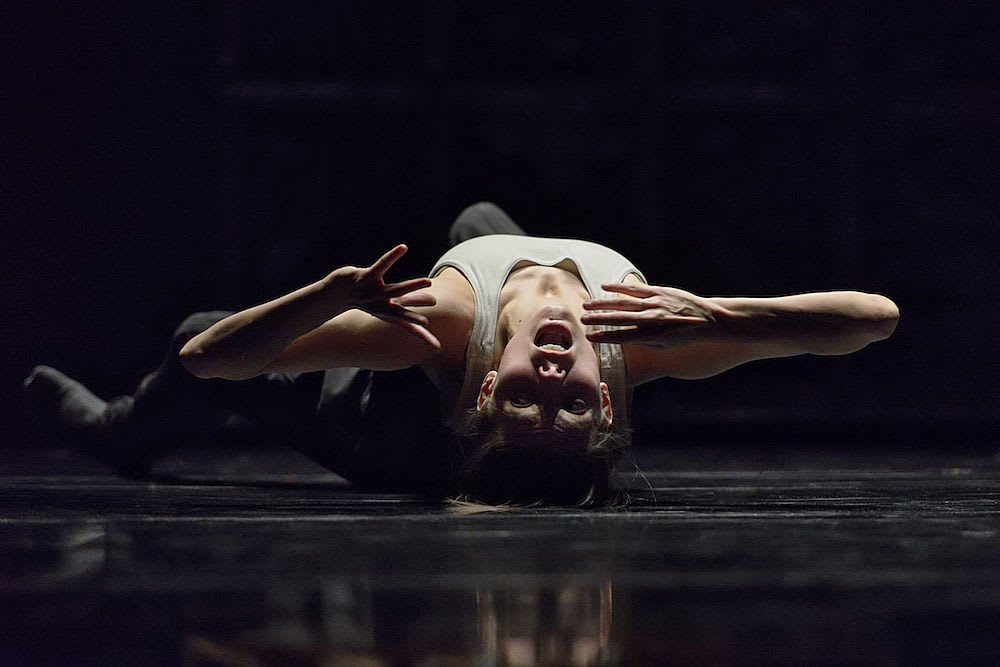 Nine dancers (one doubling) bring Nikolai Gogol's 1836 satire Revizor (The Government Inspector / The Inspector General) to graphic, farcically sinister light in Revisor. A pun on the Russian title… a revisor from the revision department, he inspects and revises (he's "here to move a comma")—as have the creators of this brilliant, ninety-minute no interval dance theatre piece, Crystal Pite and Jonathon Young.
Gogol, who got the apparently true story of mistaken identity from Pushkin, never intended it to be a comedy but to be of universal social purpose, to collect in one heap, he said, all that was bad in Russia, as he knew it, all the lies, and to mock (as did Chekhov) the rampant poshlost, the vulgarity and baseness of men, their social and moral turpitude. But such are the caricature portraits that it lends itself to comedy, to physical theatre, to silent movie exaggeration.
Following their success with lip synch in Betroffenheit and The Statement, Pite and Young take on a classic and make it their own. Names have been changed—why I'm not sure—but Gogol is more or less intact (even his minute and a half tableau ending), not that that matters too much. What goes around comes around—the duplicity, delusion, grandiose fakery, corruption, greed, bribery, the list is long. Revisor's comic abstraction delivers a powerful political punch in a kid glove.
The place is a generalised Orwellian Complex ("that has seen better days"), in charge a Director (Doug Letheren in military uniform and Cossack hat) with his cronies: Doctor Harlow, Interrogator Klak, Minister Desouza, Postmaster Wieland, Anna the Director's wife, and Misha. The no-name Revisor and his very animated assistant Osip (as in the original) stumble into hell, devil's work—as Gogol, deeply into mysticism, intended.
Young's text is Beckettian slippery, witty, inner thoughts revelatory; Pite's fluid physical signature language matches and outstrips it—synaptic body language such a giveaway. Dancers mouth Young's text, voices played by Canadian actors, and their physical timing is impeccable, sharp, smart, and funny. Extravagant moves on the button of the original score and pulsating sound design (Owen Belton, Alessandro Juliani, Meg Roe) speak louder than words. "Any complaints"—imagine that as an aggressive question…
What a triumph of Meyerholdian biomechanics with a dash of David Lynch… Why is the man serving drinks in the parlour wearing stag antlers? Who is the "Gollum' lizard (chameleon?) creature with crab / antler claws? The room with the tall window (and "a singular view"), is it room 101? Is it delirium tremens that the blabbermouth inspector (Tiffany Tregarthen in beard) is suffering after a heavy-drinking bout? Is he hallucinating, "in a prison of the mind"? A drugged confession is being extracted.
Reality shifts, costumes come off, the set vanishes and dancers now in rehearsal clothes are being coached and programmed for the interrupted storyline we have already seen. Manipulated by a voice giving stage directions, notating, marking moves. A deconstruction… A revision… Figure 1, figure 2, figure 9… dancers manipulated like clay dolls, Pite sketching with bodies, showing her process?
Jay Gower Taylor's scenic design shifts to 'Reflective Light Concept', the black backcloth painted with white light scribbles—the interior of the mind scrambling, coming unstuck, or is it Cunningham-esque computer generated choreographic lines? Nothing is stable; all is under interrogation.
Then back to finish the comic strip tall tale—the slanderous whistleblowing letter ("kill the comedy") and escape. Jermaine Spivey's shifty Postman's opening the letter dance is hilarious. Is this Stalinist Russia? Are the creators thinking of Meyerhold, incomprehensibly shot in the Purges (and wife murdered)? Nineteenth century Russia becomes a futuristic (or Soviet, or contemporary) nightmare of psychological torture. Why are you laughing, you are laughing at yourselves, is an oft quoted line from the play. And the audience, who give Revisor a standing ovation, are laughing. Our politicians are funny—till they are not.
The dancers (Tregarthen, Letheren, Spivey, Gregory Lau, Rena Narumi, David Raymond, Ella Rothschild, Cindy Salgado, Renée Sigouin) have now been performing the show for about a year, and seem to have absorbed it into their very essence, never mind muscle memory... remarkable performances, boneless bodies contorting in perfidious guises. The photo images don't do them justice.
They remind me a little of physical theatre Gecko and Familie Flöz mime companies. Gecko staged Gogol's The Overcoat in 2009. The 'Complex' office set makes me think of that rather than Revizor. Gogol has been well researched. But never mind him, go for the stunning performers and clever creators. The unhinged performed by highly articulated bodies.
Incidentally, you can also find a few minutes of Meyerhold's 1926 production of Revizor on YouTube, and wonder at the amazing plasticity of the incredible Erast Garin as the fake inspector Khlestakov. Kidd Pivot company is more than equal to that. Pite and Young have hit on a successful formula.
Reviewer: Vera Liber