Shoot the Moon / Woke up Blind / The Statement / Stop-Motion
Choreography Sol León & Paul Lightfoot / Marco Goecke / Crystal Pite
Nederlands Dans Theater 1
Sadler's Wells
–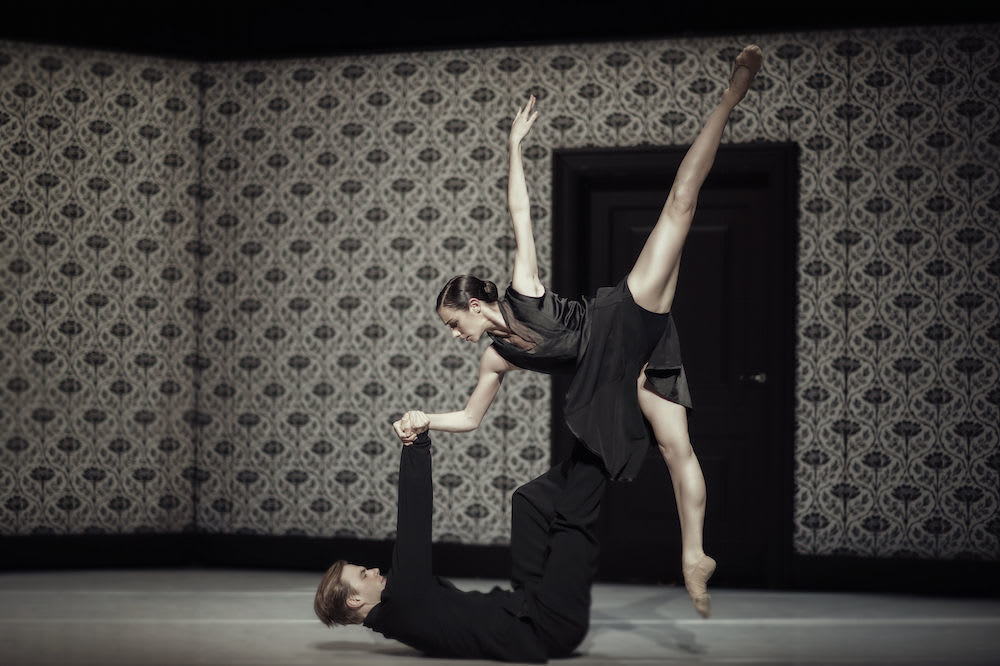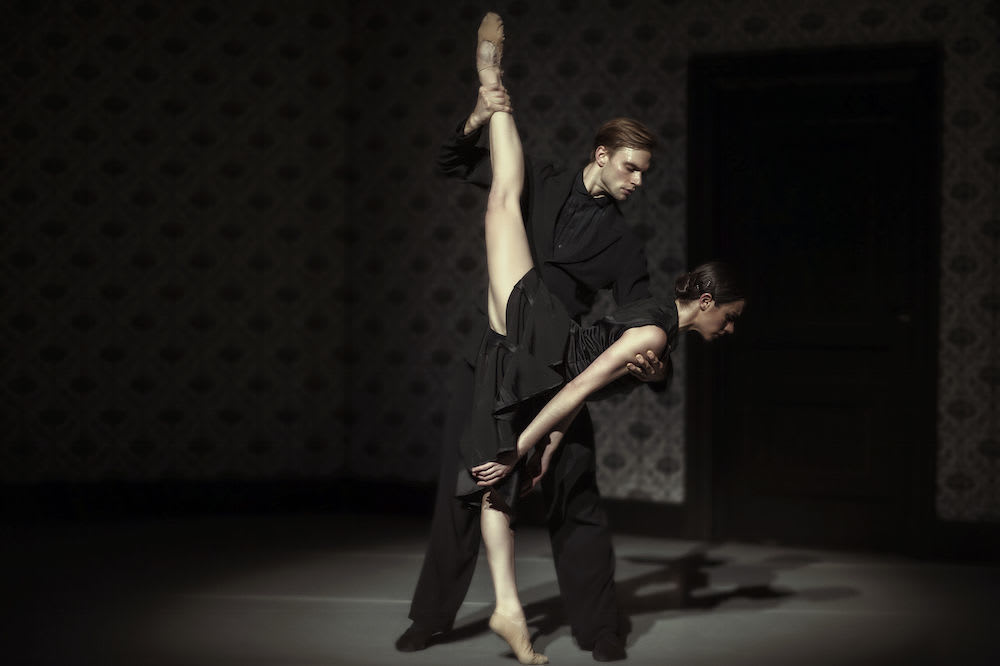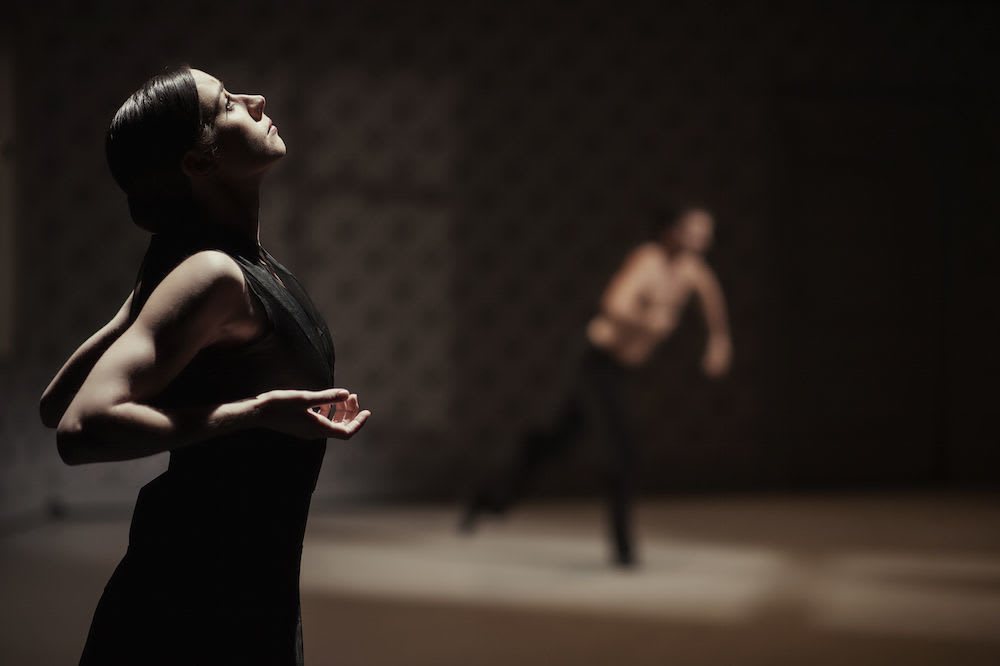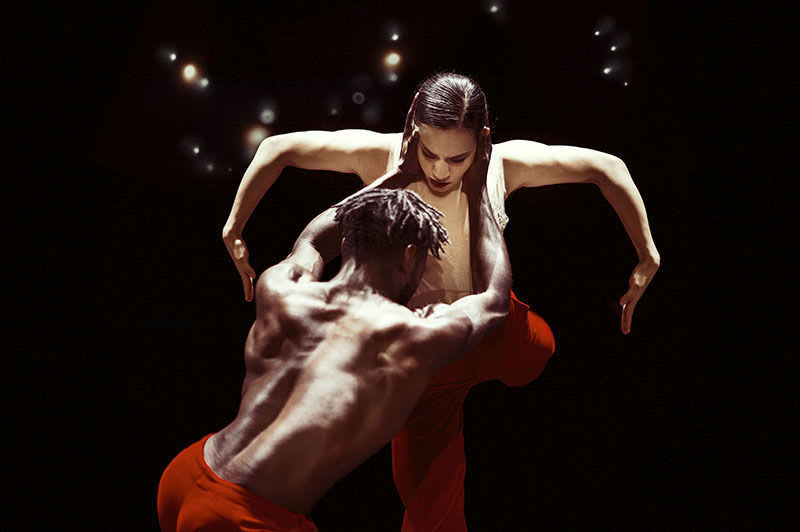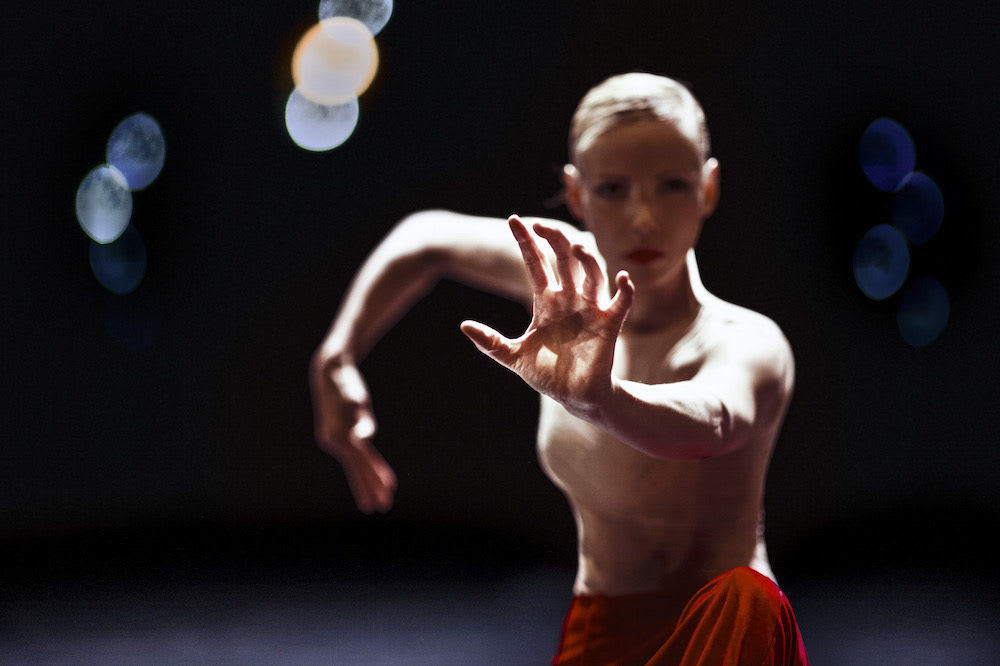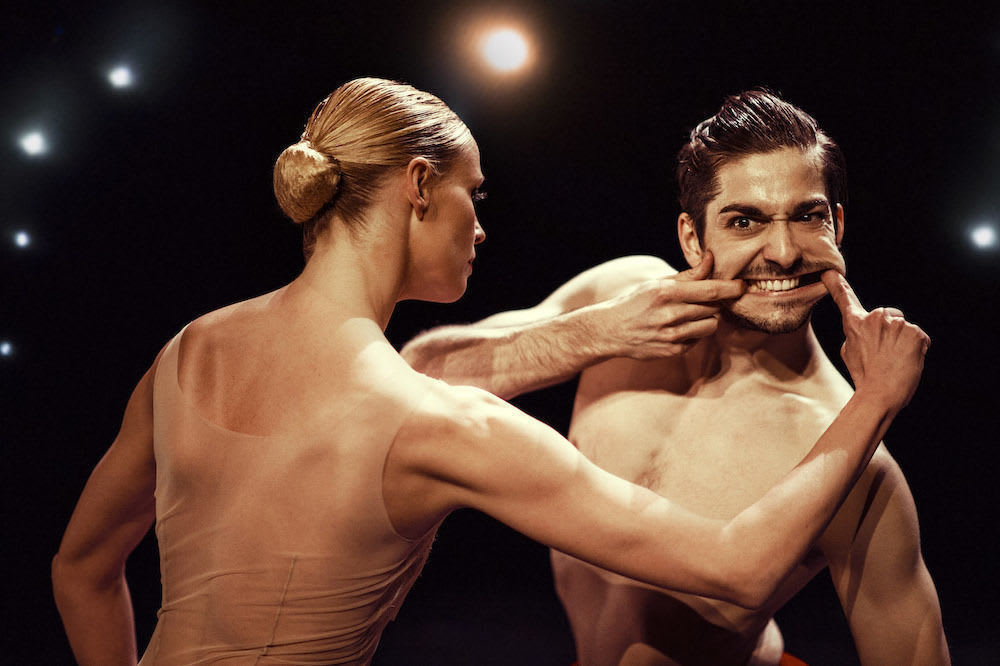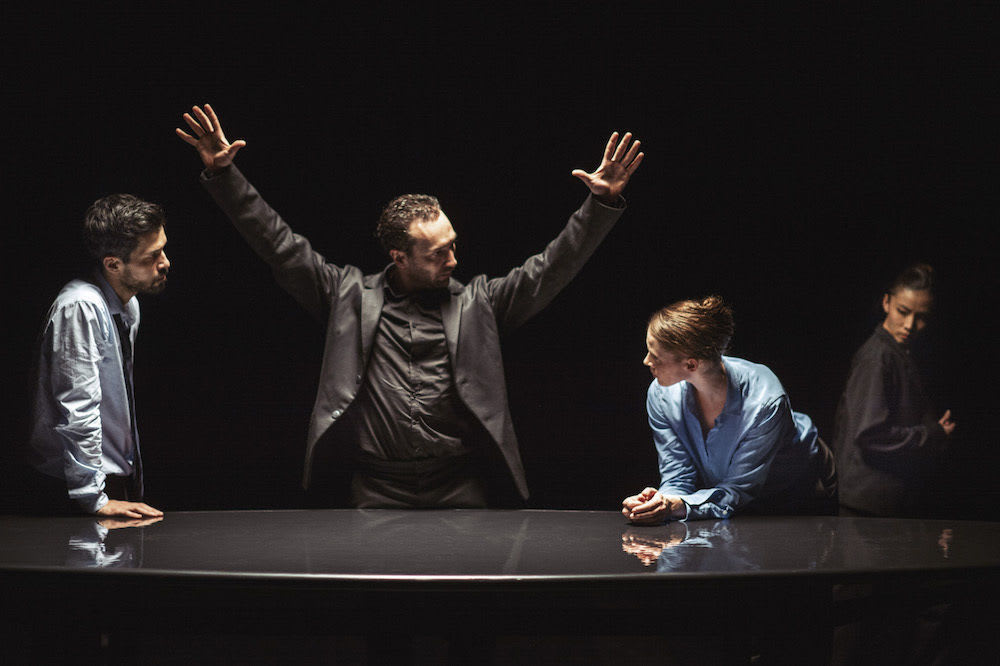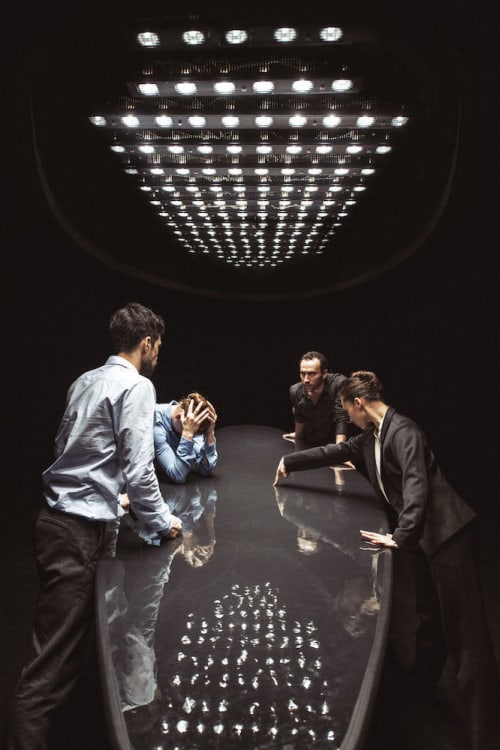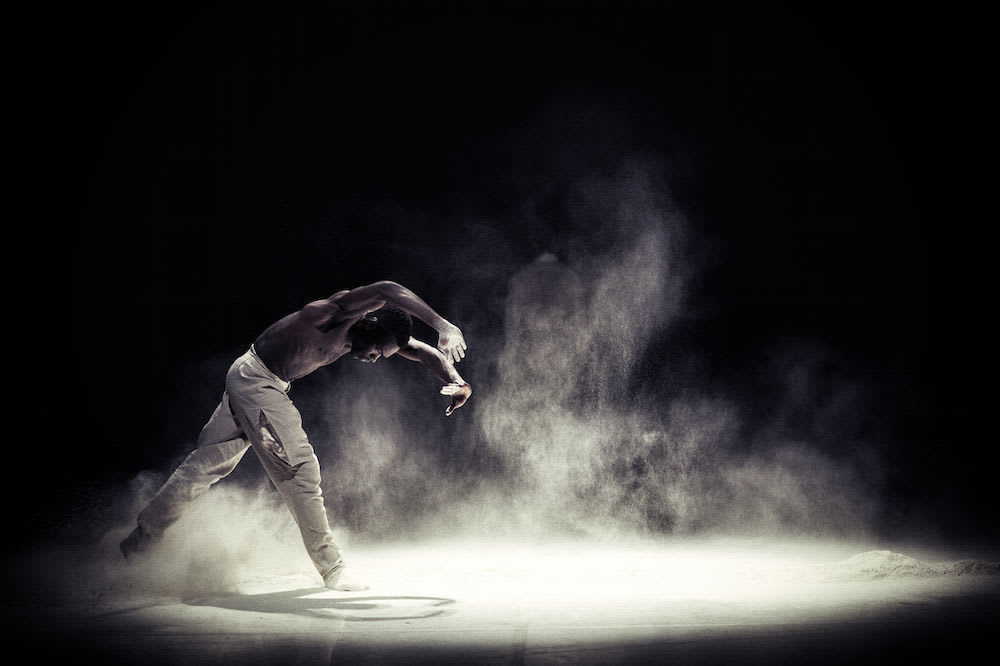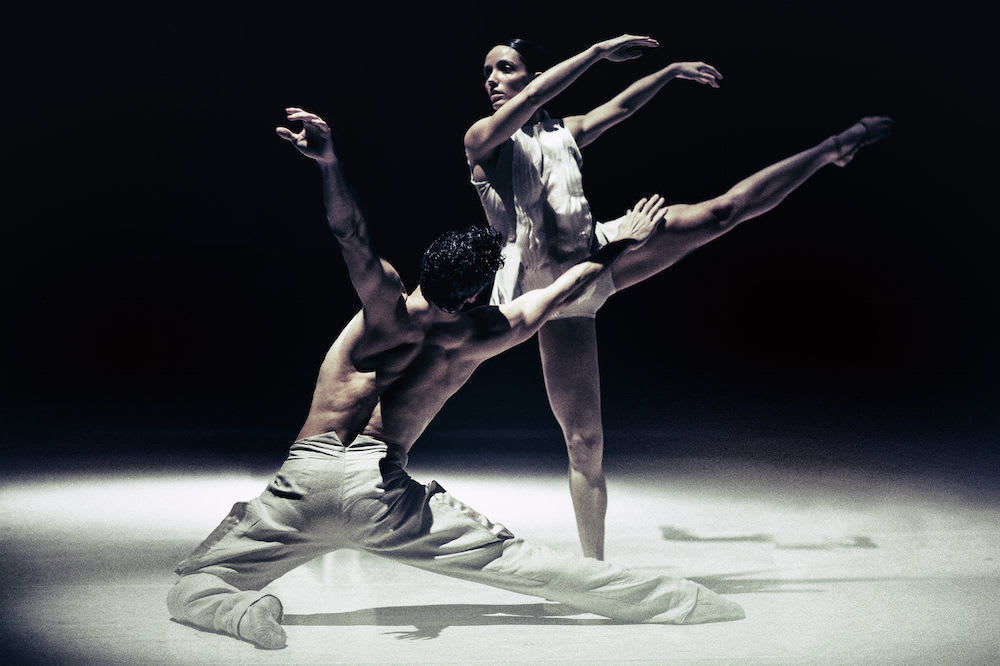 Angst is in the air everywhere I look around in this evening's quartet of dance drama miniatures from NDT1, but what physiques and what techniques…
Anguish, tension and conflict: are the choreographers, resident and associate, chiming with the times or is it just the eternal human condition that bothers them? A bit of both... Can't have one without the other.
House choreographers of NDT since 2002, creators of more than fifty works—two last seen in London in 2014 (do they have a thing about rooms?)—partners Paul Lightfoot and Sol León, NDT artistic director (since 2011) and artistic advisor (since 2012) respectively, have been working together since 1989.
And it is two of their pieces that bookend the evening. The cinematic Shoot the Moon from 2006, "an exploration of hidden emotions to a score by Philip Glass", (his Tirol Concerto), and Stop-Motion from 2014, confronting time's arrow, "an attempt to capture the past, set to Max Richter's haunting music".
The 23-minute Ingmar Bergmanesque with a touch of Luis Buñuel (eyeball seen peeking through the door chink, hand on the door handle) Shoot the Moon is gripping.
Concept, design and costumes by the choreographers, artistic lighting by Tom Bevoort, and the two cameramen, Niels Mudde and Chuck Jones, must take a bow (they do) for their fine cinematographic skills, coordinating the two halves of the horizontally dissected stage, its monochrome upper screen film with the live action below.
A trisected circular rotating set reveals three similarly wallpapered rooms with connecting doors and windows. La Ronde / Reigen… Schnitzler… Couples squabble or tolerate each other, silent screams echo silently in existential torment. Yet the music inspires hope amongst this articulate frisson of despair.
Two frustrated couples perform crisp angular moves, incredibly long-held arabesque balances (Roger Van der Poel), clean geometric lines: all is under control—but is it? A man (Jorge Nozal) sits in a window alone, performs a tortured soliloquy, climbs up the wall (acrobatic one-hand stand), and attracts longing looks from the woman next door (Hitchcock's Rear Window?).
And so it goes. An art house movie, clichés that reflect our communality, and references galore, an overlapping of eras: I, and my teenage companion, enjoy it immensely.
Usually the final piece in any mixed bill goes for a finish on a high. The elegiac Stop-Motion is a bit of a downer—a requiem. Dedicated to their daughter, Saura, what are they trying to tell her? Everything passes—we know, we know—but it's obviously a personal last will and testament from parents to offspring, and who can quibble with that?
A large portrait screen (is video artist Bill Viola an inspiration?) to one side shows their adult daughter in mourning black period costume, a vision from the past in a vitrine. She turns away, turns again, movement very slow motion: a close-up reveals a tear on her cheek. If only life could be slowed down…
Down below are her parents—I'm taking Van der Poel and Sarah Rogers as their avatars—and their friends and acquaintances testing obliterating time, running forwards and backwards. Chalky dust spills from a white sheet; Rogers makes four small mounds of it—is this all that will remain? "What will survive of us is love."
Dancers scrap and scuffle in its asbestos clouds—in life we are in death? A male couple enact Epstein's Jacob and the Angel, others, still as memorial statues, frame the action and suggest Peter Greenaway's architectural sets and Alain Resnais's dreamscape Last Year at Marienbad to me. The held développés à la seconde are a favourite—one of mine, too. Such an expressive gesture, as beautiful as breathing a sigh.
But at thirty-four minutes—the longest piece of the evening—this vale of tears tests one's patience. An image of a kestrel is let fly—its wings' beats slowed down—Bill Viola again. The set comes down: the back stage is uncovered; the lighting rig descends; reality is laid bare. However we dress up life, this is it. "Our revels now are ended."
In the middle are paired two short works from 2016—the fifteen-minute Woke up Blind from Marco Goecke and the nineteen-minute The Statement from Crystal Pite and, though both are twitchy, they are completely different.
Goecke, inspired by the late Jeff Buckley's jittery jazzy scat music, puts the motion into emotion: fidgety moves, hands and arms in spasm, torsos in staccato St Vitus's dance under a constellation of lights. Guided by their astrological and astronomical influence perhaps, relationships come unstuck. Is this extreme anxiety for real or is it spoof?
Pite's The Statement is definitely satire, and definitely theatre—they speak—well, American voices speak for the four silent dancers. And it is Monty Python funny, this ministry of funny contortions, fighting for control, jostling for position. Think Stanley Kubrick's Dr Strangelove blended with an updated The Green Table (1932 Kurt Jooss).
Juxtaposing hilarious body language with pithy script by Jonathon Young (of Betroffenheit) this is a new Pite for me. Intense as always, but she (not forgetting him) makes her point with sharp wit.
Upper body says one thing; legs under the table say another. Political duplicity, trade-off and skin-saving succinctly put. Frantic lizard moves, dissolving lizard minds searching for tricky conflict resolution.
Round a glossy, light-reflecting, oval black table in a mission room four people discuss a tense situation that is escalating. They instigated it ("a necessary evil"), but someone must take the flak for their independent thinking. Is it on or off the record—that's what matters most... How to cover up their fuck up… "What is the truth?"
How timely is this? I'd love a copy of the sharp script in the programme. Round and round they go, these anxious robotic thinkers. Two on top of the table, two below: divisions and collusions in a radioactive situation. Tom Visser's lighting is superb. And Owen Belton's soundscape is drone / fighter plane ominous. The dancers are impeccable: Aram Hassler, Rena Narumi, Jon Bond, and a standout Van der Poel.
"The dancers of NDT are renowned for their versatility, astonishing technique and virtuosic expression." I gladly second that: what fantastic raw material for choreographers…
Founded in 1959, choreographers that have left an imprint on The Hague based 28-strong international NDT Company are Glen Tetley, Hans van Manen and Jiří Kylián. A rich heritage...
Reviewer: Vera Liber