Rhinocéros
Eugène Ionesco
Barbican Theatre
–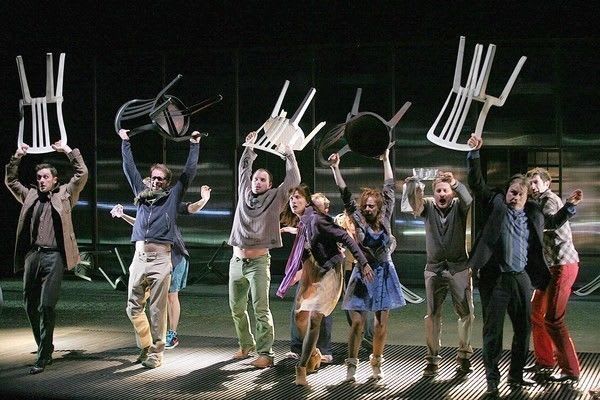 This Parisian import (with surtitles) is just what one has come to expect at the Barbican. It is a lively, rather eccentric take on Ionesco's classic with high production values and a design concept that impresses and will not have come cheap.

Once the central figure, the expressive Serge Maggiani's Bérenger, has delivered a rather anguished opening soliloquy, director Emmanuel Demarcy-Mota for Le Théàtre de la Ville-Paris starts out this allegory of the inexorable rise of Nazism across Europe in comic mode.

We follow the abject drunkard who has the capacity to imagine a great deal—possibly even all that we see during the 110 minute—first into a bar. This is ironically furnished with nothing but Chairs, in homage to another absurdist classic from the Franco-Romanian playwright.

All is well with the world, if one ignores a loud verbal disagreement between the belligerent protagonist and his equally strong-minded friend, Hugues Quester as M. Jean. This is mirrored by a debate about logic, the weight of which only becomes fully apparent later in the piece.

The fun continues until some of the customers claim to see a ground-shaking rhinoceros stampeding through the town's streets. Cue for lengthy philosophical and existential discussions about life, the world and large, green mammals with one or two horns.

Cut to designer Yves Collet's tour de force, a raised office in which Bérenger works (in the way that only alcoholics don't). Here a witty debate ensues about rhinoceroses until more appear.

By now, it is clear that all is not well and dissension is replaced by panic, as the office symbolically jack-knifes in spectacular fashion leading to some great slapstick moments, but not until our hero and glamorous Daisy, played by Valérie Dashwood, have begun to form an alliance.

The remainder of the evening witnesses the whole of mankind going mad, as it is taken over by monsters.

What becomes clear from this stylish reading of the play is that Ionesco and Orwell managed to tell very similar stories in different ways such that by the depressing denouement, Bérenger seems like a French version of Winston Smith, raging alone against the totalitarianism that threatens to destroy his community and possibly the world.
Reviewer: Philip Fisher