Richard II
William Shakespeare
Royal Shakespeare Company
Barbican Theatre
–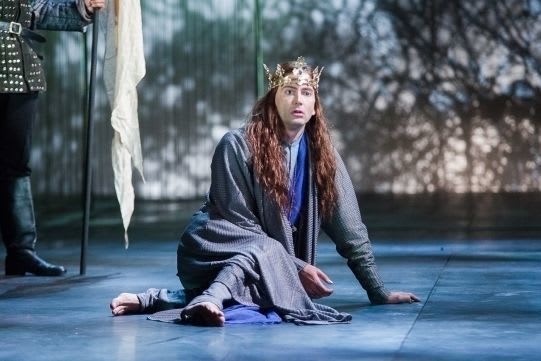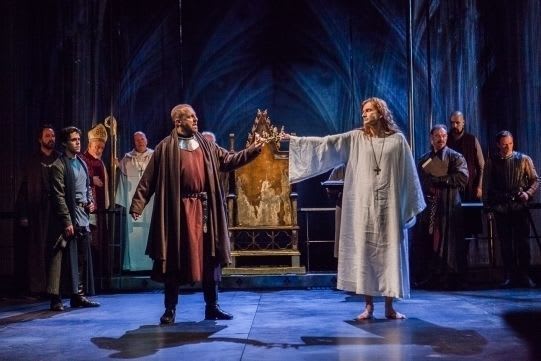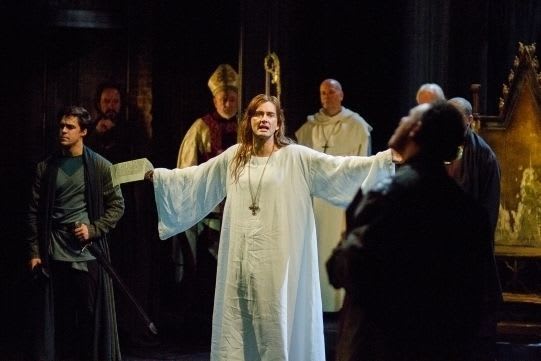 All too often, the presence of a big-hitting TV star spells the death knell for a stage production. However, former Doctor Who David Tennant is far too good an actor for that to be a concern.
He heralds the return of the RSC to the Barbican for their first visit since the company gave it up as a London home over a decade ago, bringing back so many happy memories, including an unforgettable Richard II starring Sam West in the Pit.
Gregory Doran's new presentation is likely to be long-remembered too and not just for its star, complete with long, rather silly, wig. That is the only negative that can be offered in three gripping hours of top drama.
Tennant's King is effeminate with a high-pitched, patrician voice that brings to mind Derek Nimmo. The androgynous King is closer to Fiona Shaw than others in this role and his Pre-Raphaelite nobility is reminiscent of Millais's portrait of Ellen Terry playing Lady Macbeth.
Weaker than Emma Hamilton as his loyal Queen, Richard surrounds himself with a camp coterie of servants, never an ideal support structure when a military challenge is in the offing.
That is heralded in the opening when Richard banishes two traitors, one his ambitious cousin Bolingbroke played by Nigel Lindsay. The latter's departure allows Michael Pennington's John of Gaunt to mourn the loss of a son in two epic deathbed speeches delivered in starkly differing moods.
Soon enough, fickle Richard's support dissolves, even Oliver Ford Davies, cannily playing another uncle, fussy, indecisive York, changes sides, setting up the play's comic set piece with wife and son, Oliver Rix's Aumerle joining him in beseeching mercy for the duplicitous lad.
The evening builds to first a transfer of power and then scenes of great beauty as the long hair plays its part with Richard nobly enduring a Christ-like martyrdom, showing strength that had never been apparent while he was on the throne.
While the acting and verse speaking are of the first order, so is the vision of the RSC's Artistic Director. Stephen Brimson Lewis's set and costumes convey the period well and there are some surprises generated by a sparkling almost-duel. The stage machinery also plays a full part, especially when Richard descends, seeming in a golden haze directly from Heaven.
There have been some strong Richard IIs in recent years featuring the likes of Kevin Spacey, Eddie Redmayne and, on television, Ben Whishaw but, with David Tennant at the head of universally impressive cast, this perfectly conceived version is as good as any.
Reviewer: Philip Fisher