The Hollow Crown - Richard II
William Shakespeare
BBC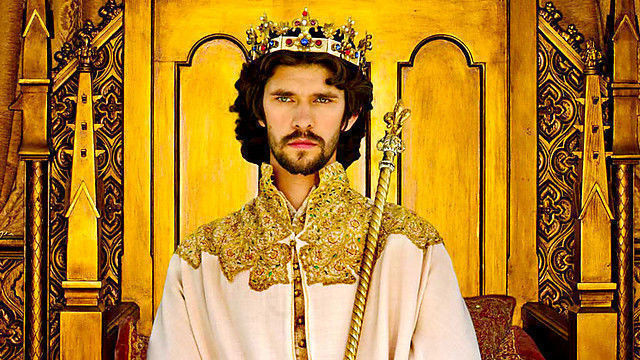 The most pleasing aspect of this new season of history plays, with Sam Mendes as executive producer, is its very existence. Not long ago, the prospect of any television company trying to commission and show full length Shakespearean dramas made for the medium seemed an impossibility.
Pleasingly, this adaptation, in the currently unfashionable, colourful period costumes, which opens the series sets the bar at a very high level for its successors.
Rupert Goold and Ben Power, who have done much memorable stage work together, now combine to condense Shakespeare's play to just over 2¼ hours. The story remains powerful and is complemented by Goold's superb vision, always great on the stage and just as good with a big budget and fine camera work. For those with the technology, the spectacle culminating in a moving, Christ-like denouement, looks and sounds even better in glorious HD, either on television or the Internet using BBC's iPlayer.
It helps any director to have the cream of British acting to pick from so that Richard and his nemesis-cousin Bolingbroke are played by probably the best two Hamlets of recent years, Ben Whishaw and Rory Kinnear, who are almost equally excellent in their roseate duel for the crown of England.
While the reliable Kinnear will undoubtedly get greater opportunities in the following two episodes, Whishaw is mesmerising throughout, never more so than when the defeated Richard is obliged to pass over the crown of state to his successor.
The supporting cast is also second to none, with Sir Patrick Stewart giving a wonderful cameo as the future Henry IV's father John of Gaunt and David Suchet making the most as his weak-willed youngest brother the Duke of York, torn between the clans.
In the ranks, this film also boasts the likes of James Purefoy, Clemence Poesy, Lindsay Duncan, Tom Goodman Hill, Lucien Msamati and Finbar Lynch every one of whom makes their small mark.
The contrast between Whishaw, playing a flagrantly homosexual (albeit diplomatically married) Yorkist Richard, and Kinnear as the manly, warlike Bolingbroke is highly effective. Their obvious distaste for each other is masked by pretty language but can be read in the eyes and body language throughout, until death and, with it, charity intervene.
One of the pleasures of this production is the impeccable verse speaking, which one would expect from a team of actors nearly every one of whom has come through the stage ranks before transferring, generally only temporarily, to film and/or TV work. Goold also ensures that the big speeches are delivered uncompromisingly and with true feeling.
Having whetted the appetite, the BBC now promises to provide us all with what should be a tremendous feast over the next three weeks, during which there will be the opportunity to see both parts of Henry IV followed by Henry V, with more stage star casting led by the irresistible prospect of Simon Russell Beale playing Falstaff, which should guarantee unadulterated pleasure every Saturday night.
The Hollow Crown comprises:
Reviewer: Philip Fisher