Rigoletto
Giuseppe Verdi, libretto by Francesco Maria Piave
The Metropolitan Opera
Metropolitan Opera House, New York
From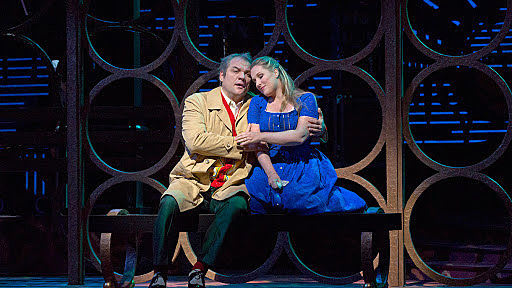 Director Michael Mayer is best known for Broadway work, including, somewhat incongruously in this context, his best-known work in the UK, the Green Day musical American Idiot.
For his Met debut, he created a lively new version of Rigoletto for the Met's 2012/13 season towards the end of which it was filmed in HD for Met on Demand.
The film is topped and tailed by distinguished compère Renée Fleming, who interviews many of the key players.
Rather than 16th century Mantua, Mayer has spectacularly but smoothly relocated the drama to Las Vegas in 1960—the Rat Pack era.
The visual impact is achieved thanks to the complementary skills of set designer Christine Jones and her costumier colleague Susan Hilferty, both of whom appear to love using vibrant colours to send out loud messages. In doing so, they are aided, most notably in the storm scene, by what can be stunning lighting design from Kevin Adams.
In addition to the gambling types and trademark dancing girls, there are even a Marilyn Monroe lookalike for impressive tenor Piotr Beczala playing The Duke to lust after, a sinuous Cleopatra, Robert Pomakov's Monterone, a ridiculed Arab sheik with a booming bass, a grudge and a curse, and so much more.
Indeed, topping all of them is a contract killer played by another equally chilling bass, Štefan Kocán taking the role of Sparafucile. This sinister Mafiosi not only sounds good but looks as if he has drifted straight onto the stage from a catwalk modelling gig,
The unlikely, titular central figure has been transformed from a court jester to a downtrodden sad comedian; imagine that opera rarity a fine actor in Željko Lučić as an ageing Dean Martin having a bad day.
This apparently overprotective father has made a career out of ridiculing his boss's clientele, while togged out in an argyle diamond cardigan that may never have been in fashion outside a golf links.
This is then topped off by a Columbo raincoat and demeanour as Rigoletto sulks and bemoans his fate in a rich, soulful baritone.
The more pertinent fate that this hated hunchback henchman to the Duke worries over is that of his sweetly innocent daughter Gilda, played by glorious German coloratura soprano Diana Damrau on top form.
She is easily taken in by the playboy Duke, who uncharacteristically appears to reciprocate her joyful love. Life is never that simple, certainly in operas.
This 2¼-hour production has been budgeted on a grand Met scale with the large, expensive sets and costumes complemented by a large chorus, dancers and the ever-reliable home orchestra expertly conducted by Michele Mariotti.
Unless you have an aversion to modern interpretations of the classics, there is very little to fault in a production that both looks and sounds good, led by a crew of singers every one of whom is in good voice.
There are a number of ways of tapping into this opera and others at will. The Met Opera On Demand service offers annual ($149.99) and monthly ($14.99) subscriptions as well as a one-off payment ($4.99) for those who have limited time or only want to watch the occasional opera.
Reviewer: Philip Fisher