Romeo and Juliet
Choreography by Kenneth MacMillan
The Royal Ballet
Royal Opera House
–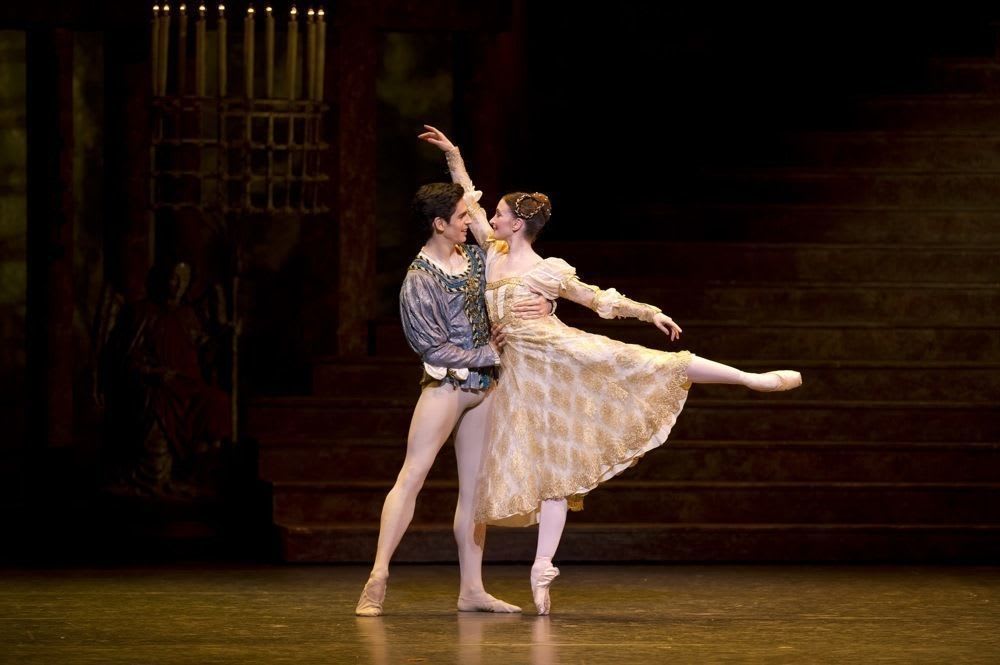 Arc lights outside The Royal Opera House, black limousines disgorging invited guests and celebrities to a private reception for the evening's sponsors, the Crush Room and Conservatory out of bounds to mere mortals, mirror and reflect Verona's entitled guests at the Capulet's grand ball, where Juliet is presented to the beau monde, and where boy from the wrong side of the divide Romeo spies her for the first time.
The cast for this Romeo and Juliet Live relay to cinemas around the world, the seventh cast out of a cast of eight pairings, was to have been Lauren Cuthbertson and Sergei Polunin, such exciting coupling in the recent Manon, but, as we all know by now, Polunin fled his Romeo debut, and we'll never know what he would have brought to the role.
Maybe a little bit more pouting bad boy Slav impetuosity—what a transformation to lover boy that might have been, but amour propre and amour de soi won the day not Juliet—than the handsome, charming, well-behaved Italian Federico Bonelli, surely every parent's dream, not just Juliet's.
In this most moving of tragedies, it is characterization and chemistry one looks for, a big demand for the best of actors. But all I felt and saw was a polite engagement with each other, girl and boy-next-door sweetness, infatuation in short supply. It could be that too much is being demanded of both leads, who danced Alice's Adventures in Wonderland a week ago and will be dancing it again in four days time, with two performances of Romeo and Juliet sandwiched in between.
It is left to the orchestra under Barry Wordsworth to touch the heartstrings, to raise hairs on necks, shivers down stiffened spines, to play Prokofiev's profound music with a slow melancholic Russian tempo, to which Kenneth MacMillan, not interested in precision, but a living breathing passion, gave the most dramatic expression.
The first act, almost an hour long, establishes the whole scenario: the feud between the two families of Verona, the rivalry, playful on one side, vicious on the other, a society divided by wealth and position, the whores in the market place, the marriage customs, a macho society in which young girls are married off for wealth not love, the love at first sight moment, and the famous balcony scene.
A testosterone-fuelled long day: three carefree naughty boys, still up after a long night carousing, hit the market square before it comes to life. Little excuse needed for a fight when Tybalt's aggressive gang arrives. Their elders and betters are a poor example, too—Lords Capulet and Montague soon join in.
Sword fighting stopped by the Prince of Verona (Gary Avis), aggression in another form is visited on Juliet by her parents. As was the custom, puberty onset, Juliet's breasts barely in bud—she is still playing with her doll at her nurse's knee (Kristen McNally in fine form)—means ripe for sale to the most eligible man, Paris (Valeri Hristov). Juliet's later ambivalent duet with Paris marks her stubborn independence.
A Montague, braving exposure at the Capulet ball in pursuit of haughty Rosaline, fate in the form of Juliet strikes Romeo. At her first ball, Juliet is dazzled and intimidated by the glamour, but not by the delicious boy in a mask. Drawn to each other, they negotiate the formal dancing to snatch moments together. A lovely scene, beautifully constructed by MacMillan, who, in dance, gesture and body language, seems to understand perfectly the swirling dizzy emotions of first love.
The balcony scene that ends the act should be to die for—Juliet looking out on a moon lit night, Romeo seeking her window. She runs down in the dark but can't see him, till he reaches out of the gloom and catches her hand in his, a magical moment. This is the pas de deux, the moment of epiphany, but ecstasy, forbidden or otherwise, is merely put through its paces.
Both Cuthbertson and Bonelli are lovely dancers, as their solos show, but together they do not light up the stage, or each other for that matter. When, at dawn's light after a night of wedded bliss, Juliet pleads with Romeo not to leave, I find it difficult to believe that someone who not long ago played and danced Manon with such abandon and ardour is not bringing these talents to Juliet.
Perhaps it is Bonelli's lack of ego and fire, nothing to kick against, little to spark off, he is the epitome of noble sacrifice and self-effacement. One senses a kind modest young man not given to ostentatious display. Until finally when he dances with a drugged limp Juliet in the crypt, a poignant rag doll repeat of the bedroom pas de deux, we get it. Strings weep, and do I hear him groan?
Bennet Gartside and Alexander Campbell provide the heightened emotional moment. Gartside gets under the skin of drunken thug Tybalt looking for a fight, and Campbell soars as Mercutio, the light-hearted boy pretending bravely not to die. Brilliant acting dancing from both, which earns them well-deserved applause.
Reviewer: Vera Liber