Alice's Adventures in Wonderland

Royal Ballet
Royal Opera House
–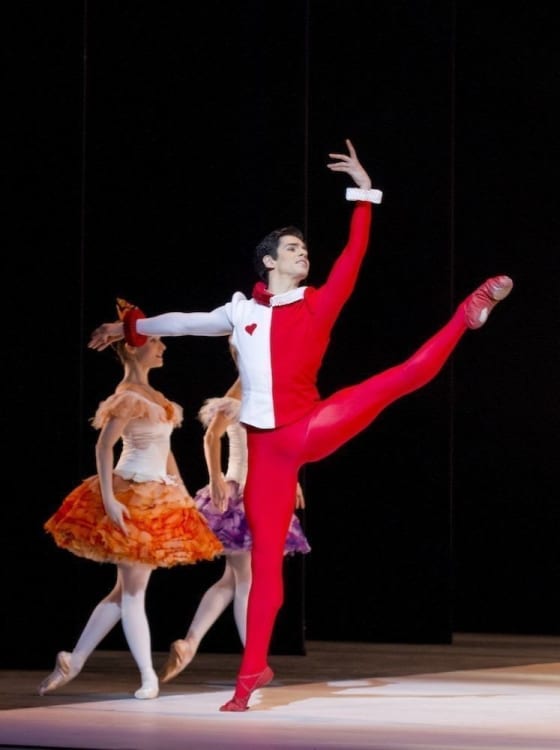 Alice's Adventures in Wonderland returns to the Royal Opera House a year almost to the day after its debut last March—March Hare, Mad Hatter, and a Queen of Hearts who out-Trocks the Monte Carlo Trocks with her cartwheels, red frocks, and Joan Crawford fright glare. Lewis Carroll and John Tenniel are varnished in cinematic gloss.
Optical illusion, magic tricks, parody and pastiche do the witty work of riddles and puns. The weight of storytelling falls on Bob Crowley, Natasha Katz, Jon Driscoll and Gemma Carrington—the set, lighting and projection designers, whose stunning visual designs (tumbling letters, vortices, mazes, palace of cards, rosebushes that change colour, swimming catfish, dogfish and clownfish) more than serve Nicholas Wright's episodic scenario, but eclipse Christopher Wheeldon's limp choreography and Joby Talbot's film score music.
Hollywood musicals, The Wizard of Oz, and Las Vegas glitz, blend with British fairground brassiness. Steven McRae's dynamic tap-dancing Mad Hatter is straight from music hall, and Philip Mosley's Duchess is a Pantomime Dame with her subversive sidekick cook, Kristen McNally, a fiendish Mrs. Lovett, who falls for the Queen's executioner. Terry Gilliam madness and mayhem reside behind the genteel Victorian sampler front. Fair point.
The choreography in the opening scene is full of promise, but subsequent characterisation rapidly falls away, and reliance on scenery and costume takes over. In the Christ Church College Deanery Gardens on a lovely summer's day, a Victorian genre painting comes to life, hosts, visitors, and servants portrayed to perfection, their idiosyncratic behaviour laying the ground for their looking glass roles...
The Mad Hatter visible in the magician's flamboyance, the sternness of Alice's mother, the visiting Rajah (Eric Underwood sinuous as the Caterpillar, its legs those of his harem), the vicar who turns into the March Hare, the Verger in his slippers who becomes the dormant Dormouse, the bustling photographer who sprouts a bunny tail and disappears into his copious bag, taking Alice with him.
Relative size is done with puppets, animation, and video back projection. There has been a little tweaking: two acts are now three, house lights go up and confetti falls on the audience as flower fairies trip down the aisles of the Royal Opera House Orchestra Stalls, and of course cast changes bring their own variety.
Spanish Laura Morera has the Crawford stare down pat, and grafts some strong Pedro Almodovar panache and colour on to the role of the Queen, but the courtroom scene is a mess and a muddle.
Edward Watson, a fine dancer-actor, memorable in The Metamorphosis last year in the Linbury Studio, metamorphoses beautifully into a neurotic Rabbit, Federico Bonelli (taking on Sergei Polunin's roles for the remainder of the season) is a loveable Knave, and Lauren Cuthbertson looks as if she could do the steps in her sleep, there is so little variation.
The impression that remains is of inconsequential decorous dancing, a weedy branch of a hybrid creation, the least of Alice's Adventures In Wonderland many components, its choreographic language unable to hold its own in dialogue with imaginative designs.
Alice's Adventures In Wonderland will bring in the crowds, children will wonder at the stagecraft, but that is not enough for ballet aficionados. As a full-length ballet work there is a vapidity at its heart. Or is it laziness? One wonders what Kenneth MacMillan and Frederick Ashton would have made of it. Christopher Wheeldon gives his choreography an easy ride on the shoulders of his collaborators.
And the present day final scene, mobile camera phones, skimpy dress, liberated behaviour, has a superfluous feel: Lewis Carroll's book left on a bench outside the Heritage Trail Deanery Gardens, forgotten by the modern girl distracted by her lover's kiss, and picked up by a tourist—Edward Watson bedecked in cameras…
Reviewer: Vera Liber