Romeo and Juliet
Choreography Kenneth MacMillan, music Sergey Prokofiev
The Royal Ballet
Royal Opera House
–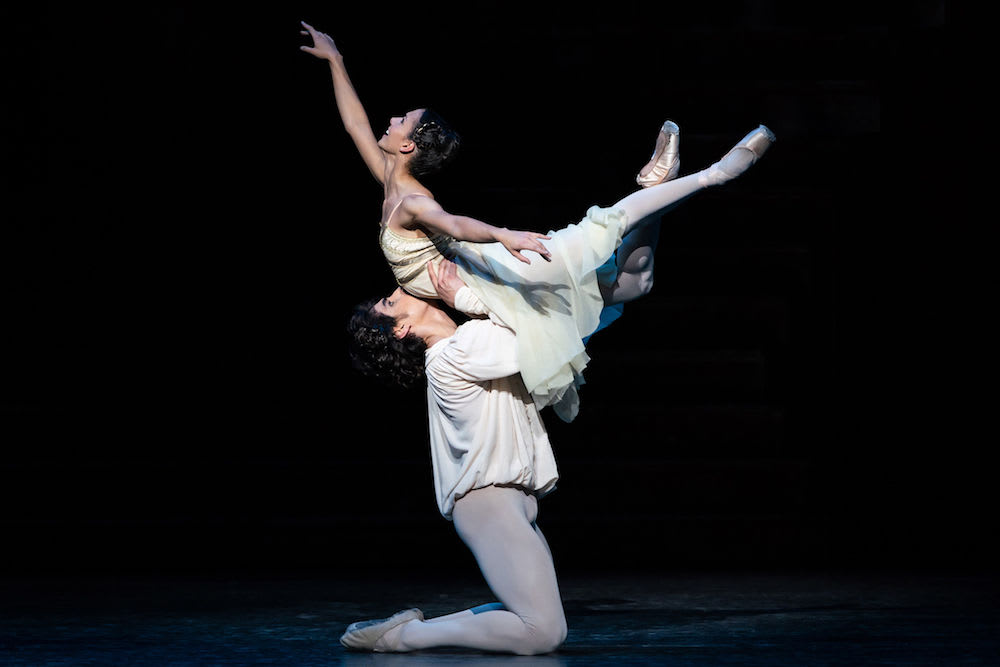 Kenneth MacMillan's 1965 Romeo and Juliet, his first full-length ballet for the Royal Ballet, is a crowd pleaser—the house is heaving, packed to the rafters. Who needs the press to promote it... on this its third night, 513thperformance?
A brilliant production to open the season after what seemed like an interminable lockdown. And then to pair it with Wayne McGregor's ambitious new ballet, The Dante Project (opening night 14 October) is genius. The Royal Ballet is back with a bang.
Third night casting is Vadim Muntagirov and Yasmine Naghdi as the young lovers—perfect casting. Wonderful dancers, technique amazing, spellbinding, academically exact, and yet and yet, tonight I feel no spark between them, no chemistry. Muntagirov I adore, and am excited to see him as Romeo, but he is unexpectedly low key tonight. Maybe he doesn't see himself as Romeo… in the same way he didn't see himself as Onegin.
I wonder why. Muntagirov made a passionate Des Grieux in MacMillan's 1974 Manon a couple of years ago with Sarah Lamb, so he can do it. Naghdi is gorgeous and faultless in whatever she does, and here she acts and dances Juliet to nuanced perfection. The only time my heart went bump was in the crypt death scene, as well it should.
MacMillan's choreography, especially his pas de deux, we know as dramatic and daring, rough and raw—Romeo's death scene dance with a lifeless Juliet is replicated in Manon's in the Louisiana swamp. I spent the evening spotting similarities. And those bourrées are so eloquent, speaking volumes when young Juliet runs backwards, on pointe, feet moving so fast they are almost a blur, from the dreaded Paris (First Artist David Donnelly). Another striking thing is MacMillan's dramatic use of stillness, letting the music do the heavy lifting.
It is irresistible to compare with the many Romeos and Juliets from the past, going back to Nureyev, Baryshnikov and Dowell—all playing it in tune with their own personalities, Nureyev a bolt of lightning, sweeping all before him, Baryshnikov a bit of a lad, Dowell a prince. And there have been some daring Juliets making those leaps into Romeo's arms and across his shoulders, throwing caution to the winds.
Tonight's is demure and safe, sweet and gentle. Romeo is a lovesick boy not cut out for that market square jousting, and killing. Imagine Romeo hitting the market square in the middle of a fight the morning after his wedding night of bliss. A cruel twist from Shakespeare—it's downhill after that.
Juliet is a timid but curious young girl who falls head over heels in a flash as young girls do, with unexpected consequences. And a stroppy teenager with Paris and her parents, which Naghdi plays exceptionally well, jumping into bed, covering her head with the sheet. Familiar?
English and Russian melds, Shakespeare and Prokofiev, his music speaks the text, though tonight it doesn't seem to get off the ground. No matter, the audience give it a rousing ovation. Nicholas Georgiadis's cinquecento sets and rich costumes are aflame with colour, and I spend more time studying them and the supporting dancers. Each viewing of MacMillan's Romeo and Juliet is a valuable lesson in choreography, characterisation, structure, and more.
One thing that is striking is how the tomb scene replicates the bedroom scene, when Juliet crawls into bed after taking the sleeping potion—a dress rehearsal for the real thing. Finally my heart is wrenched.
Principal Character Artists Thomas Whitehead, Kristen McNally, Bennet Gartside respectively fill the roles of Tybalt, Lady and Lord Capulet with excellent acting, McNally's grief over Tybalt's death is particularly fine. First Soloists Luca Acri and Calvin Richardson are comrades in pranks Mercutio and Benvolio. And young soloist Romany Pajdak is a game Nurse.
Opening night had real life couple Principals Francesca Hayward and Cesar Corrales in the lead, with Principals Marcelino Sambé as Mercutio and Matthew Ball as Tybalt. There will be several debuts in its long run: Fumi Kaneko and William Bracewell as the ill-fated lovers, Reece Clarke, Alexander Campbell, Calvin Richardson will take on Romeo later, and Mayara Magri debuts as Juliet in February. A real company ballet, giving younger members a chance to shine—and there is so much going on in the crowded crowd scenes, the eye doesn't know what to feast on.
Reviewer: Vera Liber