Romeo & Juliet
William Shakespeare
Royal Shakespeare Company
Barbican Theatre
–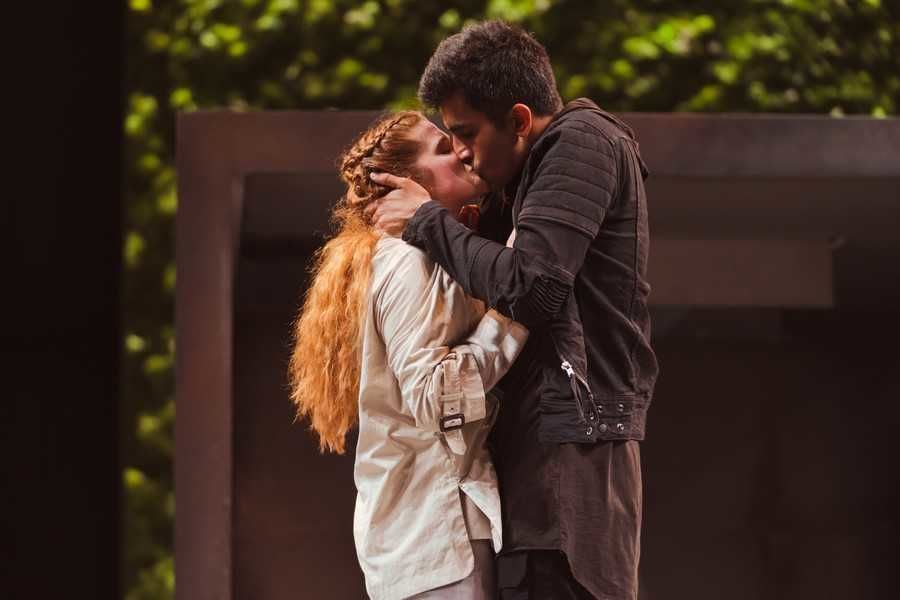 The RSC's Deputy Artistic Director, Erica Whyman has created a version of one of Shakespeare's most popular and well-known plays, Romeo & Juliet (the & comes from the company), that is ultra-modern, somewhat reminiscent of a British version of West Side Story half a century on.
This vision is race-, gender- and accent-blind, utilising 21st-century costumes and settings, the latter designed by Tom Piper using burnished metal squares and cubes as a dark, claustrophobic base, only offering a glimpse of light and hope in scenes that take place in Friar Laurence's cell.
Very appropriately for a play about lovers from backgrounds that literally clash, the central pairing seems incongruous. Karen Fishwick is best known for her starring role in Lee Hall's Our Ladies of Perpetual Succour, which fully utilised her broad Scottish accent. The earnest and rather mature 13-year-old's devoted and very handsome Romeo, Bally Gill, has a happy-go-lucky attitude and an accent that seemingly emanates from the Midlands.
Their meeting is also unusual, taking place at a Capulet party which appears to be centred on a mosh pit, as a Hendrix-inspired, guitar-led band sets dancers into a frenzy.
Despite masks, Romeo & Juliet discover love at first sight with fatal consequences. The initial victims are large, aggressive Tybalt, played by Raphael Sowole, and the totally androgynous Mercutio, equally bombastic in the person of the irrepressible Charlotte Josephine.
They perish in a street fight, which augurs ill for all concerned, including the star-cross'd lovers.
This Romeo is the kind of happy-go-lucky lad who makes his own decisions and does not face significant familial opposition.
By way of contrast, Juliet finds herself in conflict with a father played by Michael Hodgson, who while superficially jokey is perfectly happy to bully the teenager when she becomes headstrong and attempts to prevent his efforts at concluding an arranged marriage.
There are notable performances from a duo who attempt to assist the leading players towards their goal of a happy marriage. Sporting a northern accent and comical mentality, Ishia Bennison is consistently funny as Nurse, while Andrew French shows great care in tenderness and the role of Friar Laurence.
Perhaps this production's greatest strength is the way in which it uses modern sensibilities to explore an old familiar play afresh, frequently reinvigorating it. The impression is greatly helped by some strong performances, particularly from the central pairing of whom Karen Fishwick consistently catches the eye, while Bally Gill works more quietly but equally effectively in her wake.
Although the setting can be a little stark for the romantic scenes, the balcony, beds and tombs all being portrayed by a metallic cube, the quality of the acting and an updating that rarely jars make for a highly enjoyable and thought-provoking evening.
Reviewer: Philip Fisher